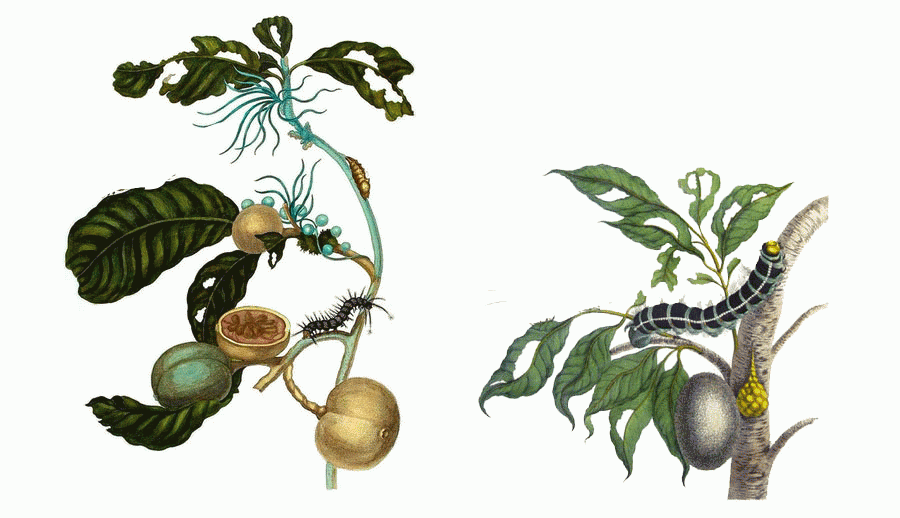 Perhaps your 7-year-old self dressed up as a butterfly for Halloween -- no judgment, same here. Or maybe your 9-year-old self plastered her composition notebook full of butterfly stickers. Or, your 12-year-old self looked like she was in the middle of being attacked by an angry hoard of butterflies thanks to the barrettes, chokers and platforms beloved by tween girls in the '90s. 
If any of this rings true, allow me to take you on a journey through time, back before butterflies became the adorable emblems of feminine fashionability they are today -- or at least, were in 1997. Let's travel back to the 17th century when butterflies were certainly not trendy. In fact, many presumed the whimsical insects to be demonic. 
"For some people, these creatures were the work of the Devil, and those who were interested in them were surely up to no good -- why, they might even be witches, who must be put to death," Boris Friedewald writes in A Butterfly Journey, a brief history of a woman who dared to devote her entire life to them. 
That woman was Maria Sibylla Merian. During her lifetime, she'd become the first to observe living insects instead of preserved specimens, to debunk the theory that bugs arose spontaneously from the mud, and to chronicle the entire metamorphosis process of a butterfly. She also created a trove of drawings, painstakingly accurate and stunning depictions of nature's most minuscule creatures, themselves as complex as a humongous beast or bountiful landscape.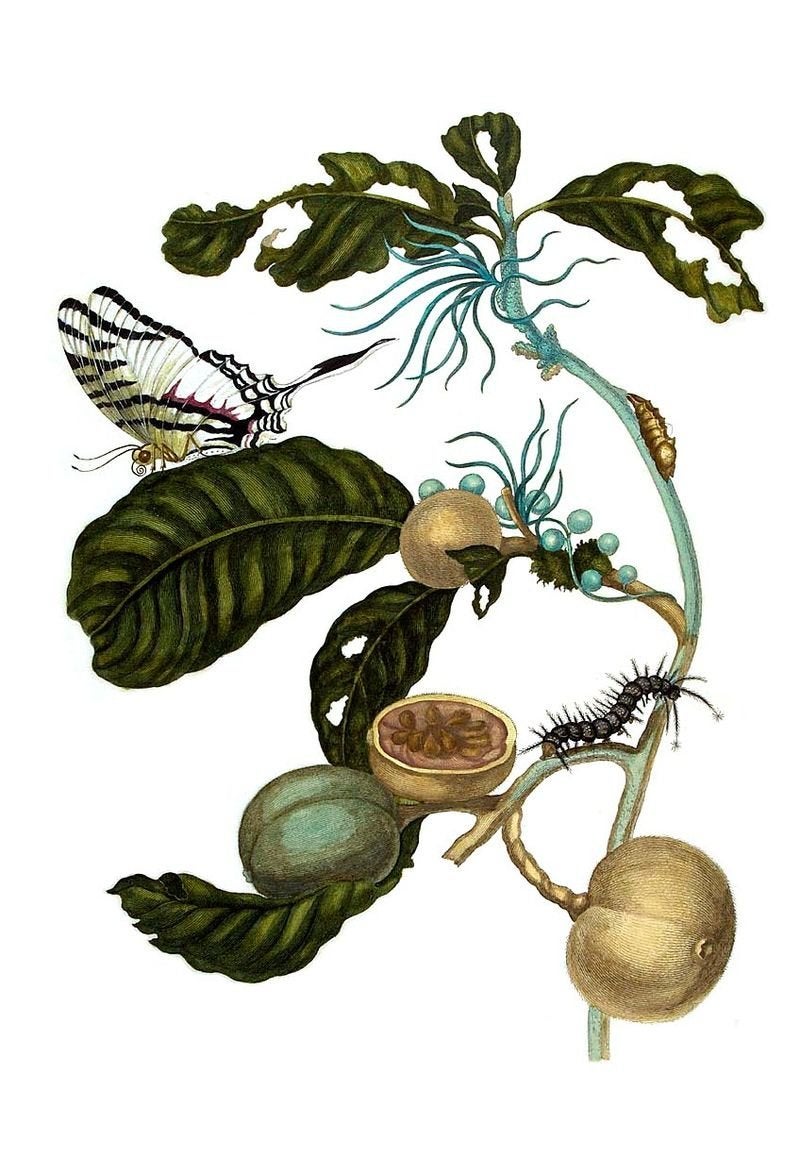 Merian was born in 1647 in Frankfurt -- then a free city of the Holy Roman Empire. Her father was a publisher, providing her access to many books about natural history growing up. After he passed away when she was 3 years old, her mother wed a painter of still lifes. At 13 years old, she made her first painting -- a rendering of an insect she'd captured amongst plants. 
Merian married her stepfather's apprentice and the two had two daughters. Instead of following custom and working alongside her husband, Merian provided drawing lessons to young, unmarried women, providing her access into the verdant gardens of the upper class. Merian and her husband later divorced.
In 1679, Merian published her first book at 28 years old, a two-volume exploration of insect metamorphosis. In the foreward, Merian wrote: "I spent my time investigating insects. At the beginning, I started with silk worms in my home town of Frankfurt. I realized that other caterpillars produced beautiful butterflies or moths, and that silkworms did the same. This led me to collect all the caterpillars I could find in order to see how they changed. I withdrew from human society and engaged exclusively in these investigations."
The book was augmented by Merian's unique scientific illustrations, which collapsed multiple images of butterflies at their various stages of life into a sort of ecological collage, combined with the flora and fauna that comprised their habitats. Until then, few had shown interest in the lowly creatures on the food chain. The commonly held belief at the time was that bugs were born through a "spontaneous generation of rotting mud."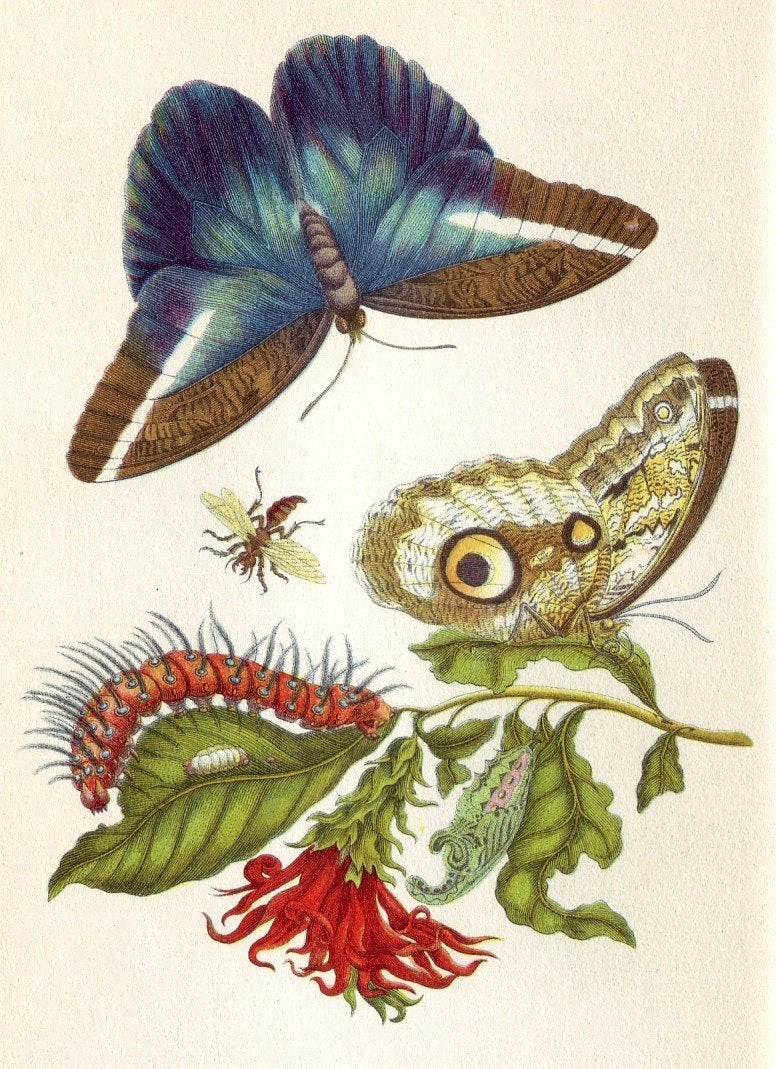 Merian continued her work despite the fact that, as a woman, the odds were stacked against her. At the time, universities were exclusively male and, strangely, women were forbidden from painting with oils. She instead opted for gouache and watercolor. In the three years following her first book, she produced four more. 
In 1691, Merian moved with her daughters to Amsterdam, studying the preserved insect collections of a wealthy doctor. Yet the lifeless subject matter left something to be desired. "In these collections I had found innumerable other insects," she wrote in Metamorphosis Insectorum Surinamensium, "but finally if here their origin and their reproduction is unknown, it begs the question as to how they transform, starting from caterpillars and chrysalises and so on. All this has, at the same time, led me to undertake a long dreamed of journey to Suriname."
Suriname is a small country on the northeastern coast of South America, known in part for its tropical rainforests. Merian wanted to forge a scientific expedition to the equatorial habitat, though, at the time, government funding for academic pursuits was typically only provided to men. For eight years, Merian studied and built her case and finally, in 1699, embarked on a cargo ship with her 22-year-old daughter to Suriname on a grant from Amsterdam. A journey as dangerous as this, without a male companion, was virtually unheard of. 
Although she was supposed to spend five years illustrating new insects, she returned home after two, after contracting malaria abroad. Her 1705 book Insects of Suriname documented the fruits of her journey, describing the insects she discovered, as well as their uses and habits. The book also contained 60 engravings illustrating the different stages of insect development in what was one of the first illustrated accounts of Suriname's natural history.
Despite her immense contributions to the field, she's rarely cited for her work in mainstream scholarship. Because of her lack of education and, yes, the fact that she was a woman, Merian fell into relative obscurity. When she died in 1717, she was described by the city of Amsterdam's register of deaths as a woman "without means."
Recently, Merian has started to receive some of the recognition she so gravely deserves. (What I mean by that, mostly, is that in 2013 she got her own Google doodle.) But her name remains unknown in many art and science circles.
Still, without Merian's skill and courage, we might never have known that bugs aren't demonic creatures that shoot out of the ground. Or that butterflies begin as caterpillars and become chrysalis and then the real-deal, winged butterfly.
And then, of course, there's the frightening possibility that that adorable butterfly costume of yours never would have existed. 
Calling all HuffPost superfans!
Sign up for membership to become a founding member and help shape HuffPost's next chapter