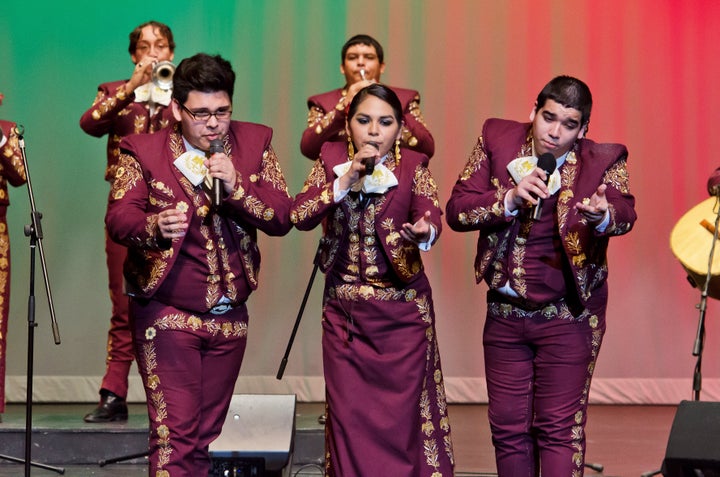 Eloy Martinez didn't fall into Zapata High School's mariachi band as much as he was completely bowled over by it. Six years ago, he was a fifth grader sitting in an office at the high school in Zapata, Texas, when he first heard the band playing down the hall.
He ran over and had put his ear against the door when the band's director spotted him and invited him in to watch the group practice.
"That first day I just sat there watching, listening," Martinez recalled. "I didn't play any instrument and I thought, I don't know what this is, but I like it."
He ran back to his mom and immediately had her change his schedule -- removing athletics activities that he had planned to pursue -- just so he could join the middle school's mariachi group. He picked up a violin and learned fast, and his agile singing voice impressed his teachers. ("They made everybody sing," Martinez said, sheepishly. "So I had to sing.")
By the time he was in eighth grade, he had become so proficient at performing that the high school's current band leader, Adrian Padilla, invited him to become one of the youngest members of Zapata High School's varsity group.
"Eloy is probably one of the best at what he does," Padilla said of Martinez, who will be a senior next year. "He's also heavy in 4-H, where he raises animals and competes," he added. "And he does theater. He wears many hats."
Performing with the school's award-winning mariachi group is now something many Zapata High students aspire to do. Only 24 students can be part of the Mariachi Halcon, the varsity group, which has won the state mariachi competition the last two years and is the subject of an upcoming PBS documentary, "Mariachi High," set to premiere at the end of this month.
Padilla says that when he first arrived in Zapata, Texas -- which has a population of just barely more than 5,000, with 33 percent of its residents living below the poverty line -- he was immediately struck by the students' talent.
"I don't know what it is about the place, about why the [kids] are so good," he said. "It must be in the water."
Then there's the music they grew up hearing at home. About 98 percent of the school's students are Latino and many of the band's players -- Martinez included -- grew up listening to mariachi music.
Performers in the group have a variety of personal styles, ranging from the dyed-hair goth to the shaggy-haired guitarist with a hemp necklace. Then there's the straight-A valedictorian.
Yet all 24 share an unwavering drive to succeed and compete -- a quality that initially drew "Mariachi High" director Ilana Trachtman and her collaborators, including co-director Kim Connell, closer to the action.
Trachtman recently followed the Zapata team from auditions through the state competition for her new PBS series, tracking the students in the group from auditions onward and noticing how the families rallied around the program.
"Across the board," she said, "the thing that makes these programs work are not as much district support, but this huge parental and community backing. It's parents driving the kids, raising money, sewing on buttons and coming to the concerts."
The program has become so popular that Zapata is now known more for its mariachi than its athletics, Martinez said. "We've finally realized people are noticing us and all the hard work we put into this."
Trachtman has been following their rise in ubiquity for years, and how the students have fought to promote it. At one school she visited in Tucson, a group of students had heard through the grapevine that one of their teachers had once played in a mariachi band, so they went to him asking if he'd start up a group at their school.
"Now mariachi education is a stream of music education," she said. "It's codified."
If there's a villain in this story, Trachtman said, it would be the rampant budget cuts threatening Zapata program and others across the country. Currently only 50 percent of 18-year-olds in America have been exposed to any kind of arts education during their time in school. Program administrators are increasingly being asked to prove that their programs are vital, that they provide incentives for students to remain engaged in school, especially to Latino students who have the highest dropout rates across the country.
Recent National Endowment for the Arts evidence further illustrates this. In a March 2012 study, "The Arts and Achievement in At-Risk Youth," the NEA found that 71 percent of low-income students with a high exposure to the arts attended college, compared with only 48 percent who had a low arts exposure. They also found that students highly exposed to the arts had better grades and test scores in all subjects.
"In example after example throughout this report, a greater percentage of high-arts students demonstrate a particular outcome (e.g., graduating from high school or doing volunteer work) than do low-arts students," the study concluded.
In Zapata's group, all the recently graduated seniors are now attending college and the majority finished high school in the top 10 percent of their class. They continue to play music even after their stint in the group ended, Padilla said. One student -- Beto, the first chair guitarist -- recently switched his college major from dental hygiene to music.
"When I heard that I was just like, wow," Padilla said. "I remember when [this student] first came to me and said he'd felt neglected and left behind. I told him that I guarantee by the time you're a senior, you're going to be top dog."
Eloy Martinez is currently concertmaster of Zapata's group, a senior mulling over offers for mariachi scholarships at a few state schools. Padilla believes he could have a career as a musician, but Martinez said he might want to go into the medical field. He's not sure yet.
For now, he's just trying to navigate what he calls the "surreal" experience of being on television, as part of this documentary. There's the upcoming sold-out screening of "Mariachi High" in Zapata.
"I'm getting Facebook messages from people I don't even know," he said. "They're like, 'I heard your mom has tickets' and I'm like, 'I don't know who you are.' Then they're like, 'I'll meet you at the store. Bring the tickets.'"
"Mariachi High" airs on PBS on June 29. Watch a preview below.
CORRECTION: This story has been updated. An earlier version of the report rendered the band leader's name as Adrian Padillo. His name is Adrian Padilla. A previous version also stated that Zapata High School's marching band had been eliminated. This is incorrect -- as a reader pointed out, the marching band is still alive and strong.
Popular in the Community