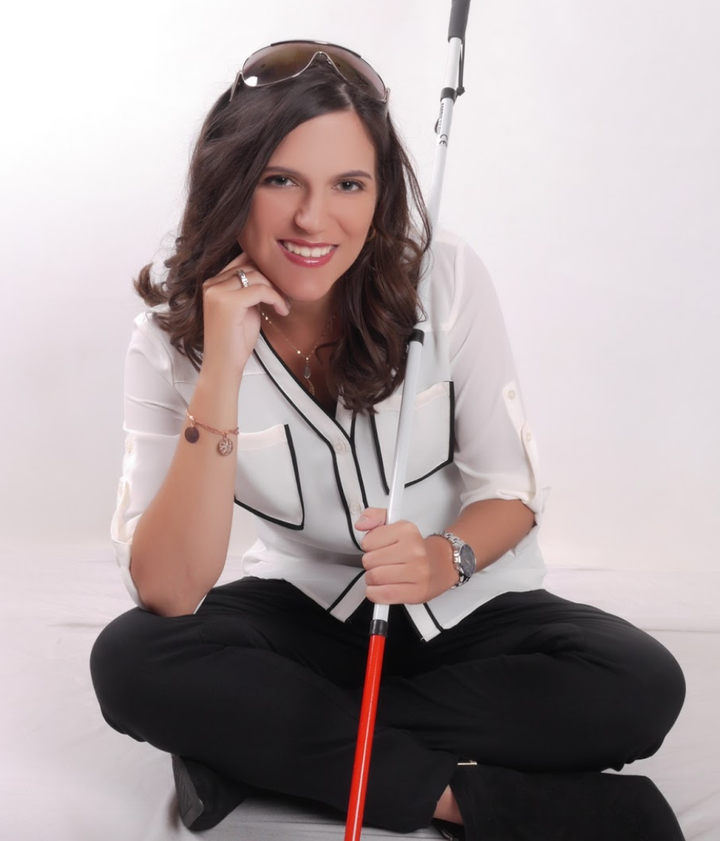 A native Sicilian-Italian speaker, Mariagrazia Buttitta is an author, a motivational speaker and a mental health & disability advocate who is currently pursuing a Master's Degree in Clinical Mental Health Counseling from The College of New Jersey. Mariagrazia––the author of, No$$w I SEE: How I Battled Blindness, Mental Illness, an Espresso Habit and Lived to Tell the Tale, speaks to college students and organizations about her blindness, along with her long-term battle with depression and anxiety. Embracing Your Differences Website
In 2015, Mariagrazia co-founded an Instagram social media campaign, the (#YSS) Your Sunglass Selfie Project, using the hashtag #eye4acure in an effort to tear down stigma and negative assumptions held about the many different types of blindness that exist, including her own Cone Dystrophy. #Eye4acure Campaign (Your Sunglasses Selfie Project): Watch This Video, and Get Involved.
Mariagrazia continues to address and end stigma that surrounds both mental and physical disabilities through speeches, writing and advocacy work. Her website, the cornerstone of her advocacy efforts, is also designed to help people who face the often crushing burdens of disability and stigma to face adversity, connect with professionals, and embrace their differences.
Why Does Mariagrazia Care, and Why Should You? Watch The Video Below
When not working, Mariagrazia loves spending quality time with family and friends, hiking, collecting sunglasses, exercising, shopping, and hanging out with her two therapy dogs, Happy and Lucky. Her one true weakness—espresso… and lots of it. "My ability is stronger than my disability." — Luke Watson BY THE TIME native Sicilian Mariagrazia Buttitta turned twenty-six, she'd planned out the perfect life. After finishing her residency in Buongiorno Medical School, she'd be primed for a job at the prestigious Roma Hospital, the first step toward becoming an Italian Dr. Oz. And what life is complete without a handsome prince by her side, gracing the face of Italian People Magazine as one of Italy's "Most Beautiful Couple"? Facebook Page:
Instead, she wakes up to discover a medical diagnosis that leaves her almost completely blind. Her family, frustrated and desperate, seeks medical aid in the United States, but it comes with a steep price. Along the way, Mariagrazia must battle bullies, an obsessive lover, and her two biggest enemies: anxiety and depression. Tortured by her thoughts, she finds herself toeing the line between life and death, contemplating ending it all. Maria's constant dance with death by suicide
isn't depressing; it's raw, candid, and true. But she is solution-based, and
this book shares these solutions—how one goes from the brink of such
pain, triumphs each time, and commits to life.As a last resort, she turns
to a childhood diary of poems and creative writing to rediscover herself and the will to live … before it's too late. Purchase an Autographed Copy of Maria's Book:
Now I See is a heart-wrenching yet humorous true tale of struggle, survival, amazing grace, unconditional love, and a fresh look at the American Dream. It's an account of one young woman's journey overcoming devastating odds while stumbling her way through darkness into light. What Readers Are Saying!
"Disabilities are actually more universal than we realize—we all have them, to one extent or another. Mariagrazia is a testament to the fact that we get to choose whether we become victim to them or not. I believe she actually sees a lot more than we do and we could do well to borrow some from her vision. A must-read." ~ Kyle Maynard, speaker, best-selling author, ESPY Award-winning mixed martial arts athlete, and first quadruple amputee to ascend Mount Kilimanjaro and Mount Aconcagua without the aid of prosthetics "Now I See shares a moving personal story that touches on so many critical aspects of well-being in the face of adversity. Three qualities resonate throughout Brave Maria's compelling journey of healing—a spirit to cope, grit, and amazing grace." ~ Sean Campbell, mental health advocate Mariagrazia Buttitta writes a passionate, palpable, powerhouse of a life story. From her vivid descriptions of Italian culture, and food, to her mountain moving poetry, she paves a path to hope. Her story is
powerful, filled with hope, and shines a light on a much-needed subject
—stigma surrounding mental illness and disabilities. Maria navigates us
through the entire process. This is a story that can reach out and positively
touch each and everyone who reads it. Hope after living with a mental illness,
and hope even when sight is taken from her. Mari' shares colorful memories
from her personal diary, and past. She shows the world, I am here, I am real,
& I matter most. She tells us I have mental illness, I am blind, but I will always
see. I see you Maria…I see you." #HopeHelpsHeal #BeHereTomorrow #KeepOnKeepinOn To join or reach Maria:

Twitter: https://twitter.com/eyeonacure Instagram: https://www.instagram.com/embracingdifferenceseyeonacure/ E-mail: embracingdifferences01@gmail.com
Support HuffPost
The Stakes Have Never Been Higher
Related
Popular in the Community