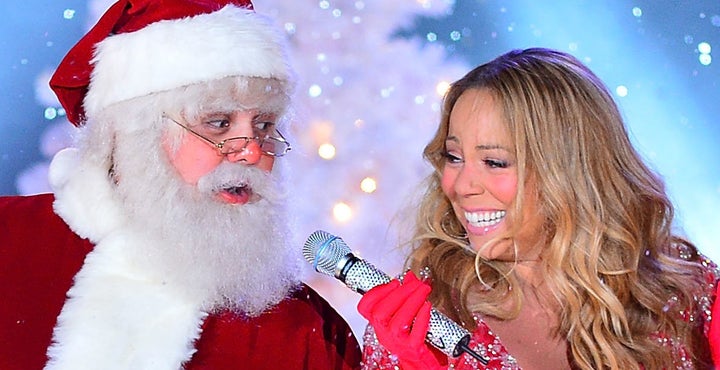 Mariah Carey gifted the world with "All I Want For Christmas Is You" in 1994. Since then, all Americans with ears and eyes have been able to clearly witness the love affair between Carey and the known-to-get-around-town Mr. Claus. 
Now, over two decades into this relationship, the singer has directed and starred in a new Christmas movie that the Hallmark Channel will release on Dec. 19.
But just because Carey is, at this point, as iconic a holiday figure as Rudolph, it doesn't mean she can just take her silver bells to the television equivalent of the silver screen and say, "We belong together." 
Carey appears to have shot the clips from this trailer for "A Christmas Melody" in one take on the budget of a vanity project. The most egregious element of the trailer, though, has to be the glitter that borders the left and right sides of every frame. Why would Carey want to remind viewers of 2001's "Glitter," a movie with a 7% on Rotten Tomatoes?  
Plus, based on the trailer, it also appears that Carey only wears two outfits throughout the entire movie -- a red getup and an Adidas tracksuit -- while not even bothering to take off a pearl necklace from the former while dressed in the latter. In a brief shot near the end of the clips, it does appear Carey adds a white sweater over the red outfit while also donning additional pearl necklaces, but that hardly counts as another costume change. Was this movie all shot over the course of 48 hours, with Carey dressing in costume the first day, falling asleep in the necklace and then shooting the next in whatever she threw on before going to set? 
Although her music videos and concerts seemingly have higher production values than this new movie, Carey could still surprise. By dropping new Christmas songs to soundtrack her directorial debut, Carey would give us the best gift of all -- many decades to come of hearing Mariah kissing Santa Claus.
PHOTO GALLERY
Mariah Carey Through The Years
Calling all HuffPost superfans!
Sign up for membership to become a founding member and help shape HuffPost's next chapter