Odd couple ― or oddly perfect coupe? Sharon Stone and Mariah Carey hit the red carpet together at the 2017 Golden Globes on Sunday night holding hands.
During a brief joint interview with Al Roker, we learned two very interesting tidbits about the pals: 1) Apparently they're neighbors, and 2) Carey is going to steal Stone's diamonds later.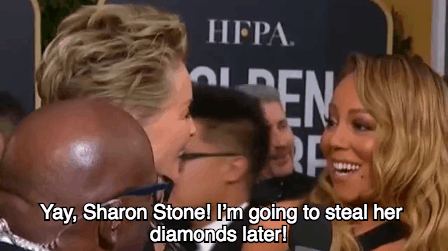 Though Stone decided to be more diplomatic by suggesting they trade their diamonds, people on Twitter absolutely loved it.
Folks also seriously just loved the two '90s stars owning the carpet together.
Thanks for the magical moment!
Popular in the Community