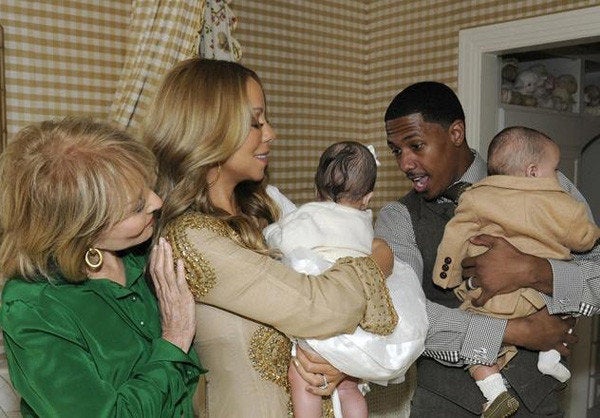 Mariah Carey and husband Nick Cannon open up to Barbara Walters about marriage, pregnancy and life as new parents in an exclusive interview on "20/20," airing tonight.
The 41-year-old singer admits the couple experienced a miscarriage before she became pregnant with twins Moroccan and Monroe, explaining she used acupuncture for relaxation and underwent fertility treatments to try to conceive. The happy couple will also debut the now six-month-old twins on camera for the world to see.
Carey also opened up about their marriage, telling Walters that her first marriage to record executive Tommy Mottola, had made her "afraid of the concept of marriage." Even with that fear, Carey and Cannon married just weeks after they started dating, and so far it seems to be working. "I'm just so happy to be in love and to be here," said Mariah of her marriage to Nick. "When he's nice he's the best guy in the world."
In 2001 Carey showed up unannounced to MTV's "Total Request Live" and handed out popsicles to the audience before performing a striptease. Even more recently some of the singer's behavior has seemed strange. In 2010, she "lived up to her loopy reputation" giving a long, rambling speech after being named Breakthrough Actress for her performance in "Precious: Based on the Novel 'Push' by Sapphire," prompting rumors Carey was drunk at the Palm Springs International Film Festival.
Carey's reputation didn't help her when she gave birth either. A social worker visited Carey in the hospital to investigate a complaint that she was abusing the babies by doing drugs and drinking alcohol while breastfeeding. Cannon told CNN that the allegations came from a nurse, who overheard that Mariah had been drinking Guinness, a beer, which is supposed to help with breastfeeding.
"And I guess someone maybe overheard that and is like, 'This is a good way to make a quick buck or call the tabloids.' It's kinda sad that people think, 'We'll make money off of these newborns," he said.
But with all that behind them, the couple can focus on life as new parents. Carey calls her babies "incredible" and adds that they just might just have some of their mother's talents, explaining they really respond to music. While they could have the talent, 31-year-old Cannon, who has been acting since he was a teenager, told Walters he wants to make sure his kids get their education first.
"I want them to be able to sing as beautifully as their mother. I want them to be able to play instruments and everything. But I want them like … 'Go get a Ph.D," he explained.
Check out other photos of celebrity kids below!
PHOTO GALLERY
Celebrity Kids: Out And About

Calling all HuffPost superfans!
Sign up for membership to become a founding member and help shape HuffPost's next chapter