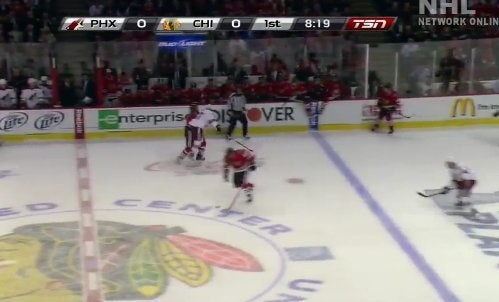 The 2012 playoffs are off to a physical, sometimes dirty, start. That continued on Tuesday night when Blackhawks star Marian Hossa was injured and carted off the ice on a stretcher.
Hossa suffered a blow to the head in an open-ice hit by the Phoenix Coyotes' Raffi Torres. (Scroll down for video.) There was no penalty on the play, even though Torres left his feet, something that has led to suspensions in the past.
There's been no shortage of suspensions in the opening days of the NHL playoffs, which last until June. Some are questioning whether the disciplinary action handed out from NHL exec Brendan Shanahan has been enough.
Hossa is coming off a 29-goal and 77-point season in 81 games. He's been a key part of the Hawks offense all year. The Chicago Blackhawks official Twitter feed has been promoting the hashtag #WinItForHossa tonight since the hit. (Update: Phoenix ended up winning the game 3-2 in overtime.)
Chicago head coach Joel Quenneville called the hit "brutal" after a TV timeout on CNBC, adding, "I can't believe four guys missed it."
TSN's Bob McKenzie noted on Twitter that Torres made contact with Hossa 0.83 seconds after Hossa lost the puck. "In relative terms, that is considered 'late,'" he tweeted.
Watch the hit by Torres on Hossa below and judge for yourself (scroll down for poll).
It's worth pointing out that Torres has been in trouble with the league before. His repeat offender status could increase the likelihood he is suspended. Watch his hit on Colorado's Jan Hejda below that led to a suspension.
Calling all HuffPost superfans!
Sign up for membership to become a founding member and help shape HuffPost's next chapter
BEFORE YOU GO