Marianne Faithfull's triumphant concert at the Tempodrom Berlin was a night of healing the past and sounding the alarm for the world's future.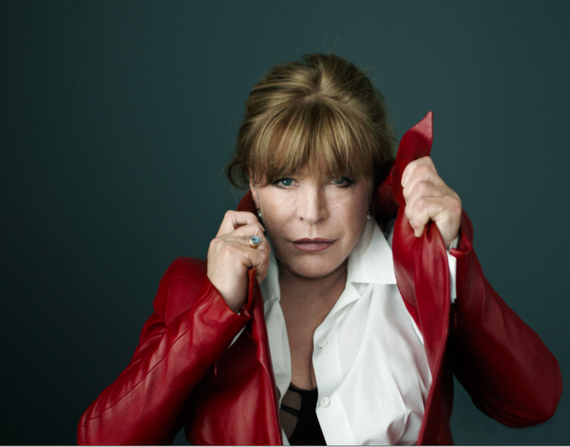 The female icon of the eternal return personified Berlin's 9 November celebratory 25th year anniversary of healing and resurrection: "It's my 50th anniversary tour. It's incredible. No one could be more surprised than me. I started in 1964 and here we are."

"I reckon this is my town," were her first words after greeting the nearly sold-out crowd in Deutsch. She then told the story of how her mother, a Viennese aristocrat, was a Weimar dancer in Berlin and, after fleeing home to Austria when the war broke out, fell in love with her father, an English spy. "And they had me!"

Her first offering was the title song from her new album "Give my Love to London" intended as a "horrible, sarcastic put down" of the city where she had been branded the sixties icon of Catholic schoolgirl innocence turned harlot in the infamous fur rug and chocolate bar bust with the Rolling Stones, which triggered her descent into homeless heroin addict from the heights of rock n' roll royalty as Mick Jagger's girlfriend.

She confessed to liking to be chatty and chat she did, telling the devoted crowd about her painful injury; she was flat on her back for six months, which forced her to really think about her life. When she could sit again, she started writing songs, many ending up as collaborations, which comprise the new album. Photo by LPS
Once an icon of sixties innocence fallen into depravity, and always an icon of fashionable cool, Faithfull becomes something else entirely with this tour. Her declaration of a new clean ("I haven't had a cigarette for a year") lifestyle and transformation of addiction into unabashed love for her audience...

Faithfull is part high priestess, part shaman, and forever a songstress weaving her own legend. And yet, she remained humanly accessible to her audience as she sat in her hand-carved wooden chair, revealing her fears and vulnerabilities... while reminiscing her 35 years ago in Berlin when she wrote her punk anthem of revolt, taking on a new universal meaning in the reunited city. Photo by LPS.
I'm in Berlin. I'm really happy to be here. There is a certain amount of feeling haunted here. I love it and it makes me sad at the same time... It's all mixed feelings.

This magical blend of feminine archetypes prompted something rare and utterly unexpected: a seemingly spontaneous transformation of the Faithfull epic narrative, which she portioned from corners ("the sixties corner" introducing As Tears Go By and "the drug corner" of her Sister Morphine ) into a holistic, universal myth of the eternal return.
The transformation took place with a simple story, of her reading about "the wild side of women" in Clarissa Pinkola Estes' Running with the Wolves while flat on her back.

This was uncanny: Faithfull's use of her cane to maneuver herself up and down from her throne was reminiscent of Pinkola Estes as shaman presiding over a 1997 Rave in Jerry Brown's Oakland office. Photo by LPS

"Men are quite right to be frightened of women because we are F*UCKIN' TERRIFYING."

This was her introduction to a new song about a mother wolf from the inside, a shamanic maneuver to summon up her own feminine ferocity to declare: "America is unreal...they've gone f**uckin' bonkers." Then realizing her words meant she may not be able to return to America, she added: "I want my grandchildren to see a tree."
The narrative of hope spun through the Faithfull 50th anniversary tour is as pertinent as it is powerful. It's about love and the danger of descent and the eternal return, the life/death/rebirth that her still highly distinctive cigarette rapsy voice ("I haven't smoked for a year!") gives testimony to having been there.
Having surmounted to an entirely new level of dignity, she did a final gaze backwards with her personal anthem of feminism from the inside out: The Ballad of Lucy Jordan. It brought the house down. The final encore was, appropriately, The Last Song.
Like Berlin, Faithfull has descended and resurrected like the phoenix to relate, in her singular expression, life as it is, the bliss and the pain, as testimony to the resurrection of the feminine power--as beautiful as it is dangerous, as terrifying as it is rapturous.
"I'm not Christian," she said, as if clarifying any lingering misconceptions about where her faith lies and thereby sealing the consciousness embodiment of a mythology of a modern woman surviving the Ground Round of Eternal Return to tell the tale of the feminine power of transformation for our times.
Lisa Paul Streitfeld, a philosopher and cultural critic based in Berlin, is author of Hermeneutics of New Modernism and editor of Peggy Bloomer's Surfgeist: Mythical Narratives in New Media, both published by Atropos Press.
Photos used with permission are credited: Promo / Peter Rieger Konzertagentur.
Popular in the Community