Katherine Reddick made headlines last August when she and her brother co-wrote a scathing obituary for their mother, detailing the abuse and neglect that Marianne Theresa Johnson-Reddick inflicted upon her eight children. In one of her first interviews since the obituary went viral, Reddick joined HuffPost Live in a conversation about the changing nature of the funeral industry.
Despite her harsh words, Reddick said that she received an outpouring of support once the obituary became public. "We got a lot of courage--'thank you for the honesty'--that it was nice to see that people don't always have to lie on an obituary just because it's customary to say good things about someone," she explained to host Mike Sacks. "She was an incredibly awful person, not just to us, but basically anyone that knew her."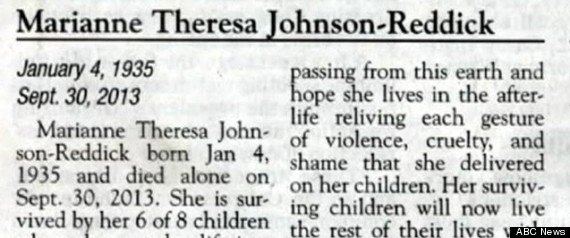 Reddick and her brother Patrick collaborated on the text, with the backing of many of her siblings. "My brother and I spoke to each other by phone, and after we hung up it was like a day or so, and we both called each other again and we both thought the same thing: who's going to write the obituary? And what did we want to do with it? And so I said, 'if I'm going to do it, I'll do it. But I want it to have a purpose.'"
"And so our purpose was really to re-ignite the discussion about child abuse in this country, and how our society has neglected to do much about it to help it."
Penning the obituary offered Reddick some catharsis, she said. "Not just what I wrote, but just knowing that she wasn't here on this earth anymore was such a relief. I know that's something awful to say for most people, but just like you can't understand how I could do this to a parent, I can't understand the love that others feel for their parents. So my relief was that she was gone."
Related
Popular in the Community