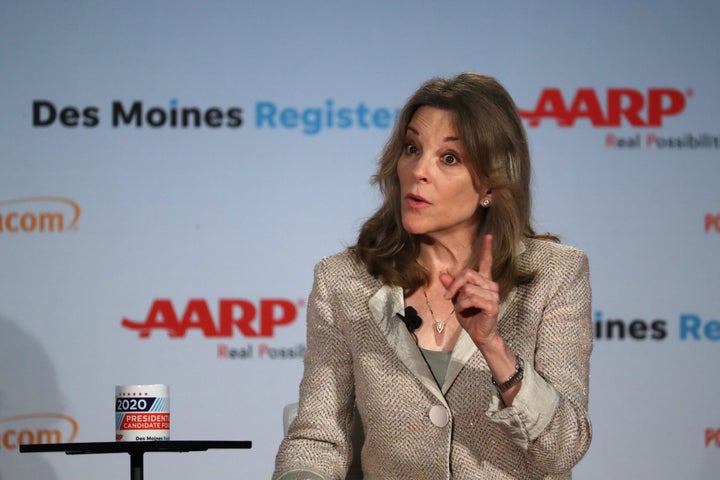 Marianne Williamson, the self-help author running for the 2020 Democratic presidential nomination, has defended a tweet criticizing antidepressants that she posted after designer Kate Spade killed herself last summer.
Williamson has been known to offer opinions on mental health that experts worry might discourage individuals from seeking help. The presidential hopeful was asked in a New York Times interview published Saturday to address some of those controversies.
After Spade's death in June 2018, Williamson tweeted: "How many public personalities on antidepressants have to hang themselves before the FDA does something, Big Pharma cops to what it knows, and the average person stops falling for this?"
There is no explicit evidence that Spade took antidepressants, as the Times noted. Her husband, Andy Spade, confirmed last summer that his wife had suffered from depression and was "actively seeking help and working closely with her doctors" prior to her death at age 55.
Williamson told the Times she does not doubt that clinical depression exists but said she has criticized diagnoses of clinical depression because she believes there has been too much of a "medicalization of normal human despair."
"People get sad," she told the Times.
Asked whether she still stands behind the 2018 tweet, Williamson confirmed that she did.
"Yes. What in that statement is not true? Because what I say is the F.D.A. knows this. Big Pharma knows this. Intelligent people know this," she said.
The Food and Drug Administration began instructing pharmaceutical companies to print warnings on antidepressants stating that they may increase the risk of suicidal thinking in young people in 2004. Research indicates people age 24 and younger are more at risk, but the FDA states that there is no similar risk in people age 25 and up. Clinical depression itself increases one's risk of suicidal thinking, the agency notes.
There has been some debate among mental health professionals about the long-term use of antidepressants, which is increasing.
Times reporter Maggie Astor told Williamson that the message she gets from the tweet is that "antidepressants are incredibly dangerous and you should not take them."
Williamson responded: "I'm sorry that that's what you get from the tweet. My sense is not that people would read that tweet and think that they were incredibly dangerous."
In one of her books, "Tears to Triumph," which she directed Astor to read before their interview, Williamson says she has twice been diagnosed with clinical depression. She told the Times she regrets saying that her own experiences with depression were a "scam," as she did on Russell Brand's podcast in November.
Yet she emphasized a medication-free approach. "The body can take an amazing amount of assault and injury and repair itself, and it's amazing how much the psyche can take as well," she said.
Astor noted that Williamson texted her after the interview to clarify that she has "no judgment — nor do I believe I have ever expressed any — of anyone taking antidepressants."
Support HuffPost
The Stakes Have Never Been Higher
Popular in the Community