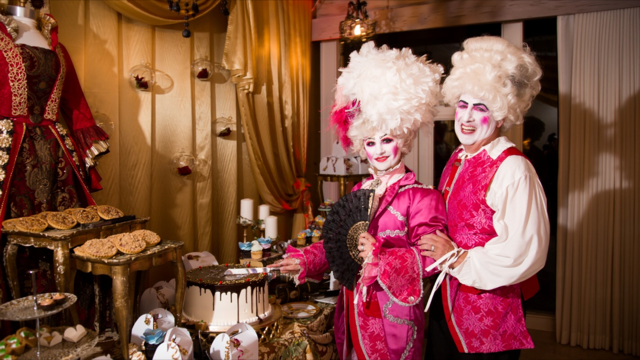 When Mark Traverso and Conor Walton began planning their one-year wedding anniversary party, they knew they wanted to transport their friends and family to a bygone era. 
The Florida-based couple had a lot to live up to: their 2015 wedding channeled the Roald Dahl classic Charlie and the Chocolate Factory, complete with a cast of Oompa Loompas.
For their June 19 celebration, Traverso and Walton opted for an homage to the legendary Marie Antoinette. They returned to the Addison in Boca Raton, where they'd gotten married last year and, with the help of Daniel Events, transformed the hotel's Solano Ballroom into a miniature Versailles, complete with vintage French furniture and, fittingly, lots of cake. The theme extended to their colorful wardrobe, too, which included sky-high, powdered wigs, as well as the spectacular performers who kept guests entertained throughout the night.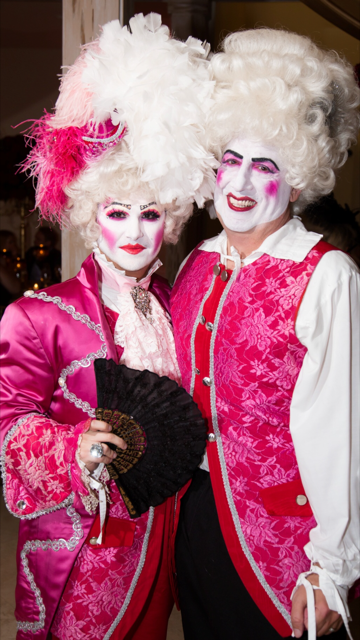 "I've always been enthralled and captured by the opulence of that time period and by any type of European monarchy in general," Walton, who is an actor, told The Huffington Post. When he suggested the theme to the Addison's staff, "they said it was something they'd never done before, which, for me, meant it was perfect!" 
The couple's celebratory mood, however, was shattered in the wake of the June 12 mass shooting at Orlando's Pulse nightclub which targeted the LGBT community. They opted to keep their party plans in place, however, dedicating the night to the 49 Pulse victims and asking guests to donate money for the families affected by the massacre through the Our Fund Foundation in Wilton Manors. In the end, over $4,000 was donated.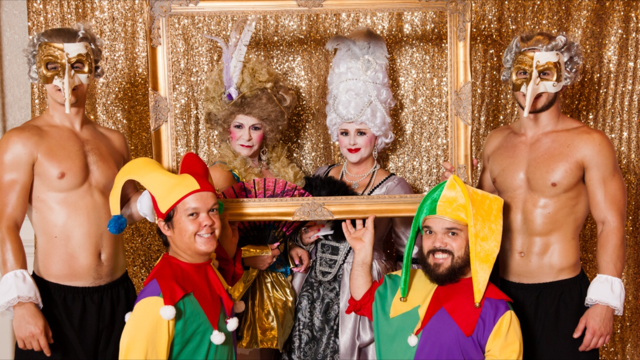 "As a Floridian, this tragedy hit home," Traverso, who is a marketing executive, said. "It made us realize how close to home this hit. [Shooter Omar Mateen] could've drove 90 minutes either way." 
In the end, however, the feeling of love won out over the couple and their guests.
"A year later, I cannot believe it is even possible that I am married," Traverso told HuffPost. Ultimately, he said, "we just felt we had to place more meaning on the party so that we could celebrate our love, but also remember there is a lot more work and awareness that needs to be done." 
Sounds like a spectacular celebration with an amazing cause. Congrats, gentlemen!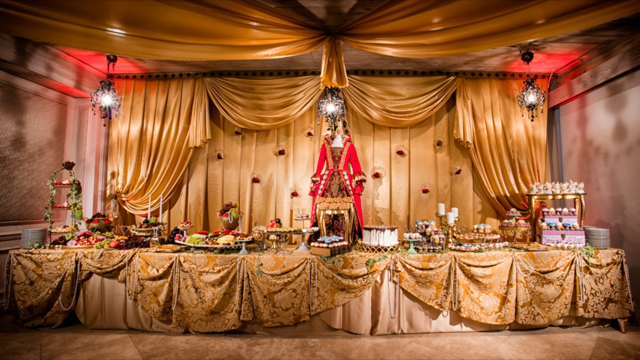 REAL LIFE. REAL NEWS. REAL VOICES.
Help us tell more of the stories that matter from voices that too often remain unheard.
BEFORE YOU GO
PHOTO GALLERY
Fireworks At Weddings