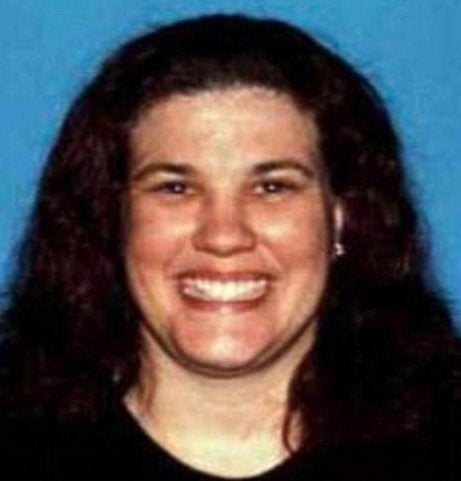 A teacher at Livermore's Granada High School was arrested on Wednesday for having an ongoing sexual relationship with a student.
Police took 40-year old Marie Johnson, a 13-year veteran of the school's math program, into custody after they received a call from school officials, who had just been informed about the six-month sexual relationship by the student himself.
"There's 24 accounts that range from sexual intercourse with a minor, lewd acts with a minor, and oral copulation," Livermore Police Officer Steve Goard told ABC-7. "They met each other through social media, texting, Facebook, and then thru Words With Friends' chatting option."
The student in question, who was 14 at the time the relationship took place, told authorities that the majority of incidents occurred in Johnson's car.
The Livermore Valley Joint Unified School District has since placed her on administrative leave.
According to anonymous online reviews posted at RateMyTeacher.com, Johnson was fairly popular as a teacher--though some said she was "fun" and "cool" but not focused enough on the subject matter.

"The best teacher I had at Granada, so good I managed to get her every year I went there, three years as a student and 1 as a TA. She's the funniest, and easy going in a strict sort of way. If your (sic) looking for laughs and learning she's your teacher" said one commenter on Dec. 12.
According to NBC Bay Area, Johnson's son is currently a senior at Granada.
"We don't think that there are other victims, but we're not ruling that out, being that she's a teacher and has had access to kids throughout the years," Goad told the San Francisco Chronicle.
Even so, Livermore police are asking anyone with additional information related to the case to call them at (925) 294-7531.
Caroline Knorr, parenting editor of family media advocacy group Common Sense Media, has some suggestions about how parents can best protect their kids from being harmed in online relationships with authority figures like teachers. "If your kid and his teacher are friends on Facebook, parents can also friend the teacher, to keep an eye on conversations," said Knorr. "Remind your kid that just because Facebook calls them 'friends,' your teacher is not really your friend. Teachers are authority figures who require more respect and a different set of rules around interaction. And most importantly, empower your kid to report any weird behavior to anyone in charge, even if it's not you. Make sure your kids know to follow their intuition--if it feels creepy, it probably is."
Johnson's bail has been set at $1.8 million. Her arraignment is scheduled for this Friday
Check out this ABC-7 news report on the incident:
Related
Popular in the Community