The continuing economic crisis in France has had many effects. One has been to cut museum budgets, and to prompt curators to find inexpensive subjects for exhibitions. This has produced a renewed interest in some of the more esoteric figures from Paris' lost era of advanced modern art. The latest instance of this is the current retrospective of Marie Laurencin at the Musée Marmottan Monet.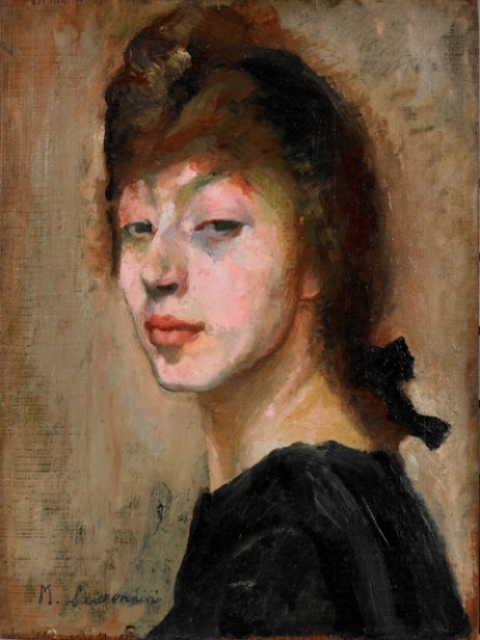 Marie Laurencin, Self-portrait (ca. 1907). Image courtesy of the Musée Marmottan Monet, Paris.
Laurencin's connection with the advanced era was more personal than stylistic. Among her classmates at the Academie Humbert in Paris in 1902 was Georges Braque, and the two became close friends. Braque introduced Laurencin to Pablo Picasso, and in 1907 he introduced her to his friend Guillaume Apollinaire, the poet and critic. Laurencin and Apollinaire had an intense love affair that lasted until 1913. Laurencin consequently was an associate of the famous bande à Picasso, the small inner group of painters and poets who were present at the creation of Cubism and collage, perhaps the two greatest innovations in visual art of the early 20th century. Laurencin's best known individual paintings, Group of Artists of 1908 and Apollinaire and His Friends of 1909, are celebrated less for their artistry than for their historical significance: the first portrayed Apollinaire, Picasso, Picasso's companion Fernande Olivier, and Laurencin, while the second added Gertrude Stein and two other poets.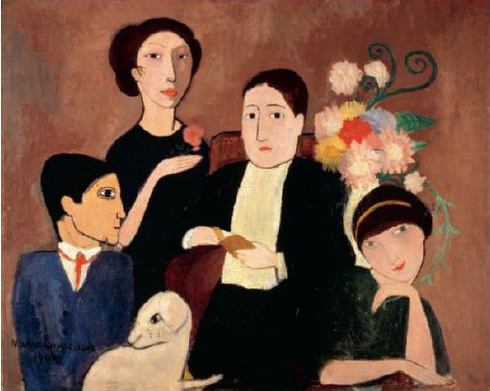 Marie Laurencin, Group of Artists (1908). Portrayed from the left: Picasso, Laurencin, Apollinaire, and Fernande Olivier. Image courtesy of the Musée Marmottan Monet, Paris.
In spite of Apollinaire's efforts to make her a Cubist, Laurencin never really adopted the style, and with the end of their relationship the pressure for her to be an advanced artist ceased. For the rest of her long career, until her death in 1956 at the age of 73, she worked in a decorative style that made her a popular portraitist among prominent social figures in Paris and New York, including Colette, Coco Chanel, and Helena Rubinstein. Her paintings use a delicate palette, with liberal use of pinks, and simplified forms that are closer to Pascin than Picasso. The faces of many of her sitters are presented almost as masks, with little psychological content.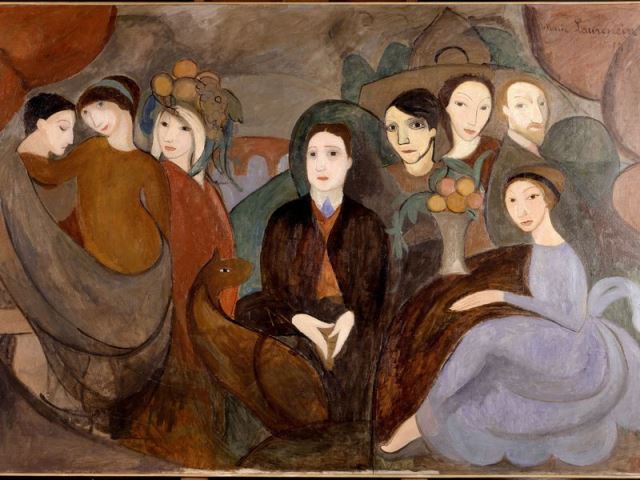 Marie Laurencin, Apollinaire and His Friends (1909). Portrayed from the left: the 'Three Graces' (Gertrude Stein, Fernande Olivier, and an unidentified blonde); Apollinaire, Picasso, Marguerite Gillot, the poet Maurice Cremnitz, with Laurencin at far right. Image courtesy of the Musée Marmottan Monet, Paris.
Laurencin painted a number of large canvases of groups of young women, elegantly attired in flowing dresses, who seem to float above abstract backgrounds, the latter often green, suggesting parks or gardens. The models are undifferentiated, often expressionless, as they ride horses or lie on the grass in an idyllic dream world. Laurencin's people are almost always young, female, and beautiful in a languid and sexless way. In her studio, Paris society became a dream world populated by ethereal female figures: any contact she had with reality must have occurred outside her art. It is fitting that she designed many sets for ballets, for she appears to have seen the world, or perhaps imagined it, as a ballet romanticized and sanitized. It comes as no surprise that an exhibition catalogue tells us that Cinderella and Alice in Wonderland were among Laurencin's favorite books.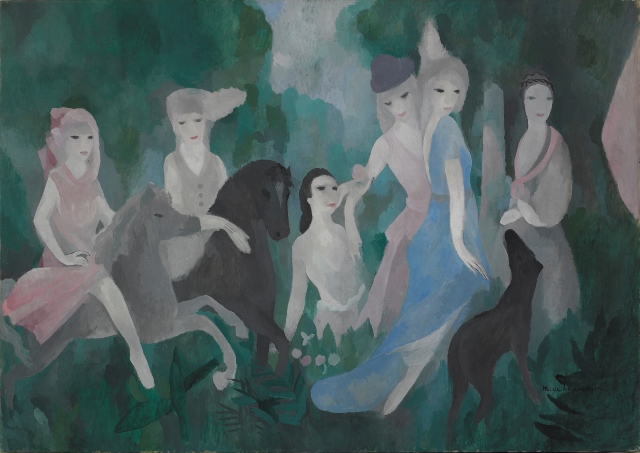 Marie Laurencin, Life at the Castle (1925). Image courtesy of the Musée Marmottan Monet, Paris.
Marie Laurencin's life spanned two world wars and a great economic depression, but these left no trace in her art. For most of her life, her art portrayed an unchanging dream world. The popularity her art enjoyed during her lifetime has now receded. Seeing this exhibition in the elegant Musée Marmottan in its prosperous and antiseptic corner of Paris serves to remind us that the city was once a place where advanced art was appreciated by a sophisticated audience, but it does nothing to show us that art, or to help us feel the intellectual excitement of that time.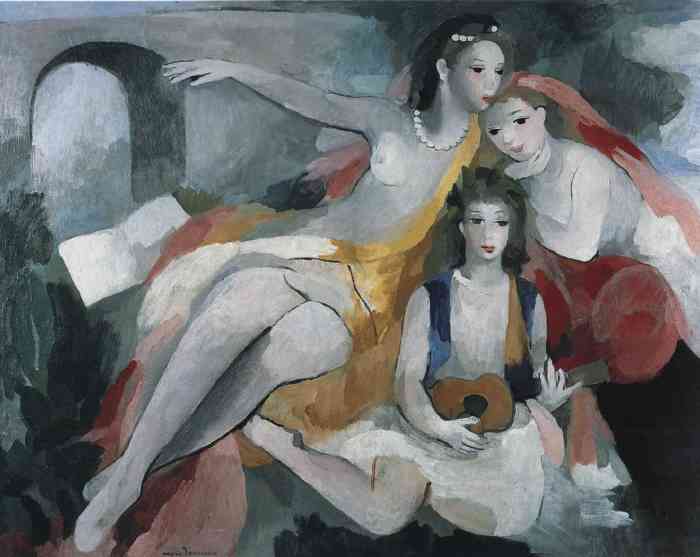 Marie Laurencin, Three Young Women (ca. 1935). Image courtesy of the Musée Marmottan Monet, Paris.
But a trip to the Marmottan is never wasted. To witness the greatness of Paris' lost art world directly, all that is needed is to walk upstairs from the museum's basement, to look at the magnificent paintings Monet and his peers did in the generation before Laurencin's friends took over. The works currently on display include not only major Impressionist paintings from the 1870s, but also a selection of Monet's great late water lily canvases, including one that always makes me wonder whether a Joan Mitchell hasn't been smuggled into the collection. The excellence of the Impressionists on display serves as a hopeful reminder of the higher quality of the temporary exhibitions we will see once again in Paris once La Crise has ended.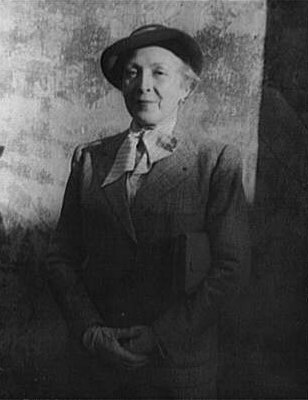 Portrait of Marie Laurencin (1949). Image courtesy of the U.S. Library of Congress, Washington, DC.
REAL LIFE. REAL NEWS. REAL VOICES.
Help us tell more of the stories that matter from voices that too often remain unheard.