Warning: This article contains nudity and may not be suitable for work environments.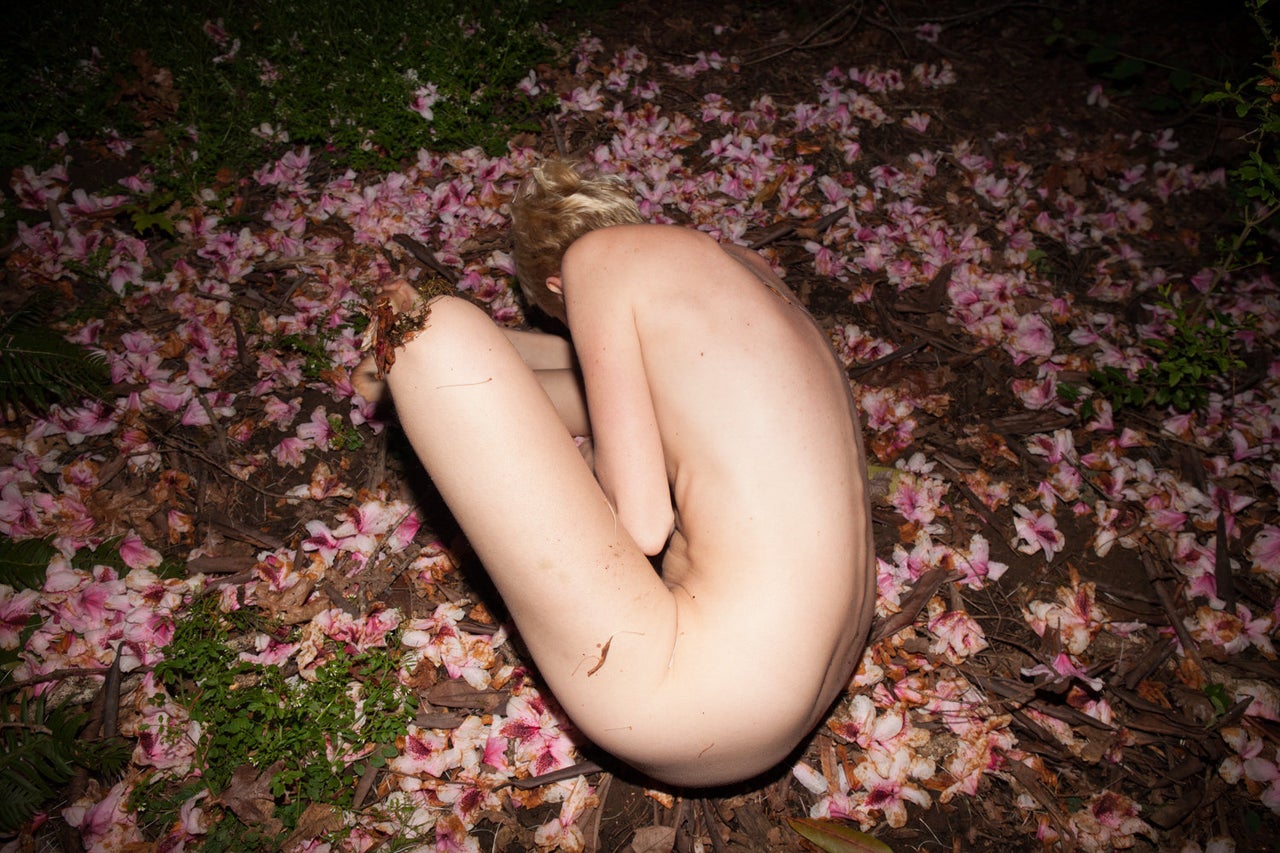 Marie Tomanova grew up in Mikulov, a small town in Czech Republic, back when it was still Czechoslovakia. Farming was her life; when Tomanova wasn't in school, she was tending to the vineyards or tomato fields around her home. "I wanted to play with other kids," Tomanova told HuffPost. "Instead of that I was farming with my family."
It wasn't until Tomanova moved to New York City to pursue a career as an artist that she began to appreciate, and even long for, the kinship with nature that was thrust upon her as a child. "I missed the smell of dirt, the sound of trees, the pure things that remind you of being alive," she said.
This is, in part, why Tomanova has a ritual of escaping the city, going on solitary hikes and taking self-portraits of her body entangled with tree trunks, rocks, smashed petals and moss. For journeys like these, Tomanova takes off her clothing, as if to shed all intermediary layers between her surroundings and herself.
"It's an almost meditative process," she said. "I love the feeling of being nude, running in the woods. It all feels so real and in the moment, being so close to nature."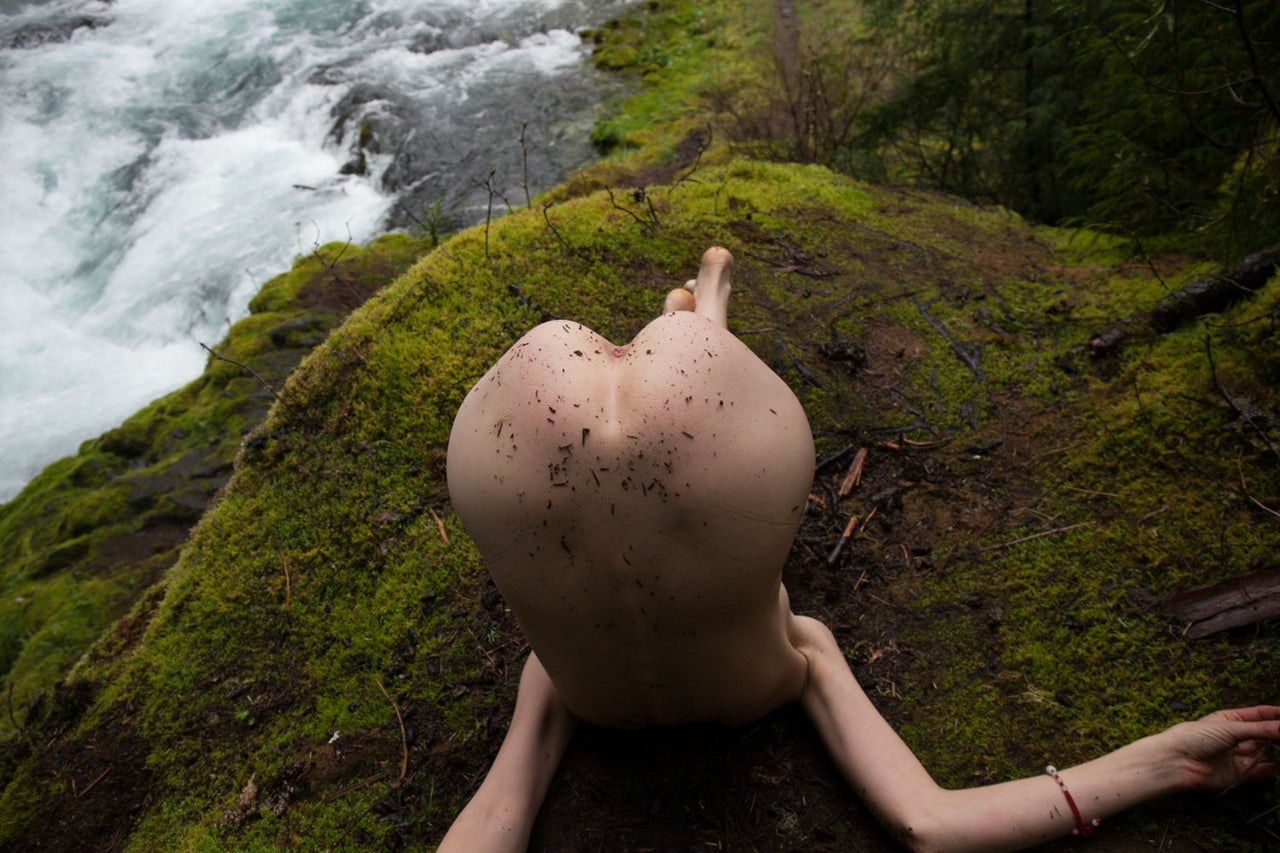 Tomanova's photographs are the first thing viewers see when entering the Museum of Sex's current exhibition "NSFW: FEMALE GAZE," comprised entirely of erotic work by emerging, female-identifying artists. In one photo, Tomanova stretches her legs behind her head as if mid-somersault, so her anus is exposed and greeting the heavens. Where one expects a head to be, there is only an ass.
In the other, Tomanova's spread-open crotch faces the viewer, juxtaposed with a backdrop of red, crumbling tree bark. Her ass and vagina are pictured so conspicuously they diverge from the cartoonish images of private parts we store in our heads, resembling abstract shapes with no precedent or frame of reference.
"I saw lots of people giggling," Tomanova said when describing the Museum of Sex opening. "You're basically looking at my butthole, while surrounded by all these people. People are not sure how to react."
I noticed Tomanova at the opening, watching viewers as they looked at her work. Tall, lanky and pale with a shaved head, she stood out even among the crowd of eccentrically dressed women. She had on a sheer, white-collared shirt that would have been demure had her nipples not been entirely on view.
Even amid the recent surge in artwork with a sex-positive and feminist bent, Tomanova's work feels especially raw, strange and transgressive. "How nude is too nude?" she asked when describing the conversation surrounding her work. When does a woman's naked body become too visible, too exposed, too close, too much? What happens when the covert desires of the male gaze are laid bare and served raw?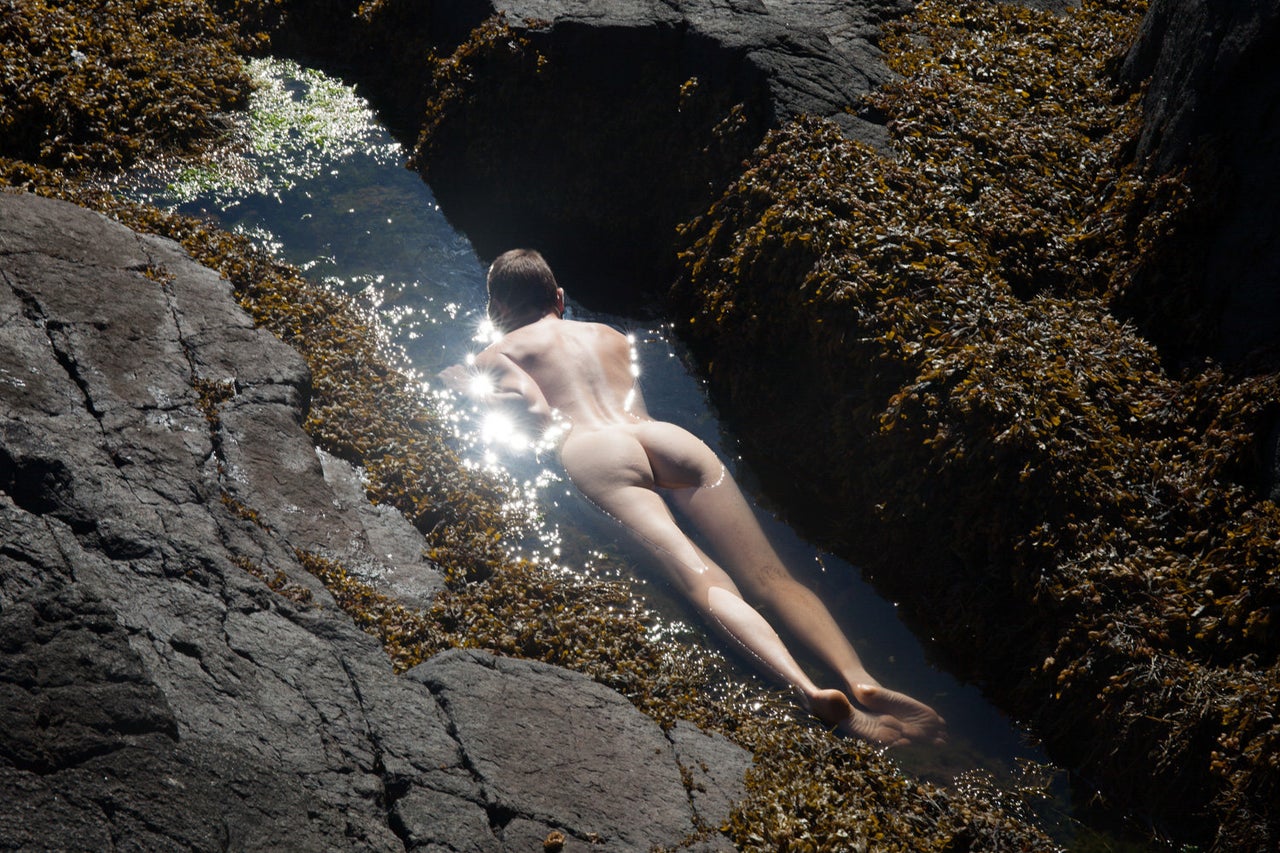 These might be the questions that often arise as a result of Tomanova's work, but they're not quite the issues she's concerned with. "When I'm in front of a camera, I try to capture my body in different positions and from all different angles. I'm interested in the shapes my body creates in nature. I'm not purposefully trying to show certain body parts or hide certain body parts."
Tomanova described herself as shy growing up. The kind of timidness that prevented her from asking for help at the corner store when she was too small to reach the milk. For as long as she can remember, Tomanova loved to doodle. "Bees flying over a little pond, things like that," she said.
After graduating from the Czech equivalent of high school, Tomanova enrolled in art school, feeling art was the only thing she was good at. She studied painting and soon found herself one of the only women in a toxic and misogynistic environment. "I mostly painted myself and other women, and my work was always sexualized because it was always a man at the head of the classroom," she recalled.
Her work, Tomanova explained, has always been about identity more than sex. But the presence of naked women in her paintings immediately dispatched the conversation to, as Tomanova put it, "Oh, this is the girl painting cunts." The fact that the most famous classical painters of all time explored the same subject matter was irrelevant. "Old masters were painting nude girls with their genitals exposed, why can't I?"
Tomanova decided to leave the Czech art scene once and for all after she sought guidance from a male professor who obliged ― but only in exchange for sex. She moved to the states at 26, first landing in North Carolina before moving to New York. A relatively introverted person, Tomanova was rattled by her move across the world to a place where she knew no one. Formerly a painter, she began to photograph herself, both as a way to ward off feelings of loneliness and to preserve the person she used to be, now that she felt herself rapidly growing and changing.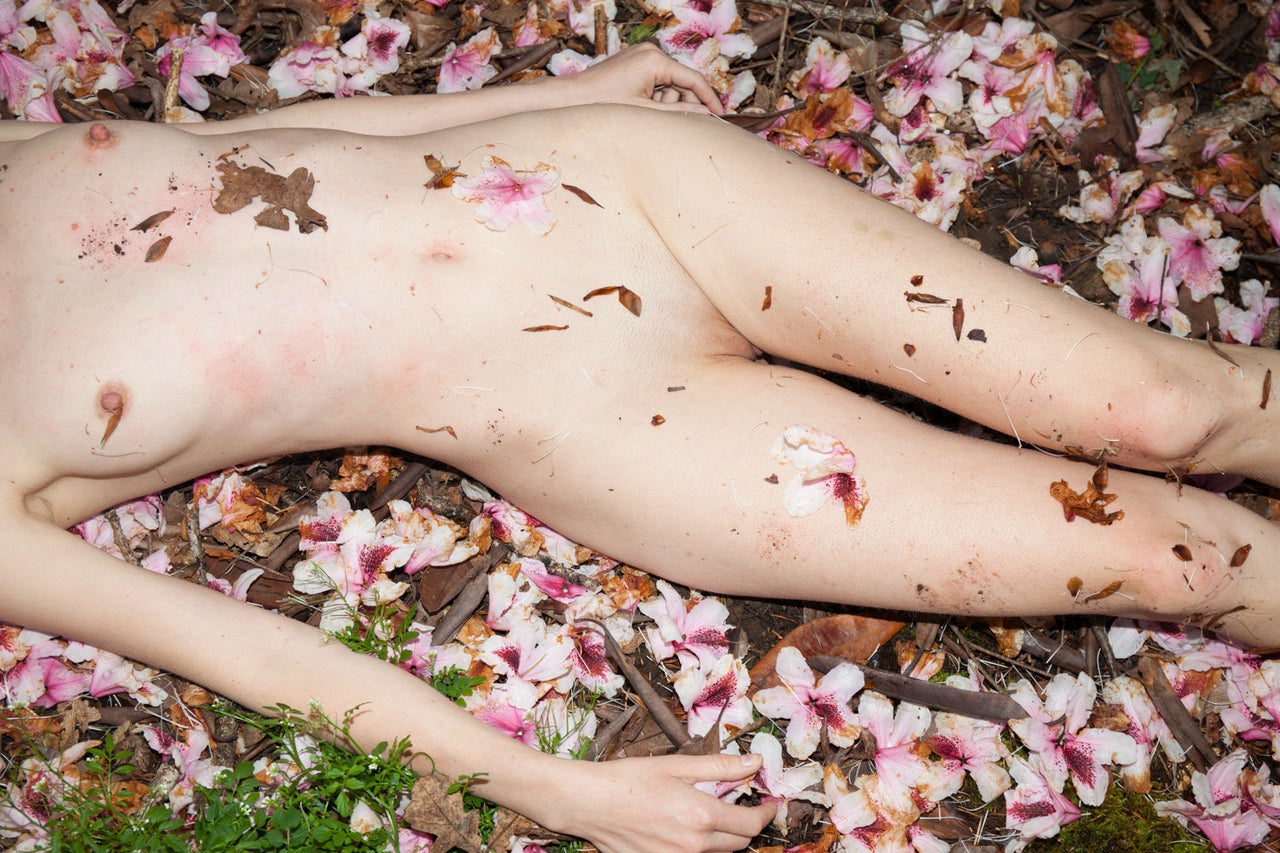 A huge influence of hers was the 2012 Francesca Woodman retrospective at the Guggenheim, featuring black-and-white self-portraits of the young photographer within various dilapidated domestic spaces. Like Tomanova's, Woodman's work becomes very much about the perceptions viewers thrust upon it.
Because they were created by a female photographer who committed suicide at 22 years old, Woodman's photos are often interpreted as possessing a morbid desire to disappear, an exegesis the surviving family members who knew her intimately constantly dispel. Also like Tomanova, Woodman transforms her often unclothed body into something unfamiliar, a network of angles and shadows and blurs rather than a cohesive human subject.
Tomanova fell in love with Woodman's work immediately and soon took to photography as her primary medium. "My first works were about trying to get a hold of who I am in terms of how I look, what I feel, how I like to be seen, how I like to portray myself," she said. "Eventually that moved toward nude photography."
But for Tomanova, nudity doesn't necessarily connote sexuality. "I think of the body as something that carries you through life," she said. "That lets you move through this world, that makes your dreams come true. There should be no part of your body that is taboo, censored or cut out. Your whole body is your whole you."
When she crawls and somersaults and buries herself in the woods, Tomanova is not trying to push boundaries or shock viewers by framing her genitals front and center. She plays outside without clothes on and documents the experience without shame or censorship. "I'm not interested in being told how my body should be seen."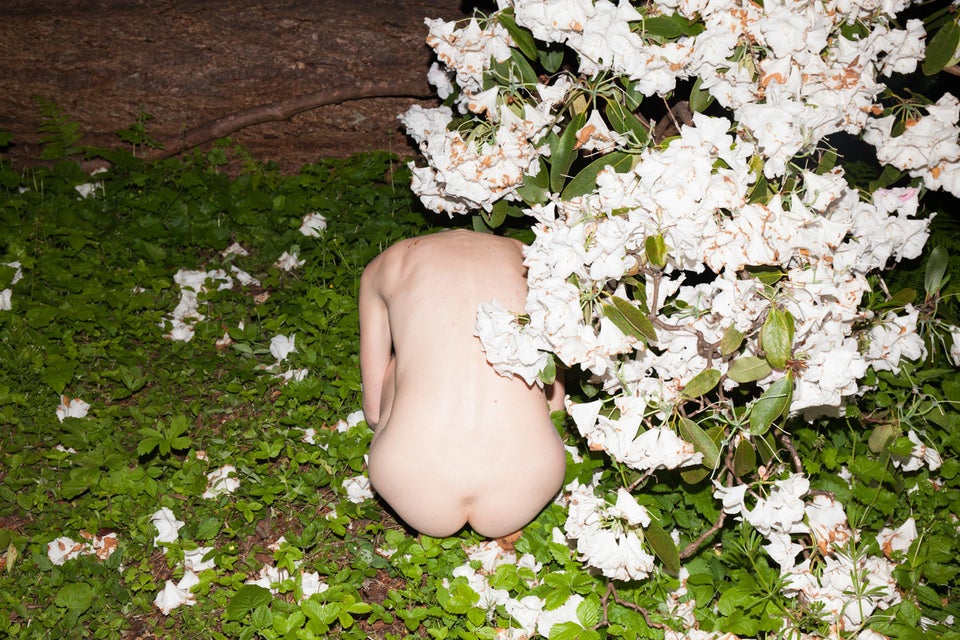 Marie Tomanova's Self-Portraits
See more images from the MoSex exhibition below: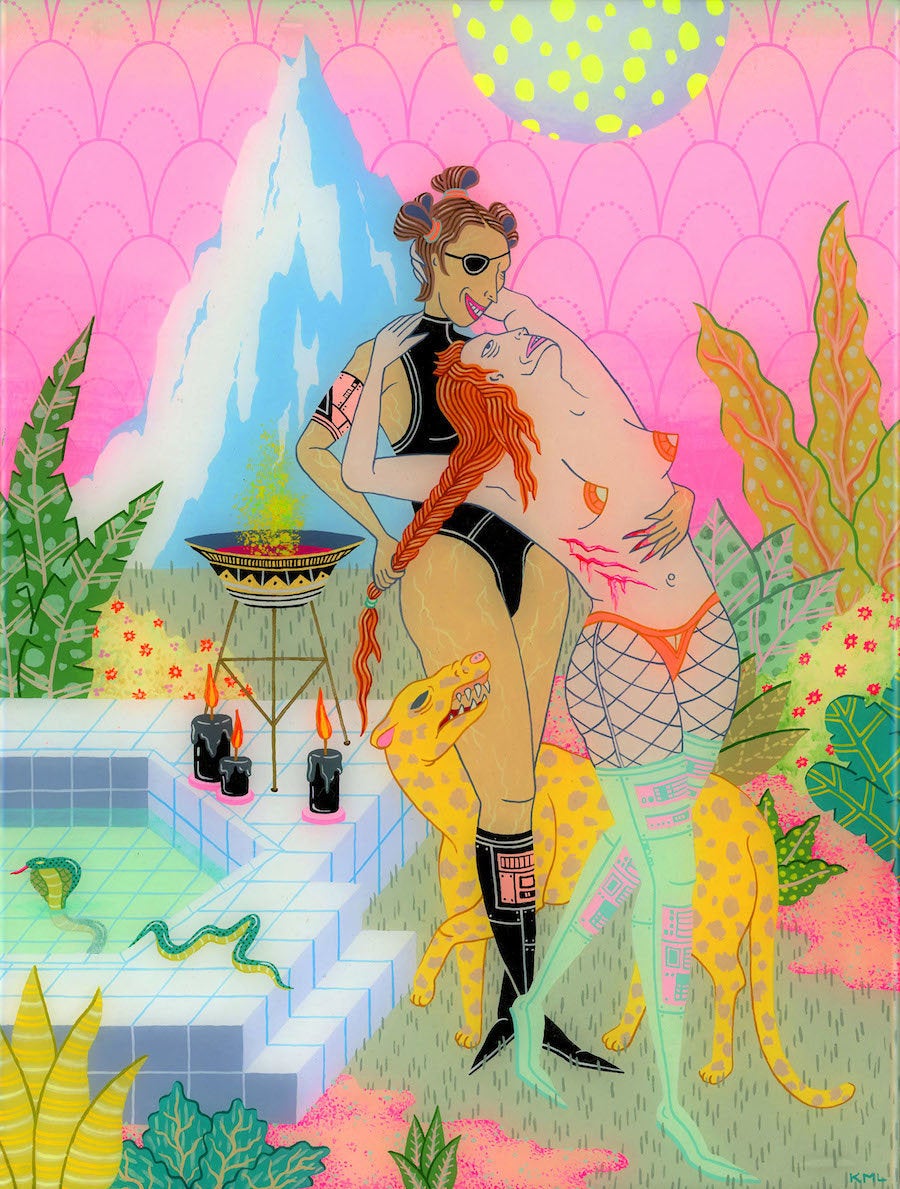 Museum of Sex
Support HuffPost
The Stakes Have Never Been Higher
Related
Popular in the Community