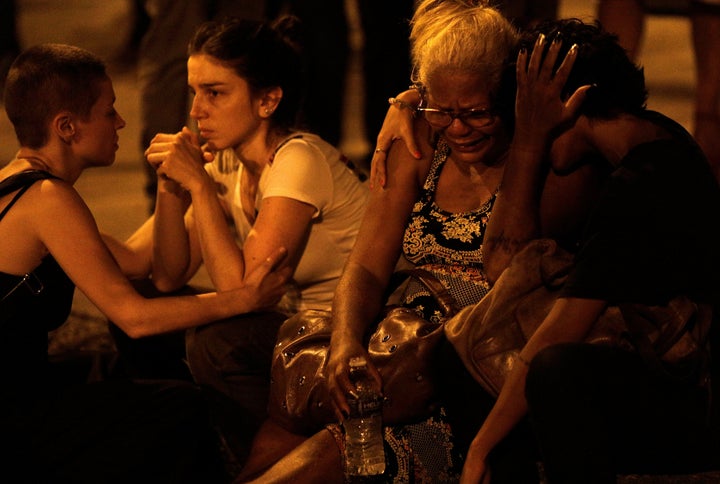 Marielle Franco, a Rio de Janeiro city councilwoman who had become a symbol of hope for many of the city's poorest residents, was shot and killed Wednesday night in an attack police are preliminarily calling an assassination.
Franco, a black woman from the Socialism and Liberty Party, or PSOL, was a fierce critic of the role of Rio's police in outbreaks of violence that have gripped the city for the last two years ― there were more than 5,000 homicides in 2016, according to federal data, and police killed more than 900 people that year. She was also opposed to President Michel Temer's February military intervention, which put the armed forces in control of security across the city.
The murder of a popular advocate for the city's most vulnerable citizens suggests that an already fraught situation in Rio is about to get even worse.
Franco's election ― she won the fifth-most votes in 2016′s city council race ― turned her into a beacon of hope for residents of Rio's favelas, and especially for black women and youth. She was also a point of pride. After she won, it was impossible to visit the Complexo de Maré or other Rio favelas, where Franco had worked for years to improve social conditions, and not hear residents speak of her or what she meant to them.
Her seat on the city council, it seemed, had instilled in residents the belief that they finally had a voice in places of power they'd rarely accessed.
That was in part because Franco was one of them. She was from Maré, a sprawling network of favelas ― the informal and long-neglected communities that are home to more than a million of the city's people. And she had based her candidacy for city council on fierce criticism of the power structures that have for so long neglected and stigmatized favela residents.
She was also a sociologist who focused her education, according to news reports, on "pacification," the failed policing program designed to seize control of favelas from Rio's drug gangs and deliver social services they have long lacked, but instead led only to more violence inside the neighborhoods.
And as a councilwoman, she had continued to use that voice on their behalf.
After Temer announced the military intervention in February, many observers blasted the plan as a political maneuver that would only exacerbate killings and human rights violations, especially for the mostly black and poor favela residents.
Franco was among the most vocal critics.
She had recently been appointed to a city commission to monitor the intervention, and in the days before her murder, she used social media to blast Rio's police and military authorities for targeting poor favela residents.
"Another homicide of a young man who may be coming into the [Military Police] account," she wrote on Facebook over the weekend. "Matheus Melo was leaving the church. How many more have to die for this war to end?"
"We need to scream so everyone knows what's happening in Acari right now," she wrote in another post, referencing a neighborhood in Rio's north zone. "The 41st Battalion of the Rio de Janeiro Military Police is terrorizing and raping residents of Acari. This week two young men were killed ... Today the police walked the streets threatening the residents. It has happened since forever, and with the intervention it got even worse."
"Marielle worked tirelessly to defend the rights of black women and young people in the favelas and other marginalized communities.""
Franco was killed by two gunmen who fired at least nine shots into her car as she was leaving an event in downtown Rio de Janeiro, police told The Associated Press. Her driver was also killed, and a press officer was injured.
"This a chilling development and is yet another example of the dangers that human rights defenders face in Brazil," Jurema Werneck, Amnesty International's Brazil director, said in a statement. "As a member of Rio de Janeiro's State Human Rights Commission, Marielle worked tirelessly to defend the rights of black women and young people in the favelas and other marginalized communities."
Protests began in Rio Thursday morning as a result of Franco's murder. Similar demonstrations are planned in other cities, including São Paulo, according to posts on Facebook and other social media sites.
Franco's murder will almost assuredly become a symbol of the dangers that Rio's favela residents face each day, especially as the bulk of the city's violence continues to target its poorest residents and the people who work on their behalf.
"Marielle is gone," Cecilia Olliveira, a writer for The Intercept Brazil, wrote on Wednesday night. "Do you know how many pictures of dead Marielles I see every day? Dozens, from all angles, shared by the networks, images with subtitles as 'all pierced.' The banality of evil. Because of the work I see bodies ― or pieces of bodies ― daily in that occupied Rio de Janeiro, used by people like the politicians who decided to intervene militarily only as an electoral battle horse."
Popular in the Community