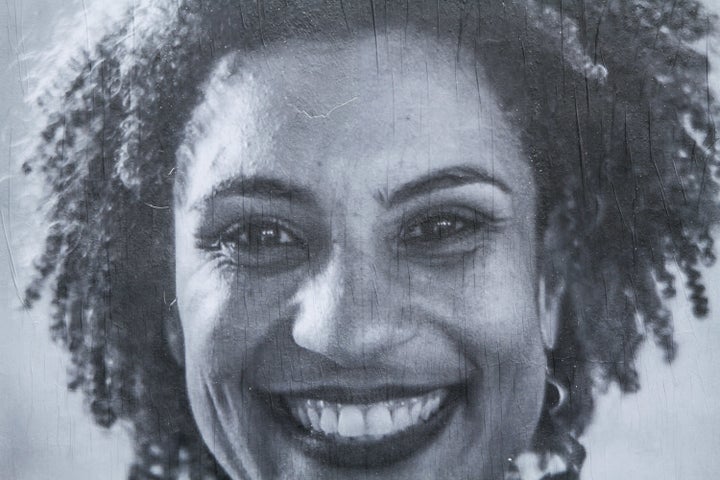 Last week's murder of black Rio de Janeiro city councilwoman Marielle Franco has already sparked global protests and calls to hold her killers accountable ― especially if the main suspects are, as various news reports have said, members of extrajudicial militias that often include rogue current and former Rio police officers.
Now, more than three dozen prominent actors, authors, politicians and activists are joining the cause. On Thursday, the group penned an open letter that demands justice for Franco's murder and calls for an independent investigation to help solve it.
"We are deeply concerned and shocked by this commando-style killing of a woman who was a voice for the voiceless and a symbol of resistance to state-perpetrated violence, militarization and anti-democratic forces," says the letter, which was published in and first reported by The Guardian and Brazil's Globo News.
Franco, a 38-year-old first-term councilwoman, was a crusader against police violence in Rio, where one of the world's deadliest police forces killed more than 900 people ― the majority of them black ― in 2016. A native of Complexo da Mare, a network of informal favela neighborhoods on Rio's north side, she was also a type of advocate for the city's poorest residents that they have rarely had before.
Widespread and persistent street protests in Rio de Janeiro and other cities across Brazil have put pressure on police to solve the case. But the possibility of police involvement in the death has also created skepticism among many Brazilians that Rio officials will actually bring Franco's killers to justice. The bullets that killed Franco were linked to a cache purchased by the federal police in 2006, and militiamen are said to be key suspects in what appeared to be a professional-style killing.
"Given that Marielle's murder bears all the hallmarks of a targeted assassination," the letter states, "we call for the creation of an independent commission comprised of prominent and respected national and international human rights and legal experts and tasked with carrying out an independent investigation of the murder of Marielle Franco with the full cooperation of state judicial and police authorities."
The letter is the latest and loudest call for an independent investigation instead of the probe Rio police are leading, and it comes from a number of prominent celebrities and activists.
"We call for justice for Marielle Franco and the daughter and the partner she leaves behind, and for an end to the killings and criminalization of activists, government opponents and low-income people in Brazil."
Signers of the letter include filmmakers Ava DuVernay and Oliver Stone; actors Danny Glover, Viggo Mortensen, Wagner Moura and Thandie Newton; singer Janelle Monae; model Naomi Campbell; the Rev. Jesse Jackson; linguist and political theorist Noam Chomsky; writer and author Ta-Nehisi Coates; and Black Lives Matter movement co-founders Patrisse Cullors and Opal Tometi.
Rio state representative Marcelo Freixo, one of Franco's political mentors, and Franco's sister, Anielle Silva, also added their signatures.
"We call for justice for Marielle Franco and the daughter and the partner she leaves behind, and for an end to the killings and criminalization of activists, government opponents and low-income people in Brazil," the letter concludes.
Before taking office, Franco had worked on an official investigation into killings by the informal militias, many of which include current or former police officers, that operate across Rio.
In 2016, she won an improbable election to Rio's city council as a member of the leftist Socialism and Freedom Party, or PSOL. Her victory made her the only black woman on the 51-member council and a powerful voice for Rio's favela residents ― for whom she was a staunch advocate and defender.
Her sudden murder ― and her status as a black lesbian from the favelas who fought for racial, gender and LGBTQ equality, for an end to police violence, and against Rio and Brazil's entrenched political establishment ― quickly brought international attention to her cause.
Protests that broke out in Rio and Sao Paulo immediately after her death soon spread to New York, Paris, Buenos Aires, and other cities across Europe and Latin America. In Washington, more than 40 people ― many of them Brazilian expatriates ― staged a vigil outside the White House last week.
On Wednesday evening, they rallied again outside the Brazilian consulate in a joint protest held with activists from D.C.-based civil rights and anti-police violence organizations at their side.
An unseasonable snowstorm had shut down much of Washington for the day and nearly led the activists to postpone the vigil meant to mark the one-week anniversary of Franco's death.
"But then we thought, 'Would Marielle stay inside, or would she come outside and fight?'" said Juliana Moraes, from the D.C.-based group Brazilian Expats For Democracy and Social Justice.
So for more than an hour, they chanted and sang in remembrance of Franco and pledged to continue fighting for the causes she believed in.
They drew links, too, between police violence in the United States ― where police killed nearly 1,000 people in 2016 ― and Brazil ― where police killed more than 4,200 people in 2016. In the United States, black people are more than twice as likely as whites to be killed in encounters with police. More than three-quarters of the people killed by Brazil's police in 2016, meanwhile, were black. The activists noted, too, that in both the U.S. and Brazil, women and LGBTQ people still face disproportionate levels of violence.
The protesters held signs that said "Black Lives Matter in Brazil." They called for an end to military intervention. They demanded an answer to the question, "Who killed Marielle?"
As darkness fell and temperatures plunged below freezing, the crowd dispersed. Left behind was one sign taped to the door of the Brazilian consulate.
"End the genocide in Rio," it said.
Related
Popular in the Community