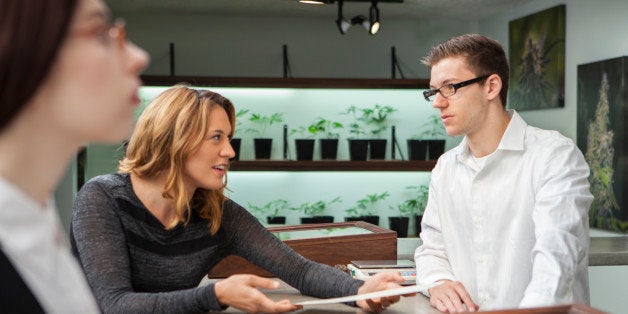 For the past four years, all the way up through last week's episode of 60 Minutes, the public and the media have associated marijuana legalization with the state of Colorado. From jokes on late night television to reality shows on cable networks, the two have been inextricably linked.
As a lead drafter of Colorado's 2012 Amendment 64 ballot measure and the campaign manager for that campaign, this is a source of pride. It is also a testament to dozens of individuals who worked tirelessly -- and strategically -- to put the state in the position to lead the nation in this area.
It must be understood that "leading the nation" in this context is not referring to the simple fact that Colorado adults were the first, along with adults in Washington state, to be able to use marijuana without the threat of penalty. What has made Colorado special is the manner in which it has regulated a system that had never been regulated before.
Immediately following passage of the initiative, Colorado Governor John Hickenlooper established the Task Force on the Implementation of Amendment 64. Stakeholders on all sides of the debate worked together to address the broad range of issues associated with creating a legal marijuana market for adults. The Task Force covered issues from THC content and packaging requirements to whether the supply chain should be vertically-integrated. They produced recommendations that were then considered and largely enacted by the legislature and regulators.
As a result of all of this work, Colorado produced a regulated, free market system with local control, so that localities could determine the extent to which adult-use marijuana facilities could operate in their jurisdictions. This system, including both medical and adult-use products, produced $1 billion in sales in 2015 and will likely top $1.2 billion in 2016. At the same time, teen use has remained flat in the state and overall problems associated with the legal market appear to be quite limited.
Of course, there are some people who believe that marijuana legalization has not been good for Colorado or for the other states that have already moved in that direction. But this column isn't the place for that debate. Rather, the purpose here is to address the fact that we are on the verge of moving well beyond "Colorado."
This week, the people of Arizona, California, Maine, Massachusetts, and Nevada will vote on measures to regulate the cultivation and sale of marijuana for all adults. If current polling proves true, more than 20 percent of adults in the U.S. will soon live in states where marijuana is legal, including the entire west coast.
For many people, especially members of minority groups who have been targeted through the use of marijuana laws, this break in the dam of marijuana prohibition is a cause for celebration. But for those of us who have been fighting for decades to end marijuana prohibition, it is a time for preparation.
We must prepare for the era of legal marijuana. This is a massive undertaking, involving the development of a new $30-$50 billion dollar industry in the U.S. Similar to the philosophy of the task force in Colorado, it will require cooperative action and thoughtful participation from a broad range of groups.
In particular, we hope that the federal government will look to advocates who have helped build the cannabis industry up to this point, as well as cannabis industry leaders themselves, as partners in the process of developing federal laws and regulations. Our experience can help government officials understand the nature of this young industry and what policies can enhance consumer safety while allowing for efficiency in operations.
To turn an old phrase, we are not in Colorado any more. But we should take a lesson from Colorado and dedicate ourselves to working together to shape the most responsible cannabis industry possible.
Steve Fox is director of VS Strategies and of counsel with the Vicente Sederberg law firm
Calling all HuffPost superfans!
Sign up for membership to become a founding member and help shape HuffPost's next chapter