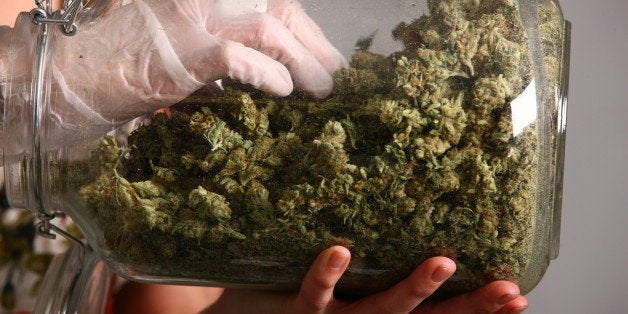 Colorado Gov. John Hickenlooper (D) and Washington Gov. Jay Inslee (D) are urging federal banking regulators to make federal banking regulations more flexible so that state-licensed marijuana producers, processors, and retailers can gain access to the banking system.
"Colorado and Washington are in the process of implementing citizen initiatives permitting the production, processing, and sale of marijuana to adults for recreational use, in compliance with state law," Hickenlooper and Inslee say in a letter they wrote together. "Access to the banking system by these state-licensed businesses is a necessary component in ensuring a highly regulated marijuana system that will accurately track funds, prevent criminal involvement, and promote public safety. In order to achieve the mutual federal and state goal of establishing tightly-controlled marijuana regulatory systems, we urge you to issue inter-agency guidance that will allow legal, licensed marijuana businesses access to the banking system."
Attorney General Eric Holder announced in August that the Department of Justice will let Colorado and Washington's new recreational marijuana laws go into effect. Though it appears the feds will stay out of the way of both states' nascent recreational marijuana industries, the fact that marijuana is still considered illegal federally, due to the Controlled Substances Act, creates real problems for pot businesses. Issues like taxes, payroll and general banking are all negatively affected because of the federal government's marijuana stance.
"On the banking side it's been a scary situation. A lot of these businesses have been forced into cash-only operations. They can't use credit cards and in some cases don't have active checking accounts," said Aaron Smith, of the National Cannabis Industry Association, to The Daily Beast. "They pay their payroll in cash and their city and state licensing fees in cash."
Holder has said that the DOJ is "actively considering" how to regulate interactions between banks and marijuana shops that operate within state laws and don't violate other federal law enforcement priorities.
For now, financial institutions and other enterprises that do business with marijuana shops that are in compliance with state laws are unlikely to be prosecuted for money laundering or other federal crimes that could be brought under existing federal drug laws, as long as those pot businesses don't otherwise violate the priorities, a senior Department of Justice official said to HuffPost in August.
"Permitting normal banking relationships for state marijuana licensees would also assure a means of tracking the flow of funds, and prevent diversion of marijuana proceeds to illegal activities and to states and foreign jurisdictions in which marijuana remains illegal," the letter says.
Read the letter in its entirety here.
Recreational marijuana businesses are expected to start opening their doors in Colorado beginning around Jan. 1, 2014. Earlier this month, Colorado became the first state in the U.S. to adopt rules for legal, recreational marijuana sales.
Calling all HuffPost superfans!
Sign up for membership to become a founding member and help shape HuffPost's next chapter
BEFORE YOU GO
PHOTO GALLERY
16 Facts About Marijuana And The U.S. Economy