"You don't want just huge amounts of cash in these places," Holder said at the Miller Center at the University of Virginia, The New York Times reported. "They want to be able to use the banking system. There's a public safety component to this. Huge amounts of cash -- substantial amounts of cash just kind of lying around with no place for it to be appropriately deposited is something that would worry me, just from a law enforcement perspective."
Although Holder spoke of new regulations, a Department of Justice spokesman clarified that the attorney general was referring to a planned legal memo that will offer guidance for federal prosecutors and federal law enforcement. The memo, as The Wall Street Journal reported earlier this month, will not clearly lay out what banks can and can't do. Instead, it will outline federal prosecution priorities and provide a more general framework, but it may not be the robust go-ahead for banking rights that legal marijuana businesses are hoping for.
It's possible that the clarification means the DOJ and Treasury will only give marijuana business banking a "yellow light," rather than a green one, as Colorado Gov. John Hickenlooper's (D) chief legal counsel, Jack Finlaw, said in December. Finlaw said he expects the memo in the first quarter of 2014 and that it would allow for marijuana businesses to make deposits, set up checking accounts, set up small business loans, and allow debit and credit-card transactions.
Currently, marijuana businesses cannot set up traditional bank accounts because the federal government still considers marijuana to be illegal. Banks fear that they could be implicated as money launderers if they offer traditional banking services to the pot businesses.
Marijuana-related businesses often cannot accept credit cards for transactions, and some do not have simple checking accounts and must conduct only cash transactions. Cash-only businesses can put retailers' safety at risk and can be burdensome in other ways, like taxes and employee payroll.
For weeks, the DOJ and the Treasury Department were rumored to be working on legal guidance for banks working with marijuana businesses in states like Colorado and Washington, both of which legalized recreational marijuana for adults 21 and over. Pressure has mounted since Colorado's first recreational marijuana dispensaries opened on Jan. 1, resulting in millions of dollars in sales during the first week alone. Currently, 20 states, along with the District of Columbia, have medical marijuana or recreational marijuana laws.
Reactions from lawmakers and marijuana reform advocates to Holder's remarks ranged from hopeful to skeptical. Many expressed a sort of fatigue, acknowledging that Holder's remarks -- while positive -- are empty unless immediate action is taken.
Colorado Gov. John Hickenlooper has been pursuing guidance from the federal government and banking regulators for months. The governor's spokesman, Eric Brown, told HuffPost that his office is "encouraged" by Holder's statements, but hopes that guidance "is specific, and will give banks and the marijuana industry what they need to move forward."
"I am very pleased by Attorney General Holder's comments," Denver City Councilman Albus Brooks (D) told HuffPost. "However, in our communities today, marijuana and medical marijuana businesses are vulnerable to intrusion, which creates serious public safety ramifications. We are looking for immediate action on this issue, not merely favorable comments."
On a national level, several high-profile Colorado lawmakers have demanded full banking rights for marijuana businesses, including Rep. Jared Polis (D), who cosponsored last year's proposed Marijuana Business Access to Banking Act (HR 2652) as well as the Ending Federal Marijuana Prohibition Act (HR 499). Polis told HuffPost that Holder was right about identifying this as a public safety issue, adding that this regulation cannot come soon enough.
"Let's hope that 'very soon' means very soon," said Polis.
Tom Angell, chairman of drug reform group Marijuana Majority, told The Huffington Post that although he's hopeful after hearing the attorney general raise serious public safety concerns about how current federal law puts many legal pot businesses at risk, he remains leery.
"We don't yet know what, exactly, the new Justice/Treasury guidance will say," Angell said. "And, even more importantly, we don't know if the administration will be more consistent in enforcing whatever protections are outlined in the coming memo than they have been in seeing that previous federal marijuana enforcement directives are followed through on. In any case, it is good news that Mr. Holder clearly understands that letting these businesses access banking services is a key part of making sure state marijuana laws are effectively and safely implemented."
"I think the positions that we're taking –- in terms of setting up those eight priorities that would warrant federal intervention –- are consistent with what the president said," Holder said, according to MSNBC.
The DOJ outlined the federal priorities in August when Holder announced that the federal government would allow Colorado and Washington's new recreational marijuana laws to go into effect.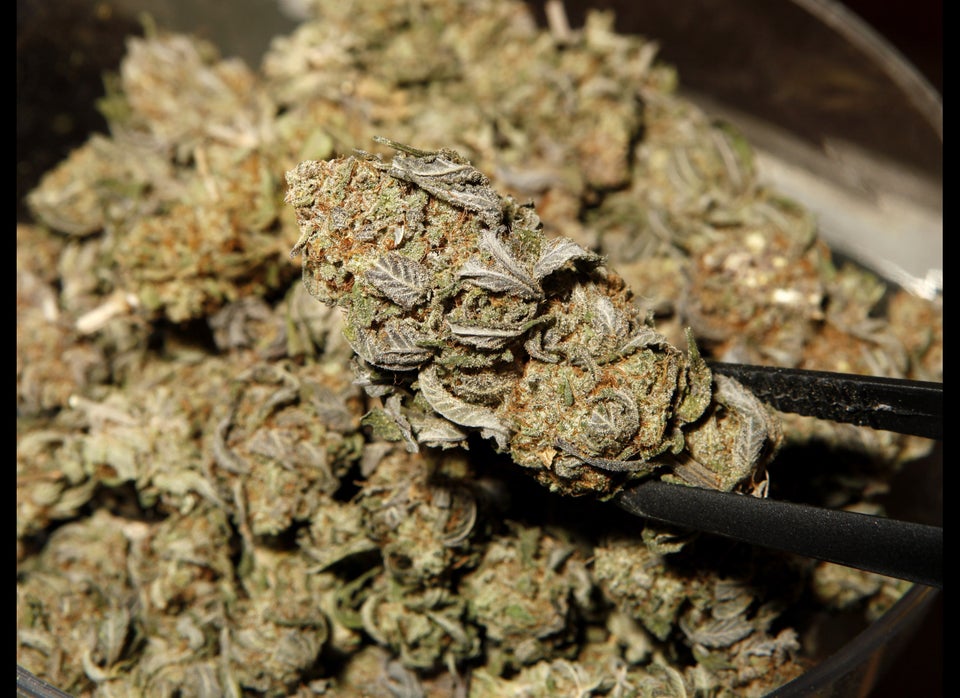 16 Facts About Marijuana And The U.S. Economy
Popular in the Community