 Investors looking for high returns took to Colorado this week and poured more than $1 million into the burgeoning legalized recreational marijuana industry in the state.
In Denver, more than 60 investors from The ArcView Group met with 22 startup marijuana companies -- including several directly involved in marijuana sales or cultivation, which was a first for the investment group -- seeking capital. By the end of the meetings, the investors committed "well over $1 million" to Colorado marijuana companies, ArcView CEO Troy Dayton told The Denver Post.
And it may have been even more, however, due to Colorado's marijuana laws which requires investors to qualify as state residents for three years before making equity investments in a marijuana business, some investors had to cap their deal pens.
ArcView president Steve DeAngelo told Bloomberg Businessweek that more than 90 percent of ArcView's investors at the meeting came from out of state -- meaning the overwhelming majority of them could not invest.
"Colorado has an opportunity to claim a—if not the—leading role in the cannabis industry, if it's properly financed," DeAngelo said. "It's an opportunity to build the first big companies and the first big brands. But it's going to be difficult for them to do that if they're unable to get the financing that's available to every other industry."
Cannabis business is "the next great American industry," ArcView CEO Dayton said when opening the investment meeting this week and despite the red tape that kept many investors from jumping in, it still certainly seems to be off to a strong start. It has only been about a month since Attorney General Eric Holder announced that the Department of Justice would let the new legal marijuana laws in Colorado and Washington go into effect.
But just because it appears the feds will stay out of the way of Colorado and Washington's nascent recreational marijuana industry, the fact that marijuana is still considered illegal federally, due to the Controlled Substances Act, creates real problems for pot businesses. Issues like taxes, payroll and general banking are all negatively affected because of the federal government's marijuana stance.
"On the banking side it's been a scary situation. A lot of these businesses have been forced into cash-only operations. They can't use credit cards and in some cases don't have active checking accounts," said Aaron Smith, of the National Cannabis Industry Association, to The Daily Beast. "They pay their payroll in cash and their city and state licensing fees in cash."
Holder has said that the DOJ is "actively considering" how to regulate interactions between banks and marijuana shops that operate within state laws and don't violate other federal law enforcement priorities.
For now, financial institutions and other enterprises that do business with marijuana shops that are in compliance with state laws are unlikely to be prosecuted for money laundering or other federal crimes that could be brought under existing federal drug laws, as long as those pot businesses don't otherwise violate the priorities, a senior Department of Justice official said to HuffPost in August.
And a new trail toward pot business' access to banking, tax reform and protection from the federal government is being blazed by several lawmakers. Rep. Ed Perlmutter (D-Colo.) and Rep. Denny Heck (D-Wash.) are seeking reformed access to banking for marijuana businesses with their "Marijuana Business Access to Banking Act of 2013" (H.R. 2652), Rep. Earl Blumenauer (D-Ore.) and Americans for Tax Reform president Grover Norquist are working a piece of legislation that would allow for marijuana businesses the take the standard deductions from federal taxes that other non-marijuana businesses can and Rep. Dana Rohrabacher (R-Calif.) has introduced the "Respect State Marijuana Laws Act of 2013" (H.R. 1523) which seeks to further protect a person acting in compliance with state laws relating to the production, possession, distribution or delivery of marijuana.
Recreational marijuana businesses are expected to start opening their doors in Colorado beginning around Jan. 1, 2014. Earlier this month, Colorado became the first state in the U.S. to adopt rules for legal, recreational marijuana sales.
The ArcView Investor Network, founded in 2010, is comprised of about 80 investors from the United States and abroad, many of whom are already involved in the marijuana industry. Back in May, the group committed $1 million to marijuana industry startups at a similar Seattle, Wash. event.
Before You Go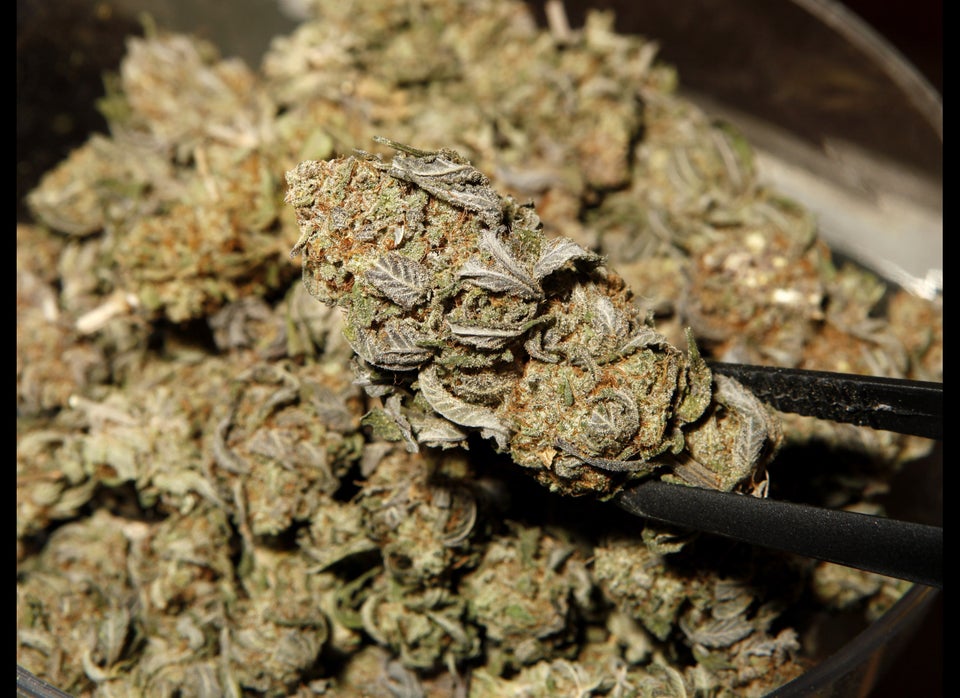 16 Facts About Marijuana And The U.S. Economy
Popular in the Community