 Once a business proposition that required little more than a few thousand dollars and some gardening equipment, selling medical marijuana is quickly becoming a dream fit only for deep-pocketed entrepreneurs.
Regulations in states that only recently legalized medical marijuana are mandating that would-be dispensary operators set aside large amounts of cash before even applying for a license, tipping the scales in favor of businesspeople with money to burn. Drawn-out licensing processes being devised in those states mean permits to run dispensaries will likely only go to those able to afford a cadre of consultants and lawyers.
Five years ago, Ean Seeb helped open Colorado dispensary Denver Relief with "four thousand dollars and half a pound of cannabis."
"I don't think that would ever happen again," said Seeb, who now works as a dispensary consultant. "Somebody who just has a good idea but little capital would find it difficult to impossible to go into the business today."
In Connecticut, where rules are yet to be finalized and the state has only committed to allowing one dispensary, fees are expected to be higher and competition to secure a cannabis producer's license even fiercer. Among other requirements, Connecticut will ask dispensary owners to post a $2 million bond that the state will be able to access if operations falter. Seeb is telling clients there to make sure they have at least $6 million in the bank before moving forward.
When it awarded 98 licenses to open medical marijuana dispensaries 10 months ago, the state of Arizona required applicants to show $150,000 in capital. The vast majority of those getting into the business appeared to be well-heeled entrepreneurs, according to interviews with license-holders and consultants in the state. Owners of real estate firms, cellphone shops and motorcycle dealerships, along with at least one college student with a trust fund are now in line to become medical marijuana store owners, the consultants said. None of the new licensees interviewed by The Huffington Post had any experience running a health care venture, and at least one was openly disdainful of marijuana as a business.
That reality is in stark contrast to the situation in California and Colorado a few years back, when dispensaries first became legal. The free-wheeling business, devoid of regulation or store count limits, was immediately dominated by marijuana insiders: former legalization activists and growers with connections to the underground market. Now, industry sources told HuffPost, the average ganjapreneur is likely to have deep capital pools and a view on the bottom line, if little love for cannabis as a plant.
"It's just like anything else, it's a business opportunity for me," said Thai Nguyen, who owns a real estate firm in Phoenix and is partnering with his wife and one of his employees to open a store called Herbal Wellness Center in central Phoenix. While those who set up dispensaries in California and Colorado after the drug was first legalized in those states were often activists with an open pride for their product, Nguyen expressed concern about how being publicly associated with the marijuana industry could affect his other businesses.
Just a few miles away from Nguyen, a businessman whose previous interests include a cellphone retail store and a cigar shop said he is trying to open a dispensary in Chandler, Ariz., mainly as a profit proposition.
"I'm a business owner," Ramey Sweis, the businessman, said. "Between me and my partners, we have maybe 20 to 30 businesses. We saw this as a good avenue to expand as a business plan. Nothing more."
State public records show the owner, salesperson and service technician at Phoenix motorcycle dealership Apache Motorcycles are among those who received a license to set up a marijuana dispensary in the state. Randall and Rex Webb, two Arizona businessmen with multiple ventures throughout the state, are also listed as principals of a non-profit corporation attempting to secure a dispensary permit, public records show. Repeated calls for comment to those parties were not returned.
Industry sources described a sort of gold rush mentality for the newly legal industry.
"It's just like seven years ago when everyone who could became a real estate agent, and they owned a hair salon but they were also a loan broker or whatever," said Adam Bierman, whose firm The MedMen has helped advise dozens of would-be dispensary owners in California, Colorado, Arizona and Nevada. "It's the same thing. People are piling in because it's the hottest industry right now."
"It's like the Super Bowl is coming to town," he added.
Kris Krane, who said his firm 4Front Advisors has advised 32 clients in six states on how to set up and operate medical marijuana dispensaries, said there is a benefit to having people with plenty of capital come into the industry.
"Professional-looking retailers have the ability to change public perception," Krane said. "The stereotype gets changed from the stoner burnout selling weed from his parent's basement when a beautiful, high-end retailer that the community can be proud of opens up."
A former activist with Students For Responsible Drug Policy and the National Organization For The Reform Of Marijuana Laws, Krane said he sees his current position as an extension of his previous work fighting the so-called war on drugs.
"We move the movement forward by making sure the industry thrives," Krane said.
But there are drawbacks, according to Bierman, the MedMen advisor.
"Some of the people that were getting in, these real estate entrepreneurs who want to be pot tycoons, they don't know what they're doing," he said. "People in Arizona got a license and then called and were like 'What do I do?' And I told them to buy a 25,000-square-foot warehouse and fill it with marijuana. And they freaked out. They were like 'Oh my god, that's illegal. I can't do that. I can't go to jail.'"
"People coming into the industry now are scaring too easily," Bierman added.
Related
Before You Go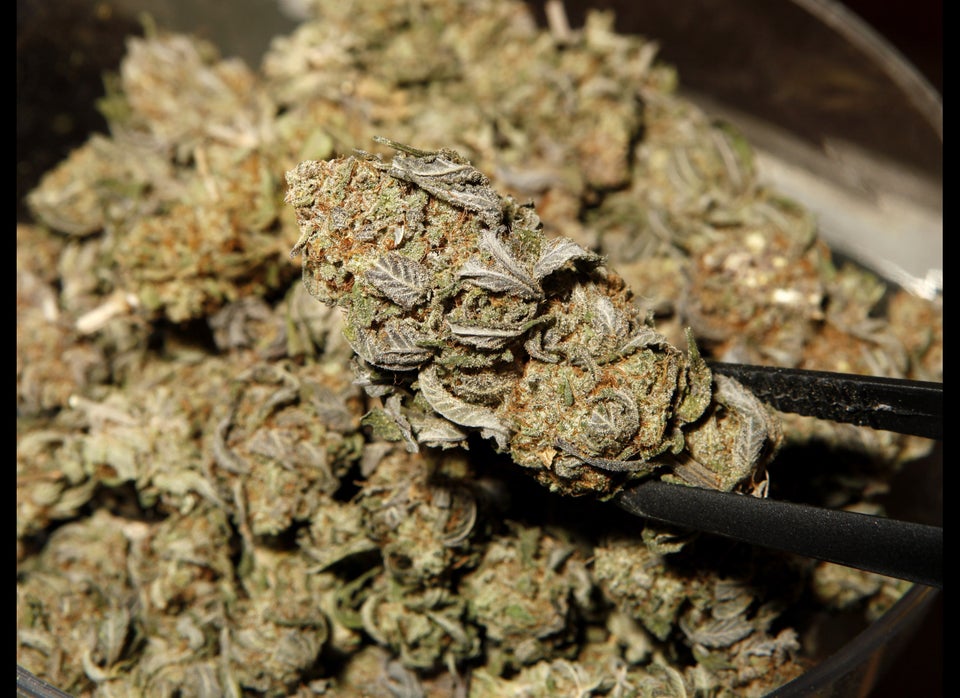 16 Facts About Marijuana And The U.S. Economy
Popular in the Community