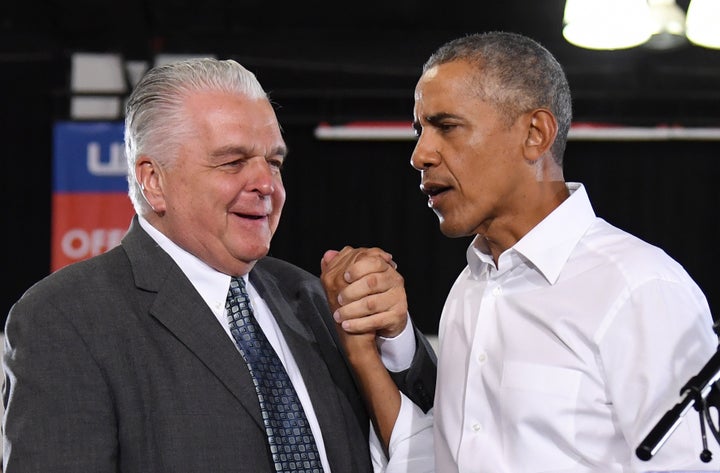 LAS VEGAS ― Democrats are raising huge sums of cash ahead of November's midterm elections, but they're hoping another kind of green wave will help them at the ballot box.
In races at the local, state, and federal level, Democratic candidates are embracing the legalization of some form of marijuana ― if not for recreational use, then purely for medicinal purposes ― at a rate not seen in previous elections.
Not surprisingly, progressives like Florida gubernatorial candidate Andrew Gillum and Texas Senate candidate Rep. Beto O'Rourke have made legalizing cannabis a major plank of their campaign platform. But more centrist-minded Democrats in Illinois, Michigan, and Pennsylvania have made similar appeals to voters.
"This wasn't brought up by Democrats in past years; it's become a bigger issue," said Mason Tvert, a spokesperson for the advocacy group Marijuana Policy Project.
The growing influence of cannabis on the campaign trail this cycle is a reflection of change over the decades in public attitudes about its use. According to a Gallup poll released this week, 66% of Americans now support legalizing marijuana ― a new record.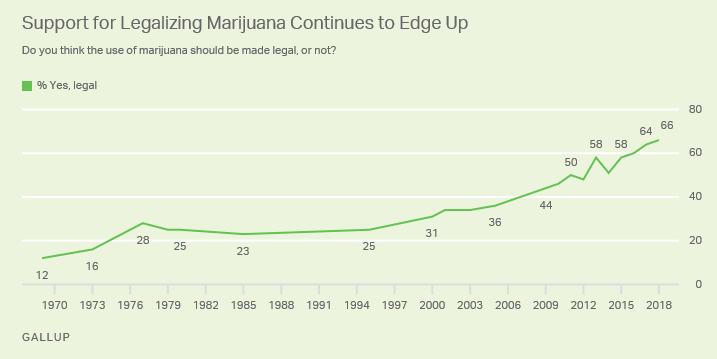 In Nevada, a state that legalized weed for recreational use as of 2017, Democratic challengers have used the issue as a political wedge by attacking their GOP opponents for standing with President Donald Trump's administration and its efforts to undermine legalization efforts.
Attorney General Jeff Sessions is a vocal and longtime opponent of marijuana who continues to crusade against the drug. He caused uncertainty within the burgeoning pot industry early this year when he reversed guidelines from the Obama administration that essentially directed officials to ignore federal laws that still deem the drug illegal in those states where it's been legalized.
Marijuana advocates fear Sessions will go further in pursuing a crackdown, despite Trump's lukewarm assertions otherwise.
Rep. Jacky Rosen, the Democratic Senate candidate in Nevada, sought to spotlight the issue when she toured a marijuana dispensary earlier this year. She criticized her opponent, GOP Sen. Dean Heller, for failing to speak out against the administration's hostility toward the industry.
Heller, who's seeking a second term, opposed the ballot measure that legalized recreational marijuana.
Nevada Democratic gubernatorial nominee Steve Sisolak, meanwhile, held a town hall in Las Vegas this week to discuss regulatory uncertainties faced by many in the marijuana industry, which has been a boon to the state's budget and economy. Sales and tax revenue so far have exceeded projections so far.
In a sign of his embrace of the evolution in attitudes toward marijuana, Sisolak didn't simply pay lip service by issuing a statement voicing support for the industry before moving on, as used to be the rotuine for candidates. He appeared on stage with attorneys and advocates for marijuana, touted its benefits, spoke about the need to give the industry access to the banking system and promised to help expunge the records of offenders of low-level marijuana possession crimes.
"The reality is, this is the future. Let's not be ashamed of it," said Sisolak, who as chairman of the Clark County Commission was deeply involved in the push to legalize marijuana.
As much as the politics of marijuana is rapidly changing, it's still not as potent of an issue like health care or taxes, for example.
The 64-year-old former businessman, who seek to become the first Democrat elected Nevada's governor in two decades, acknowledged to HuffPost that marijuana legalization isn't very high on the list of priorities for voters. But he argued that it's worth fighting for because it's good for the state's economy and it can make a huge difference to people who suffer from debilitating medical conditions.
"The last thing you have to be worried about is getting addicted to marijuana right now," he said.
But while he talked up the booming new industry in his state and its benefits to those who consumed it, Sisolak said he had never personally tried marijuana.
"Right now all I try to do is eat and sleep," he said before leaving for his next campaign event. "I haven't tried it. But I would use it medically if my doctor prescribed it."
Popular in the Community