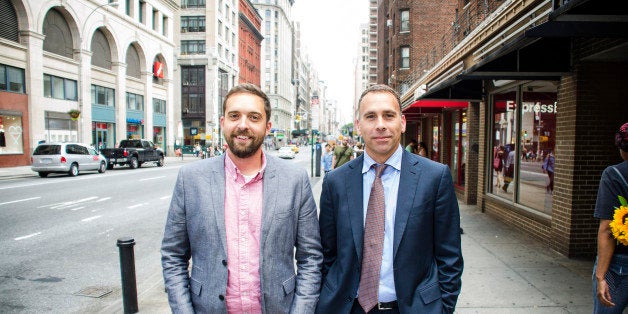 This week, Christian Groh will visit a 60,000-square-foot marijuana farm in Canada, one of the biggest such facilities in the world. He's thinking about taking his kids, ages 3 and 5, along for the trip.
"They're going to notice the smell, and they're going to ask me what it is. I'm going to have to tell them that it's cannabis," says Groh, 42. "What do I say? I can tell them it's medicine, or I can say it's an illegal Schedule I narcotic."
Groh pauses. "Or I could say, 'Hopefully this will send you to college one day.'"
The way things are going for Groh and the private equity firm he helps run, it just might. Privateer Holdings is the first private equity company openly investing in the legal weed industry. While a small handful of similar efforts have been publicly announced -- perhaps most notably the High Times Growth Fund, which is planning to raise up to $300 million to invest in pot -- Privateer says it has raised the most cash so far. The firm raised $22 million from investors last year and will soon close on another $50 million in funding, according to Groh.
Privateer has already invested in about a half-dozen cannabis industry companies in the U.S. and Canada, Groh says, though it has only announced four of them. One of those is Tilray, a Canadian marijuana grower that cultivates, packages and mails cannabis to medical marijuana patients in Canada.
Groh, a venture capital professional originally from San Francisco, was in New York on Thursday with Cy Scott, a founder of one of the companies Privateer is funding. Scott's mobile app, Leafly, offers people information about different weed strains and where to buy them. The men had flown from Seattle, where they now live, to meet with possible investors and to show a potentially skeptical world they're legit.
"Cannabis gets a lot of press. We saw it last week with the opening of the first recreational shops in Washington. All the media was there to cover it," says Scott, 34. "So we want to be there for that. We want to be a good representative for the industry."
Throughout an hour-long interview at The Huffington Post's Manhattan office, Scott and Groh do their damndest to show how clean, mature and mainstream their companies are. Scott, wearing a gray linen blazer over a pink and white checkered oxford shirt, whips out a sleek pamphlet that Leafly gave to customers who lined up to buy retail weed in Washington when shops there opened earlier this month. The pamphlet, titled "Cannabis 101," explains the rules and laws a person needs to know in order to be a "responsible and mature cannabis consumer." There's not a single pot leaf anywhere on it. It's not even green.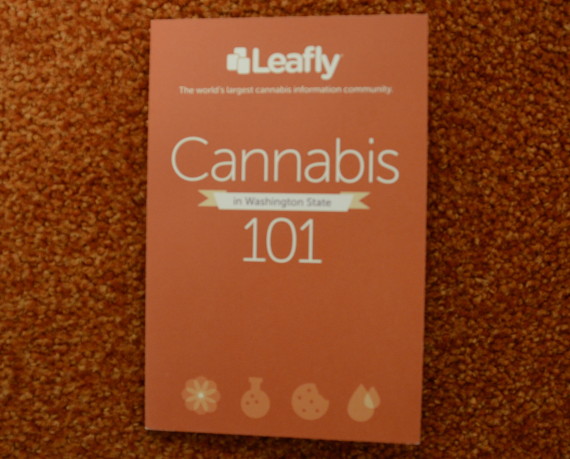 Leafly's branding shuns pot leaves.
Groh, looking every bit the investment banker in a tie and a dark blue Italian suit, pops open his laptop to show photos of Tilray's grand opening. The first photo features his business partner, Yale-educated financier Brendan Kennedy, cutting a huge ribbon with his wife. The next picture features a former Royal Canadian Mounted Police officer browsing the facility's newly grown marijuana. The officer, Groh says, got hurt on the job and uses cannabis to treat her pain. The next photo shows packages of Tilray's super-potent weed. It doesn't even look like pot at all -- it's packaged and branded more like an expensive health food. "You can see the packaging is very clean and mature," Groh says. "It lists the exact THC and CBD content. It's precise. It's predictable."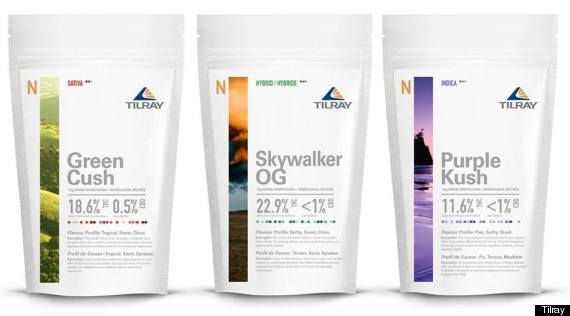 Legal high-grade weed grown by one of Privateer Holdings' portfolio companies. The packaging is designed to look clean and sophisticated.
The imagery that often surrounds cannabis these days is too crass, too low-brow, Groh and Scott say. There are too many pictures of guys in pot-leaf sunglasses smoking joints, too many sexy nurses holding bongs. "It's bad optics for the industry," says Groh, who occasionally smokes marijuana but doesn't drink because he doesn't like how it makes him feel.
"We think the only way cannabis will be taken seriously is if we take it seriously," Scott says.
Groh and Scott talk up the ways society will benefit from removing the taboo around marijuana, including things like fewer people going to jail for low-level drug offenses. But there's also a clear financial incentive to taking pot mainstream. The less stigma around the drug, the more people who might smoke it. And the more people who smoke it, the bigger the market will become.
This year, the legal marijuana market in the U.S. will be worth over $2.5 billion, according to a 2013 report from Arcview Market Research. ArcView predicts the market could be worth more than $10 billion within five years.
The U.S. black market for weed, meanwhile, is likely worth somewhere between $18 billion and $20 billion, says Harvard economist Jeffrey Miron. And as more states legalize pot, that black market will shrink and the legal market will expand. Fourteen states are looking to legalize the drug in the next few years, according to Mason Tvert of DC-based legalization advocacy group Marijuana Policy Project. While it remains unclear whether those efforts will succeed, public opinion is gradually shifting in favor of legalization: For the first time in four decades, a Pew Research Center poll found a majority of Americans want prohibition lifted.
All this stands to benefit Privateer and Leafly.
Like the men pitching it, Leafly's app is professional. Its list of marijuana strains looks like the periodic table of elements. In fact, it's hard to find an actual photo of a marijuana bud at all when casually tapping through the app.
"We do have images [of bud], but that's not what we present upfront," Scott says.
Unlike Groh, Scott admits to being a regular toker, saying he vaporizes pretty much every night after putting his kids to bed. "Just small amounts to help me sleep," he says.
Does Scott worry about his kids using the drug? "I will encourage my children to make smart choices, and to wait until they are old enough to try cannabis," Scott says, which in Washington state is 21 years old. "Use in moderation as adults will be OK, similar to their dear old dad," he says.
What's more, marijuana can be addictive, and the potential for dependency may be higher among younger users, according to a handful of studies described in a book by Carnegie Mellon University professor Jonathan Caulkins and a small team of professors and public policy experts. In the book, titled Marijuana Legalization: What Everyone Needs To Know, Caulkins and the book's other authors point out the high numbers of teens and young adults who smoke marijuana. "In recent years 97 percent of new users were 24 or younger," they write, adding that the number of people seeking treatment for cannabis addiction in the U.S. has nearly quintupled since 1992.
When asked about all this, Scott admits there needs to be more medical research into the health effects of marijuana. A lack of information about cannabis is part of why Scott says he started Leafly in the first place. Before moving to Seattle with his family last year, Scott lived in California, where he says the people working at the state's medical dispensaries weren't always able to "explain the nuances" of each kind of marijuana.
That's where Leafly comes in. Co-founded by Scott and two of his friends, the app helps people understand the subtle differences between different kinds of weed. Mostly, the app describes strains' positive sensations -- "energetic," "relaxed," "creative" -- and only lists a few negative effects, like "dry mouth," "anxious," and "paranoid."
The trio launched Leafly in 2010, and Privateer bought it in 2011 for an undisclosed sum. Today, Scott says, between 2,500 and 3,000 people download Leafly every day.
Groh says the marijuana issue has been important to him ever since he saw a close friend's father die of cancer. "It reduced his pain for the last couple months of his life," Groh says.
Watching his friend's father use marijuana to alleviate his suffering made Groh see the drug in a new light. Around that time, Groh was working at SVB Analytics, an offshoot of a Silicon Valley bank that evaluated startups for venture capital backing. At SVB, Groh and Kennedy, who also worked there, started getting approached by cannabis companies. "That's how the topic came up," Groh says. "We talked it through with our friends and families, and eventually decided to make the leap."
Groh and Kennedy launched Privateer with another friend in 2011. Leafly was the firm's first acquisition.
Raising money hasn't been a problem. In Privateer's latest fundraising round, the minimum investment was $1 million, according to a Privateer press release. That round even included some institutional investors -- organizations like banks or mutual funds that pool money to invest -- which is a first for the industry, according to Suzette Riley, a Privateer spokeswoman.
However, spending that funding has been harder. Privateer is struggling to give away some of the money it has raised, Groh says.
"This space is still pretty raw. Entrepreneurs aren't the traditional Silicon Valley types," he says. "So it's pretty difficult to stroke up a million-dollar check to someone we're really not comfortable with."
Groh says it's also been tough to predict the kind of investor who will be willing to put money in weed.
"We sat down and thought about what the investor profile would be, and we were totally wrong every time," he says. "We have people on the far left and the far right. We have a cattle rancher in Kansas and a French libertarian billionaire, and everything in between.
"The only common thread," he says, "is people all kind of agree about ending the war on drugs."
Calling all HuffPost superfans!
Sign up for membership to become a founding member and help shape HuffPost's next chapter