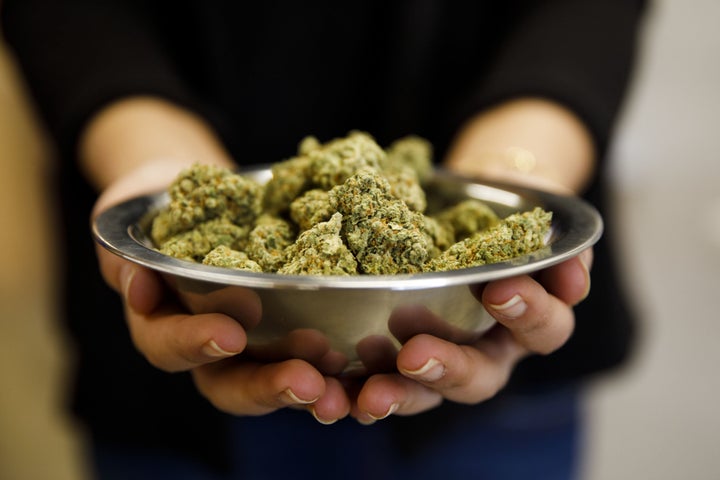 WASHINGTON ― The marijuana industry and its advocates collectively held their breath this week following the release of new Justice Department guidance that gave federal prosecutors the go-ahead to aggressively pursue state-legal marijuana operations. But just a day after the decision, many experts are cautiously optimistic that their initial fears of a crackdown were overblown.
In an announcement Thursday, Attorney General Jeff Sessions officially reversed a set of Obama-era memos that had advised federal prosecutors in legal weed states to de-prioritize marijuana cases. Although the new guidance gives significant authority to U.S. attorneys in the eight states that have already legalized marijuana, the practical effect of the decision will ultimately depend on how they exercise it ― if they do at all.
"The rescission of the [memos] doesn't affect the industry at all. What affects the industry is when DEA agents start kicking down doors and U.S. attorneys begin prosecuting people," said marijuana expert John Hudak, a senior fellow at the Brookings Institution, a nonprofit public policy think tank.
And there's little reason to believe federal authorities will take Sessions up on the invitation to reignite the war on state-legal marijuana, said Patrick Moen, a former Drug Enforcement Administration official who now serves as general counsel for Privateer Holdings, a private equity firm that invests in marijuana companies.
"I still keep in touch with a lot of my former colleagues, and they are almost universally uninterested in maintaining cannabis prohibition," Moen said. "The majority of U.S. attorneys feel similarly."
Senior Justice Department officials who briefed reporters on the policy change on Thursday faced a barrage of questions about the Sessions memo. They struggled to articulate the message they intended to send to the marijuana industry, with one simply stating the obvious fact that "marijuana continues to be against federal law."
In states where marijuana use is legal, the Sessions memo left people scrambling to ascertain the views of their local U.S. attorney, the top federal prosecutor in each of the nation's 94 federal districts. The attorneys who spoke out gave little indication that the new guidance would change the status quo, which industry officials took as a positive sign. In many cases, federal prosecutors signaled that they would proceed as they had under Obama-era policy by focusing on issues of marijuana distribution to children, the diversion of marijuana to other states, violence and use of firearms, and using state-authorized marijuana operations as a cover for illegal trafficking.
Take a statement issued by Adam Braverman, the U.S. attorney for the Southern District of California. He wrote that the Sessions memo "returns trust and local control to federal prosecutors" and allows DOJ to enforce the laws enacted by Congress, and Braverman noted that marijuana "cultivation, distribution, and possession" has long been against federal law. But his statement also acknowledged cold reality: His office can't take on everything and would "continue to utilize long-established prosecutorial priorities to carry out our mission to combat violent crime, disrupt and dismantle transnational criminal organizations, and stem the rising tide of the drug crisis." (U.S. attorneys for California's other three districts have not yet weighed in.)
In Oregon, U.S. Attorney Billy J. Williams said his office would continue to place an emphasis on "stemming the overproduction of marijuana and the diversion of marijuana out of state, dismantling criminal organizations and thwarting violent crime in our communities."
In Colorado ― the first state to implement legalized recreational marijuana ― U.S. Attorney Bob Troyer said his office would keep "focusing in particular on identifying and prosecuting those who create the greatest safety threats to our communities around the state."
"The rescission of the [memos] doesn't affect the industry at all. What affects the industry is when DEA agents start kicking down doors and U.S. attorneys begin prosecuting people."
U.S. Attorney Annette L. Hayes of the Western District of Washington noted her office had already been prioritizing cases involving "organized crime, violent and gun threats, and financial crimes related to marijuana," and said it would continue to focus resources on "those who pose the greatest safety risk to the people and communities we serve." (Joseph Harrington, her colleague in the state's Eastern District who is in the office on an interim basis, referred questions to Justice Department headquarters.)
In Alaska, U.S. Attorney Bryan Schroder said that no enforcement priorities would change and that his office would continue "combating violent crime, including as it stems from the scourge of drug trafficking."
Halsey B. Frank, U.S. attorney for Maine, said he would consult with his staff before determining how the Sessions memo might affect charging decisions. He also stated his intent to "follow long-established principles to prosecute federal crime, including to combat the current drug crisis."
Perhaps the most opaque statement came from U.S. Attorney Andrew Lelling in Massachusetts, who told The Boston Globe that "marijuana is in fact a dangerous drug" and that his office "will continue to investigate and prosecute bulk cultivation and trafficking cases, and those who use the federal banking system illegally."
In Nevada, which voted to legalize cannabis in 2016, interim U.S. Attorney Dayle Elieson has yet to comment. Sessions appointed Elieson on Wednesday, the day before releasing his memo.
U.S. attorneys are typically Senate-confirmed presidential nominees and often have political aspirations. It's by no means a firewall, but marijuana industry officials may take small comfort in the notion that U.S. attorneys by and large might be unwilling to be seen as circumventing the will of voters in their home states, especially now that the cannabis industry is past the startup phase.
"Even if they were to wade into some kind of enforcement action, that's a decision that's fraught with political peril," Moen said. "The field offices and the federal prosecutors are local in nature, they live and work in these communities, they are the ones that have to deal with blowback from the local governor's office, the state attorney general, and they frankly rely on their state and local partners for cooperation as a force multiplier so they can get their jobs done."
It could also prove difficult for a U.S. attorney to obtain a conviction. (Though simply charging and prosecuting individuals who complied with state marijuana laws could send a damaging message, even if cases aren't successful.)
"If the feds begin to go in and arrest business owners, they're going to go on trial somewhere in that state, and if you have a state like Colorado where something like 60 percent of Coloradans support marijuana reform, it's probably going to be hard to find 12 jurors without at least one of them thinking the feds are overstepping their bounds," Hudak said.
Although many saw the Sessions memo as largely symbolic, it did mark a clear shift away from the recent trend toward normalizing the marijuana industry. That change was enough to trigger some concern in the cannabis market.
"We're talking with our investors and making clear that as of today nothing has changed. People had questions yesterday about what this meant, but today they're moving ahead," said Kevin Conroy, the former deputy attorney general of Massachusetts who now works at a local law firm where he represents prospective marijuana businesses and investors.
"We're talking with our investors and making clear that as of today nothing has changed. People had questions yesterday about what this meant, but today they're moving ahead."
"It has always been against federal law to dispense marijuana, so anybody who is in this industry by nature is somewhat of a risk taker," added Conroy. "There has always been uncertainty in this industry. Yesterday's announcement brought further uncertainty, but how much further uncertainty we just don't know yet."
But larger financial institutions may be easier to spook. At least a few banks that had been considering getting involved in the marijuana industry appeared unwilling to wait around and see if the announcement would actually lead to concrete action.
"I've had two large national financial institutions put their efforts to lend capital to California marijuana business on hold," said Scott Martinez, who served as Denver's city attorney during the launch of Colorado's recreational marijuana program before joining local law firm Snell & Wilmer, where he now advises businesses on regulatory issues regarding the cannabis industry.
Whether or not a crackdown is coming, the new guidance does make it harder for the financial industry to justify the risk of getting involved in the marijuana business, Martinez said. And that uncertainty alone makes it harder for up-and-coming marijuana companies to get access to the financial resources they need to get off the ground.
"For those folks who are already in the marijuana business, it's going to be business as usual, because they've already made the calculation about the risk they want to undertake as a business proposition," Martinez said. "What yesterday's announcement really affects in a major way is the new entrants into the marijuana industry, and it affects business partners who may be involved in legal marijuana in the states."
CORRECTION: A previous version of this article misstated how many U.S. attorneys are in California. There are four, not three.
Popular in the Community