PORTLAND, Ore. -- It's high time!
At 12 a.m. on Thursday, it became legal for medical dispensaries across Oregon to sell marijuana, seeds and immature plants to anyone over the age of 21. Excited customers lined up outside dispensaries in Portland, waiting for the clock to strike midnight.
One of them was Davia Fleming, 29, the first in line outside Shango dispensary and therefore one of the state's first legal cannabis customers. For her, legalization means more than her ability to smoke without fear of prosecution. Cannabis keeps her stable, she said.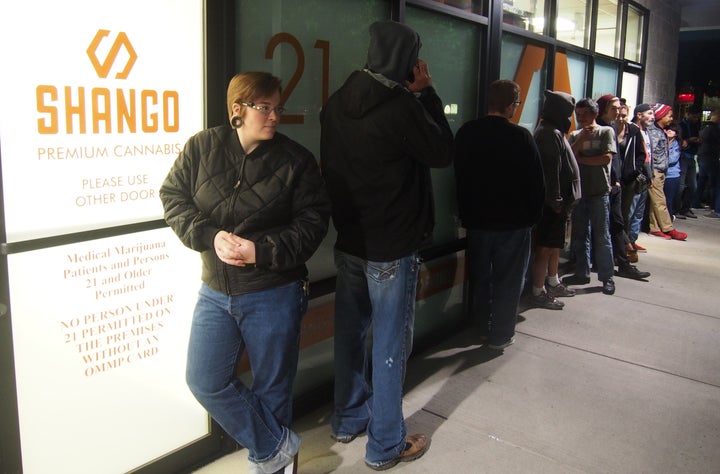 "What a great night! It's legal!" she said. "I have ADHD so it makes thinking processes a little chaotic, and I discovered that marijuana kind of helps organize me and my creative functions."
Not everyone showed up hoping for medical benefits, though. For others, many of whom admitted that they already had weed at home, waiting in line meant being a part of history.
"For me, tonight means I'm no longer a criminal -- it means I can do what I want, as an adult, in my own home, and not be concerned," said Portland native John Finley, 22. "Before, I had to go through potentially dangerous, weird people in motels, for instance. Or just people I didn't want to deal with or don't trust. It was legal, but I didn't have any options. ... Tonight I wanted to come here as a show of support as someone who uses recreationally."
WATCH: Davia Fleming Buys Marijuana Legally For The First Time

For now, customers in Oregon can buy up to seven grams of marijuana, an unlimited number of seeds, and up to four immature plants from a finite list of dispensaries that are registered with the state to sell. Shops can't yet sell edibles, cannabis liquid or other products to the general public.
The state legalized marijuana possession and small personal grow operations on July 1, but until now, it didn't have a system in place to sell and tax the plant. Senate Bill 460, signed by Gov. Kate Brown this summer, allowed for sales at dispensaries starting on Oct. 1. It's a temporary plan while the state Liquor Control Commission works out the kinks on regulating marijuana shops, which could start opening late next year. The plant will be taxed by 25 percent starting on Jan. 4, according to the Drug Policy Alliance.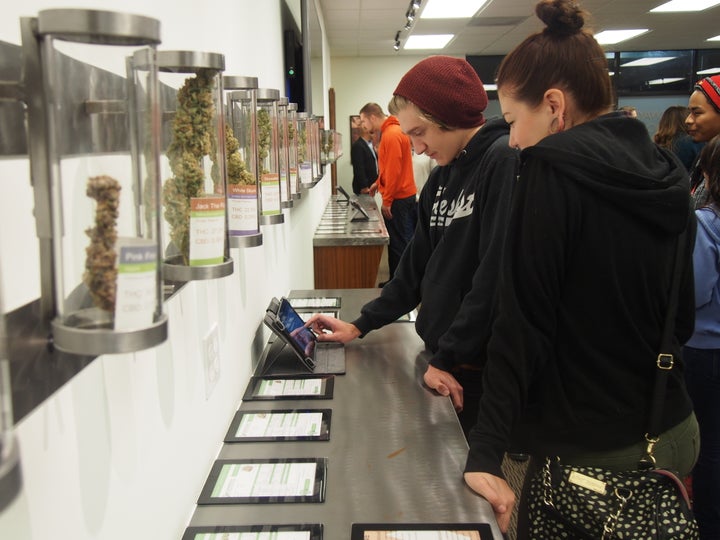 The limbo between legalization and sales can be hard to navigate -- it took Washington state two years to go from allowing the drug recreationally to having shops selling it -- but Oregon is patting itself on the back for coming up with a sales plan faster than any other state so far.
With that swift move from legalization to retail sales came a blossoming novelty product and services market. In Portland, there are already cannabis yoga sessions called Yoganja at Prism House PDX, house-call vaping parties with THC e-liquid in place of wine by the herbalist company Titrate, and edibles like Drip Ice Cream.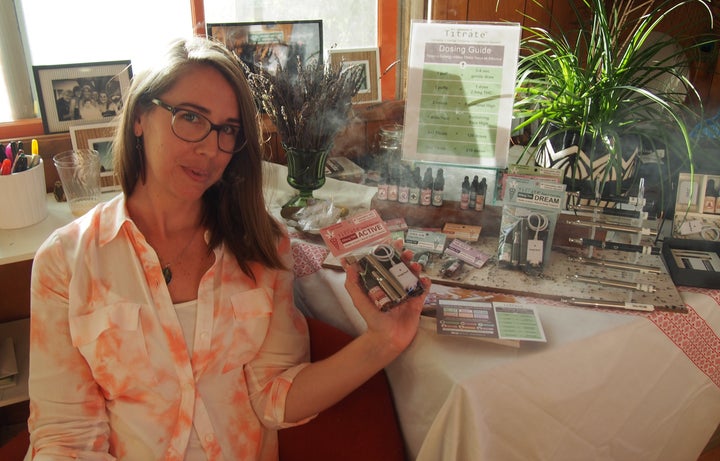 Many of the businesses are run by local parents and young people.
"Look, this isn't all about, 'Oh yeah, man, we're gonna get super stoned and do yoga,' this is about wellness," said Sam Montanaro, a graphic designer who recently began hosting the Yoganja sessions at her house.
She hosted a backyard party Wednesday, on the eve of the recreational sale kickoff, for local industry workers and parents to celebrate the end of prohibition. It wasn't much different from any other backyard party. There were crackers and goat cheese on a table outside, wine for the parents and lemonade for the kids, and a campfire around which children played with plastic swords and hula hoops.
The only major difference: the four marijuana plants growing among the sunflowers in Montanaro's varietal garden, and a cordoned-off second floor of the house, where the adults could show off their cannabis products to the journalists filtering through.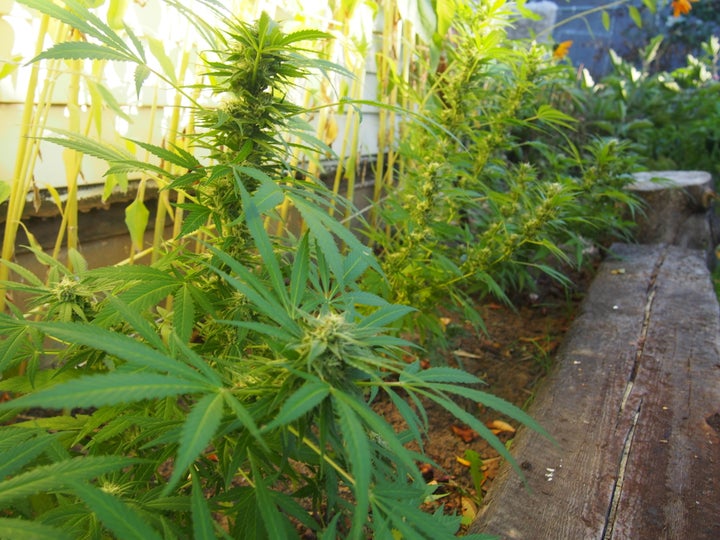 SEE MORE FROM THE PARTY AND SALES: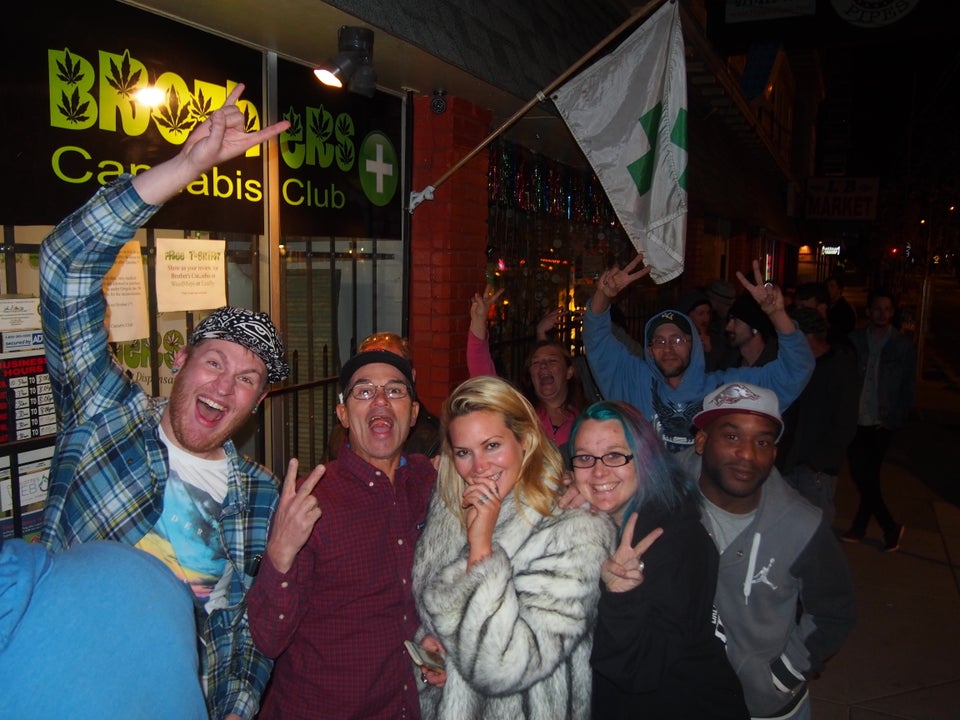 Recreational Marijuana Sales Legalized In Oregon
Popular in the Community