WASHINGTON - Advocates of a Colorado campaign aimed at legalizing marijuana through the ballot box are directly targeting the most difficult voters to win over on the issue: parents.
"Please, card my son," the billboard reads, which went up Wednesday across from the Denver Broncos' stadium and displays a father with his arm on his son's shoulder. "Regulate the sale of marijuana and help me to keep it out of his hands."
The billboard is the latest in a series of parent-targeted advertisements from the Campaign to Regulate Marijuana Like Alcohol, a Colorado group pushing for a ballot initiative that would apply the same rules for buying booze to purchasing pot.
Colorado Amendment 64 would create a regulatory framework to tax marijuana sales and legalize personal use and possession for anyone 21 or older.
Parents have long been a major obstacle for legalization advocates. Though they may support the cause earlier in their lives, and return to supporting it later, people in their 40s are reluctant to back legalization. Parent-aged voters were the biggest obstacle for Proposition 19 in California, a ballot initiative like Amendment 64 that voters rejected in 2010. According to Field Poll results released the week of Election Day, California voters between 40 and 49 opposed the proposition 52 to 39 percent, with 9 percent undecided.
The parents movement of the late 1970s and '80s was a key driver of strict sentencing and enforcement policies that are the foundation of the war on drugs.
On Thursday, the Colorado campaign announced Moms and Dads for Marijuana Regulation, a coalition of Colorado parents chaired by a former police officer, licensed clinical social worker and school psychologist.
Betty Aldworth, advocacy director for the Campaign to Regulate Marijuana Like Alcohol, said getting parents on board with the pro-Amendment 64 effort is a winning strategy.
"That's why we're trying to talk to [parents] and educate them about what is becoming more and more apparent," she told The Huffington Post on Friday. "An unregulated market, an underground market empowers and emboldens criminals and creates opportunity to more readily access substances."
Earlier this month, the Campaign to Regulate Marijuana Like Alcohol released a similar appeal to concerned parents. In a 30-second Web video, a young man is shown writing an email to his father — one of many "conversations we need to start in order to pass Amendment 64 in Colorado," according to an accompanying description.
"You know how you enjoy a drink after work?" the young man narrates as he types away on his laptop. "Well, in many ways, I'm just like you. I have a good job. I work hard. But when I get home, I prefer to relax with marijuana instead of alcohol."
The parent-oriented approach does not faze Laura Chapin, spokeswoman for Smart Colorado, a group against Amendment 64.
"Being a responsible parent means you have to constantly be vigilant, and you have a lot of things to be concerned about," she told The Huffington Post on Friday. "There's Internet porn. You've got online predators. You've got regular predators. You've got alcohol. You've got texting and driving. Adding legalized marijuana to that list of things they need to be concerned about is simply not acceptable."
In a June 20 poll conducted by Public Policy Polling, Amendment 64 led 46 to 42 percent among 799 Colorado voters, with a margin of error of 3.5 percent.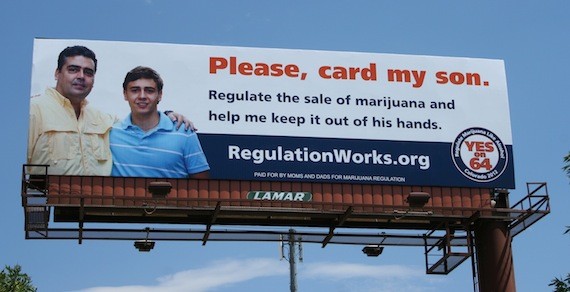 PHOTO GALLERY
Legal Marijuana Across The U.S.
Calling all HuffPost superfans!
Sign up for membership to become a founding member and help shape HuffPost's next chapter