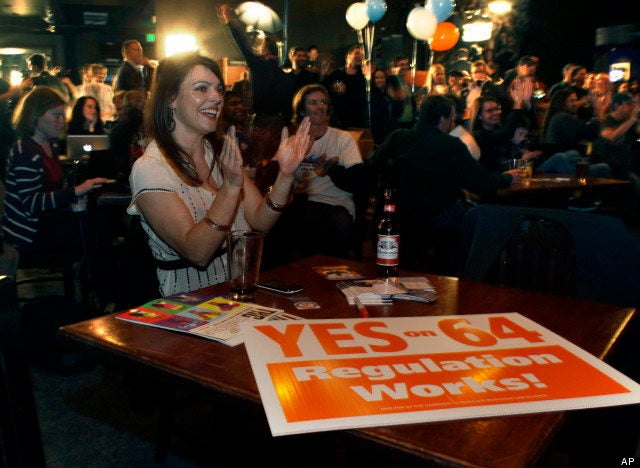 Marijuana legalization advocates had much to celebrate on election night. Both Colorado and Washington voters approved measures that will allow for the legal recreational use of pot.
"I have a larger fear about these decisions which is that any system in need of a complete overhaul is like a pot on a stove full of water that has a cover," Jarecki told The Huffington Post. "Because the steam can't get out, it has to explode. The danger with these small victories is that they can get mistaken for larger-scale victories. But if that happens, then the steam gets let out a little bit and it just kind of kicks the can down the road for when the pot will explode." In Jarecki's film he claims the drug war has resulted in 45 million arrests in the last 40 years, costing state, local and federal officials an estimated $1 trillion.
Still, the film says drug-use rates remain as high as they were when President Richard Nixon began the battle in 1971.
Jarecki isn't content with seeing a couple states legalize the use of one drug, he said. He'd like to see America embark on a path similar to the one already traveled by Portugal, which decriminalized all drugs in 2001, with spectacular results, according to the reform's supporters.
But Jarecki added that this year's election victories for legal pot are far from insignificant.
"Every small victory like a Colorado, Washington or California is crucial in one way because it demonstrates where public thinking is and demonstrates vulnerability of a system that looks so invulnerable," he said.
The Obama administration has already waged a large-scale war on medical marijuana in California. Shortly after the new initiatives passed, a DEA spokesperson made clear "the Drug Enforcement Administration's enforcement of the Controlled Substances Act remains unchanged."
"With so much on his plate that are real areas of overwhelming American need, the quibbling between federal law and state law with respect to marijuana seems a waste of time and seems woefully unproductive," Jarecki said.
The filmmaker also said the new measures provide even more evidence that the deeply unpopular drug war has been rejected by the majority of Americans.
"The laws create case studies where America will learn what Portugal learned a long time ago, which is that legalizing drugs does not have the negative affects that proponents of the drug war say it will have," Jarecki said. "It stands to reason that [Congressional lawmakers] need this to be demonstrated to them."
REAL LIFE. REAL NEWS. REAL VOICES.
Help us tell more of the stories that matter from voices that too often remain unheard.
BEFORE YOU GO
PHOTO GALLERY
Mexican Drug War Violence