Government officials from Alaska and Washington have pushed back against Attorney General Jeff Sessions, who sent threatening letters to the states and questioned the efficacy of their marijuana legalization and regulatory programs. 
In letters obtained by HuffPost that are dated Aug. 1 and Aug. 14, Alaskan Gov. Bill Walker and Attorney General Jahna Lindemuth, both Independents, defend their state's marijuana law and the voters who approved legalization in the state. They also ask the Department of Justice to not interfere with state-legal programs and refute some of Sessions' assertions about their law.
Sessions told Alaskan officials that the "2015 Annual Drug Report" released by Alaska State Troopers "raises serious questions about whether marijuana 'regulatory structures' will be effective in your state," according to a July 24 letter that Sessions sent and HuffPost obtained. 
"The report simply does not speak to the success or failure of the new regulatory framework," the letter reads. 
Lindemuth also defended the state's marijuana policy in the letter she sent earlier this month, and argued that state governments should handle issues of legalization. The current federal marijuana enforcement policy allows states to forge their own policies surrounding the plant, although federal laws still consider all marijuana use as illegal.
"[M]arijuana regulation is an area where states should take the lead," the Aug. 1 letter reads. "In Alaska, in accordance with a successful citizens' ballot initiative, the State has implemented a comprehensive framework to regulate marijuana that we believe also protects federal interests." 
Lindemuth then details the strict controls that the state has implemented over the industry and efforts made toward "neutralizing the involvement of criminal growers and traffickers, keeping marijuana away from children, and ensuring that our citizens are fully informed about the risks of using marijuana."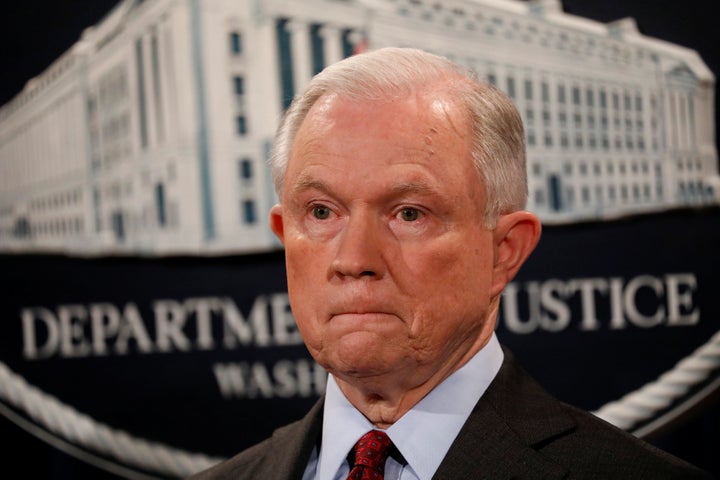 In Washington, Gov. Jay Inslee (D) and Attorney General Bob Ferguson (D), fired back after Sessions expressed similar skepticism of their state's marijuana laws. In a July letter, Sessions cited a 2016 law enforcement report that he says "raises serious questions about the efficacy of marijuana 'regulatory structures' in your state."
That letter "makes a number of allegations that are outdated, incorrect, or based on incomplete information," Inslee and Ferguson wrote Monday in a response to the attorney general. 
"Your letter repeatedly fails to distinguish between marijuana activity that is legal and illegal under state law," they added. "Instead, it conflates the two in a manner that implies that state-legal marijuana activity is responsible for harms actually caused by illegal marijuana activity."
State and federal prohibition of marijuana failed to prevent its widespread use, which was generating huge profits for violent criminal organizations. The people of Washington State chose by popular vote to try a different path.

Gov. Jay Inslee (D) and Attorney General Bob Ferguson (D) of Washington
As an example, the pair rebuke Sessions for citing more than a dozen explosions at THC extraction labs in the state. The officials acknowledge that those explosions did occur, but say the attorney general's letter "fails to clearly acknowledge that none of these explosions were at labs operating legally under state license. ... In the history of our licensing system, no legal extraction lab has ever had an explosion."
The pair also sent Sessions a 16-page report that the state's Liquor and Cannabis Board published in June. It details various marijuana laws that the state has enacted to help protect public health and safety.
"We encourage you to keep in mind why we are having this conversation," Inslee and Ferguson conclude. "State and federal prohibition of marijuana failed to prevent its widespread use, which was generating huge profits for violent criminal organizations. The people of Washington State chose by popular vote to try a different path. Under Washington's system, responsible adults are allowed access to a highly regulated product that returns substantial tax revenues to the government even as it displaces illegal activity."
Sessions was not immediately available for comment on the letters, a DOJ spokeswoman said. 
Alaska and Washington are among eight states that have legalized marijuana for adult use. Sessions has sent similarly critical letters to Colorado and Oregon, which were among the first four states to legalize the drug for recreational purposes. Those states also provided Sessions with statistics to back up their argument that state-level regulation of marijuana is working, as HuffPost previously reported. 
There is widespread concern among marijuana legalization activists that the attorney general may be willing to ignore such evidence and resume strictly enforcing federal laws.
Sessions in February named a task force to review U.S. enforcement of laws surrounding immigration, drug trafficking and violent crime. The Justice Department wouldn't disclose the task force's proposals. The Associated Press, citing task force recommendations to Sessions that it had obtained, reported that the group of prosecutors and federal law enforcement officials largely reiterated the Justice Department's current policy on marijuana and have not pushed for a crackdown.
National support for marijuana legalization has risen dramatically in recent years, reaching historic highs. Ninety-four percent of Americans support allowing adults to use marijuana for medical purposes if their doctor prescribes it, according to a Quinnipiac poll from earlier this year.
Advocates celebrated the letters from Alaska and Washington officials defending their state laws. 
"It's great to see these elected officials doing their jobs and standing up to so forcefully and thoroughly defend that law that their state's voters enacted, even if they didn't personally support legalization beforehand," said Tom Angell, chairman of drug policy reform group Marijuana Majority. "We can only hope that Jeff Sessions will similarly be willing to take an open-minded look at the facts and realize that legalization is working in a way that effectively protects public health and safety."
Calling all HuffPost superfans!
Sign up for membership to become a founding member and help shape HuffPost's next chapter
BEFORE YOU GO
PHOTO GALLERY
50 Years Of Marijuana Polling