As five states prepare to vote on legalizing recreational marijuana in November, public support for the movement has reached an all-time high, according to the latest Gallup poll.
Sixty percent of Americans now say they think pot should be legal, up from a previous high of 58 percent seen in recent years.
Support for legalization has climbed steadily since Gallup began recording Americans' opinions about weed nearly five decades ago. Only about 12 percent of the population supported legal pot in 1969, but that number surged until the "Just Say No" anti-drug campaign gained traction in the 1980s. It wasn't until 2013 that a majority of Americans said they thought marijuana should be legalized.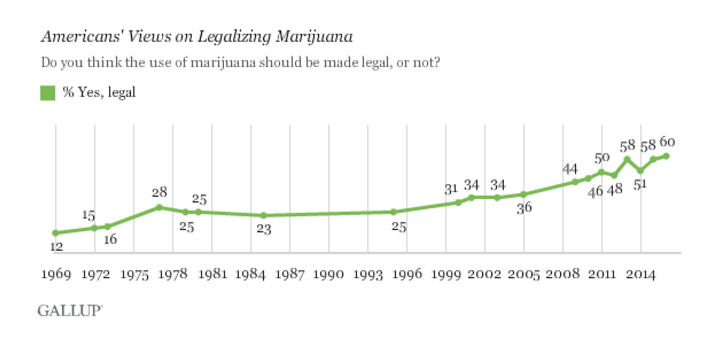 Advocates of legalization say these numbers fall right in line with their projections, which show marijuana eventually earning nationwide approval.
"It's more clear than ever that legalization is the future," Tom Angell, chairman of Marijuana Majority, said in a statement. "More politicians — presidential candidates included — would do themselves a big favor to take note of the clear trend and then vocally support legalization."
With record levels of support and upcoming legalization measures set to go before voters in a handful of key states, this could be an important moment in the movement to end prohibition of marijuana.
"The question of whether the drug should be legal may become when it will be legal," the Gallup report said.
This shift could hinge on how Californians vote on Election Day. With nearly 40 million residents, California is the most populous state in the U.S. — and a political trend-setter, according to Gallup — and may be significant enough to sway public opinion about marijuana.
If the Golden State, Arizona, Maine, Massachusetts and Nevada all vote "yes" next month, almost one-quarter of the U.S. population will soon be living in a state where recreational marijuana is legal — up dramatically from the current 5 percent of the population that now does.
With more and more Americans standing behind legal weed, it may just be a matter of time before the issue is settled across the country.
"The transformation in public attitudes about marijuana over the past half-century has mirrored the liberalization of public attitudes about gay rights and the same-sex-marriage movement, the latter of which the U.S. Supreme Court deemed legal last year," according to the Gallup report. "It is possible that it might take a Supreme Court case to settle this matter, too."
Before You Go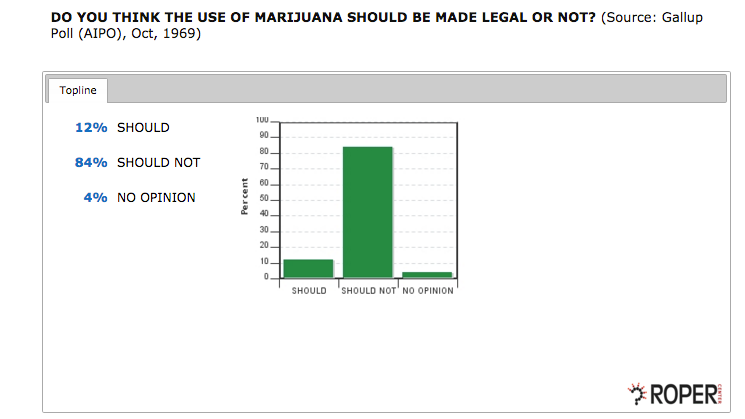 50 Years Of Marijuana Polling
Popular in the Community