This article was updated throughout on Oct. 27.
Recreational marijuana is now legal in two states and could soon be legal in a few more, so let's take a look at the kind of support legalization efforts are getting from governors and U.S. senators. Here's a GIF showing every governor and senator who has come out publicly in favor of legalizing weed, a move over half the nation now supports, according to some polls:
Out of 50 governors and 100 U.S. senators, only one has announced support for full legalization. Sen. Jeff Merkley (D-Ore.) told Talking Points Memo last week that he supports his state's upcoming ballot initiative to legalize recreational marijuana. Voters in Alaska will consider a similar measure at the polls next week, but that state's governor and two senators haven't come out in favor.
Even in Colorado and Washington, which have already passed laws legalizing the sale of recreational marijuana, senators and governors have been reluctant to announce public support. Colorado Gov. John Hickenlooper (D) has repeatedly said he respects the will of his state's voters, who approved Amendment 64 by a 10-point margin in 2012. But he's said in the past that he "hates" the "experiment," and in October, he called the move "risky." In Washington, before his state began legal marijuana sales, Gov. Jay Inslee (D) told The New York Times that while he understood some of the reasons for ending marijuana prohibition, he had concerns about the law's possible effects on children.
Senators from Colorado, Washington and other states, meanwhile, have gotten behind efforts to help transition marijuana into a well-regulated, legitimate industry, but none have come out in support of legalization itself. Other lawmakers have emerged as relatively progressive on the broader issue of pot policy, but while they have pushed to increase access to medical marijuana or to decriminalize possession of small amounts of the substance -- still federally classified as a Schedule I drug, alongside heroin and LSD -- nobody has been willing to go so far as to endorse legalization. Sen. Patty Murray (D-Wash.) perhaps came closest earlier this year when she said she supported "what Washington State voters have done" with regards to legalizing marijuana, though she herself voted against the measure.
As Ethan Nadelmann, founder of the Drug Policy Alliance, told the Times, prominent politicians likely still feel vulnerable to charges from the right of being soft on drugs and crime. This line of attack has been popular since the beginning of the war on drugs, and anti-pot groups told the Times that risk-averse politicians were right to fear a potential backlash for supporting legalization. But as Tony Newman, also of the Drug Policy Alliance, wrote in a blog post for The Huffington Post, lawmakers' refusal to support legalization efforts may actually be unwise if they're looking to raise their national profile:
Being "soft on drugs" is an outdated concern. Can anyone name a politician in recent years who was hurt politically because they supported commonsense drug policy reform? I can't think of any ... The growing momentum for marijuana legalization is often compared to the sea change of support for marriage equality. Support for both have taken off on similar trajectories. It has become clear to Democrats that supporting marriage equality is not only the right thing morally, but the right thing career-wise. This wasn't always the case. Just a few years ago President Obama, former Secretary of State, Hillary Clinton and others were much more cautious.
California Lt. Gov. Gavin Newsom (D) believes that now is not the time for "caution" when it comes to marijuana legalization. California Gov. Jerry Brown (D) has argued that legalization would be a bad idea, but Newsom distanced himself from Brown on the issue earlier this year, saying legal weed was necessary and characterizing the war on drugs as "a trillion dollars wasted."
Legalization is not only a Democratic cause. While many Republicans remain resistant to the idea of more lenient marijuana laws, some have begun expressing skepticism of the traditional enforcement-heavy policies that contribute to approximately 650,000 arrests each year for marijuana possession. Texas Gov. Rick Perry (R) has suggested that he'd support a path toward state decriminalization. Sen. Rand Paul (R-Ky.) has also repeatedly touted a softer-on-drugs approach, particularly toward pot, as he prepares for a potential 2016 presidential run. Other Republican candidates in races across the nation took similar stances this election cycle.
Although most national politicians are reluctant to speak in favor of marijuana legalization, an overwhelming majority of Americans now see it as inevitable. An April poll found that 75 percent of respondents believe the sale and use of recreational weed will eventually will be legal nationwide. In an interview with The Huffington Post, Rep. Earl Blumenauer (D-Ore.) put that window at less than five years.
Before You Go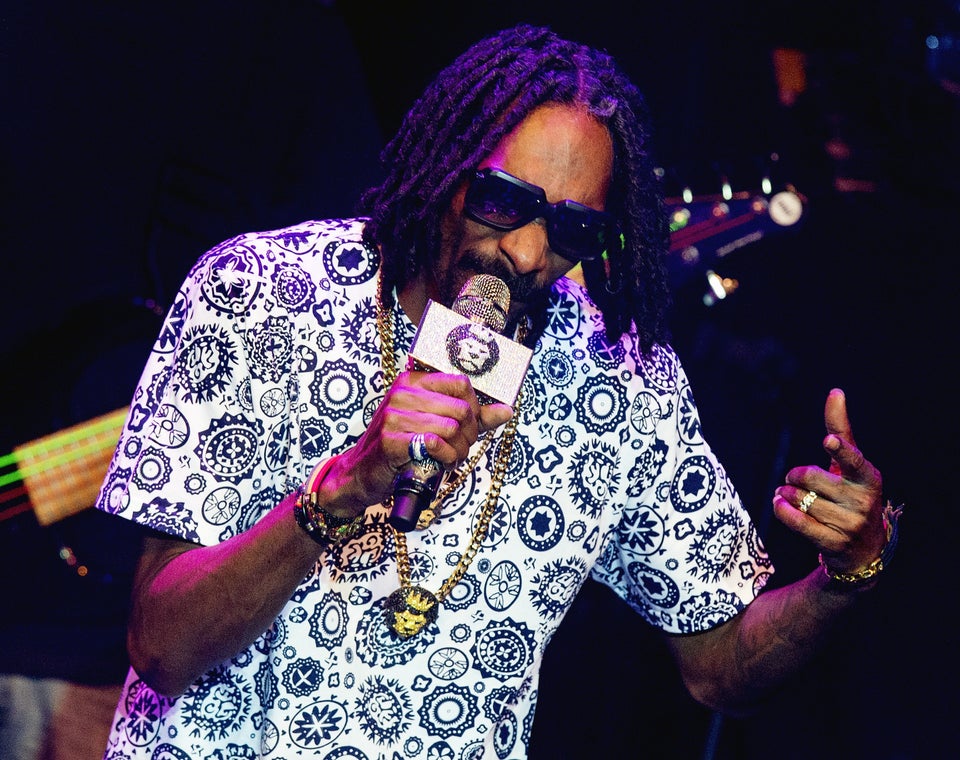 Top 50 Most Influential Marijuana Users
Popular in the Community