A new Gallup poll shows that while a majority of Americans still support legalization of marijuana, that majority has thinned out significantly in only a year's time. The poll comes as momentum for marijuana legalization appears to be stronger than ever, with residents of two states and the District of Columbia voting on Tuesday to legalize marijuana.
In a survey released Thursday, Gallup found that 51 percent of Americans support legalizing the drug -- and while that's still a majority, that majority is down 7 points from the 58 percent support the polling company found just a year ago when they asked the same question. The new result is closer to the range of support found by Gallup in 2011 and 2012.
Gallup found high levels of support among liberals (73 percent) and moderate support among moderates (58 percent), but only 31 percent of conservatives surveyed think marijuana should be legal. Regionally, support in states on the East and West coasts -- which generally lean Democratic -- was high, while support the South and Midwest -- which generally lean Republican -- was far lower.
So why the drop in support? Gallup gives a number of plausible reasons:
Last year's finding of 58% in favor was recorded as Colorado was preparing to become the first state to implement a law decriminalizing the use of small amounts of marijuana for recreational use. Although the law passed in November 2012, it did not go into effect until January 2014. Americans may have warmed some to proponents' arguments in 2013 in the ongoing discussion around the Colorado law. More recently, Colorado has been in the news over the sale of marijuana-infused edibles -- everything from brownies to gummy bears -- and the risk they pose to children, possibly sparking public concern. Also, a year ago, proponents in California were poised to launch a ballot initiative for 2014 to legalize marijuana in the Golden State, adding to the sense of momentum for legalization, but later decided to wait until 2016 for fear of losing at the polls, as they did in 2010. The relative lack of attention to new legalization initiatives throughout 2014 may have caused public support to subside.
Marijuana advocates also weighed in on the sharp contrast between 2013 and 2014. Mason Tvert, communications director for the Marijuana Policy Project, questioned the overwhelming support Gallup found last year.
"While most observers would agree there was solid majority support in 2013, many thought 58 percent was questionably high," said Tvert. "Rarely, if ever, do you see public opinion on a controversial social issue jump as much as seven points in the course of one year."
Tvert added: "Needless to say, things are moving in one direction when it comes to the tangible products of public opinion. I would take passage of laws in two states and our nation's capital over some jumpy poll results any day. If Gallup finds 49 percent support in 2016 after five more states vote to end marijuana prohibition, I could live with that."
Marijuana Majority's Tom Angell also pointed toward the huge gains that marijuana reformers scored on Tuesday -- Alaska, Oregon and Washington, D.C., all legalized marijuana. And while Florida's medical marijuana measure didn't reach the 60 percent support needed for passage, nearly 58 percent of voters were in support of the ballot initiative.
"Tuesday's election results indisputably show that Americans are fed up with marijuana prohibition," Angell said. "We now have legalization in four states and the nation's capital, plus medical marijuana in almost half of the country. There's much more to come in 2016."
Kevin Sabet, president of anti-legalization group Smart Approaches to Marijuana, disagreed, arguing that while support was high in 2013 after Colorado and Washington state had legalized a year earlier, that support had begun to drop by the time the first marijuana shops opened in both states in 2014. "The lesson here is that legalization in theory does not look like legalization in practice."
"This poll shows that legalization is far from inevitable and the fight to stop it is far from over," Sabet said.
To date, four states and the District of Columbia have legalized recreational marijuana, with sales legal in the states but still banned in the District. Twenty-three states have legalized marijuana for medical purposes. Despite the loosening of marijuana laws in so many states, cannabis remains illegal under federal law.
Before You Go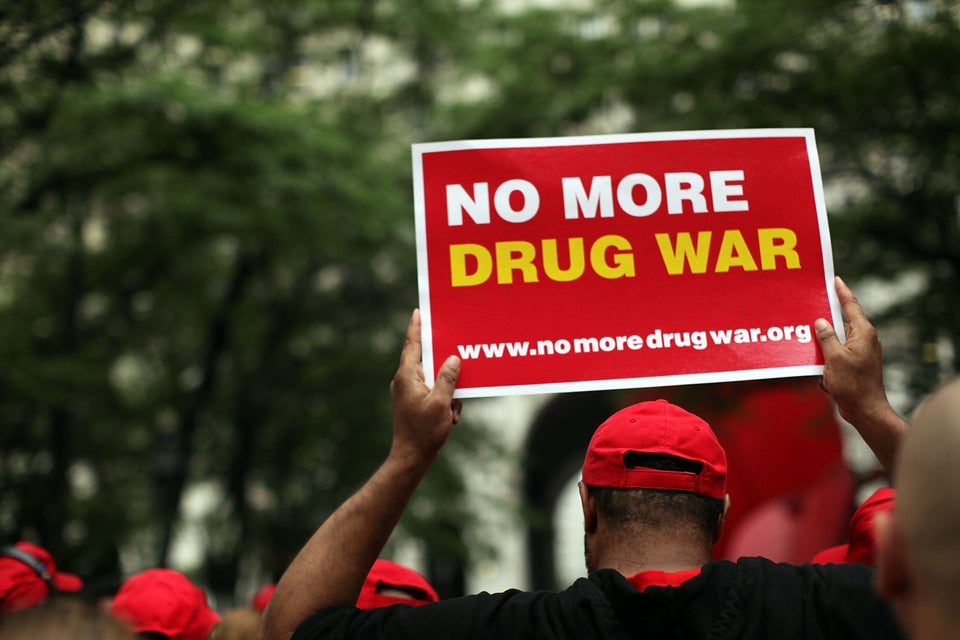 27 Reasons Why The U.S. Shouldn't Lead The War On Drugs
Popular in the Community