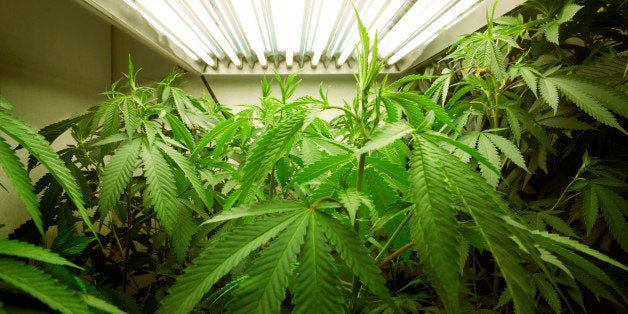 Marijuana legalization has been dominating headlines as of late, bringing tales of Colorado's edibles and Washington's dispensaries to nationwide news audiences. The stories of accidentally high newscasters and comically long pot shop lines seem like pretty apt material for a contemporary stoner flick.
Or, dare we say, a musical?
A Maine farmer by the name of Jonathan Leavitt is taking advantage of the latter with his theatrical production, "Somewhere, Maine: The Marijuana Musical." According to The Bangor Daily News, the musical chronicles life on a pot farm in Western Maine circa 2009, involving song, dance and burlesque. Characters include Jezebel, a home-schooled Christian musician; Mother Mary Jane, head of a smoke easy; Joe Oliver, a veteran with possible PTSD; and Johnny Crashed (Leavitt's alter ego), a country music outlaw/resident pot farmer.
Essentially, it's the absurd marijuana musical you've been waiting for.
Leavitt drew inspiration from his time as director of the Maine Marijuana Policy Initiative and director of Medical Marijuana Caregivers of Maine to write the music and lyrics for the musical. "The characters are all about people whose lives are real," said Leavitt, who currently runs the Open Sky Farm in Sumner, Maine, to The Bangor Daily News. "It's an interesting story about a guy whose children are taken away because of marijuana."
With a run-time of 75 minutes, the production boasts a 15-member cast, a 20-person "openly high" choir, bluegrass tunes and multimedia array of visuals. While the show is sure to be comedically interesting, the project also aims to shed light on the very real ups and downs of the pro-marijuana movement.
"When I thought about trying to document this world, I wanted to do it in a way that would give people a look at the world outside of the usual drug-related headlines," Leavitt explained to the Portland Phoenix, "so they could experience the beauty and the darkness and the heartache and redemption that this world holds."
"And yes, we have been medicated much of the way," he added. "The audience may also be surprised to find out that a bunch of full-time stoners can actually make a production like this happen."
Popular in the Community