Voters in several states on Tuesday dealt blows to the United States' decades-long drug war, passing measures to legalize marijuana for recreational use, decriminalize possession of it and shorten the time nonviolent drug offenders spend behind bars.
Despite the changes, marijuana is still classified as a Schedule I substance by the federal government, along with heroin and LSD.
"Now that it's been shown that putting marijuana legalization on the ballot can succeed even in midterms, we can expect to see a huge surge of additional states voting to end prohibition during the 2016 presidential election," said Tom Angell, the chairman of Marijuana Majority. "And because the issue has been proven to be mainstream as far as voters are concerned, we may even see lawmakers in several states jumping ahead to legalize marijuana legislatively in the meantime."
Here's what voters changed on Tuesday:
OREGON: Voters passed Measure 91, which legalizes the possession, use and sale of recreational marijuana for adults 21 and over. The measure makes Oregon the third state in the nation to end the prohibition of marijuana, joining Colorado and Washington state, which both legalized retail cannabis in 2012.
Under Measure 91, adults can have up to 8 ounces of marijuana at home and up to 1 ounce in public. The Oregon Liquor Control Commission will be charged with regulating and monitoring the industry. Taxes collected on sales of marijuana will go to fund schools, law enforcement, and drug prevention and education programs in the state.
"Our vote in Oregon, by the people, is a huge step forward for the rationalization of our failed drug policies," Rep. Earl Blumenauer (D-Ore.) told The Huffington Post. "We're going to celebrate the victory tonight and get to work on fixing federal policy in the morning."
WASHINGTON, D.C.: Voters on Tuesday approved Initiative 71, which legalizes adult marijuana use, possession of up to 2 ounces and home cultivation of up to six marijuana plants for personal use.
Under the measure, the sale of marijuana remains illegal, but the Council of the District of Columbia is considering a separate bill that would allow for the regulation and taxation of marijuana sales, similar to laws on the books in Colorado and Washington state.
Even though sales are not allowed, the passage of the law on the federal government's home turf represents one of the largest symbolic shifts in U.S. marijuana policy since Colorado and Washington state legalized the drug two years ago.
Now that voters have approved the measure, the bill moves to Congress for a mandatory 60-day review period. If there is no interference, the measure could go into effect in early 2015. However, Rep. Andy Harris (R-Md.) has vowed to put a stop to the progression of the bill in Congress.
MAINE: Voters in South Portland, the fourth-largest city in the state, approved a measure that removes all legal penalties for possession of up to 1 ounce of marijuana by adults. Maine's largest city, Portland, already legalized recreational marijuana last year.
A similar measure in Lewiston failed Tuesday night.
NEW MEXICO: Voters in New Mexico's Bernalillo and Santa Fe counties overwhelmingly approved the decriminalization of marijuana in nonbinding ballot questions meant to gauge support for such a measure.
The county questions follow the Santa Fe City Council's decision in August to decriminalize possession of marijuana and marijuana-related paraphernalia. The city's penalty was reduced to a $25 civil infraction.
The measure strikes a major blow against mass incarceration, downgrading an estimated 40,000 felonies a year in California.
NEW JERSEY: Voters approved of Public Question No. 1, a bail reform measure that will reduce the pretrial incarceration of those accused of low-level drug violations. Poorer defendants who can't afford bail, but who are not considered a threat to the community, will now be eligible to be freed through an alternative release system while awaiting trial.
Judges can still deny pretrial release to individuals who pose a clear danger, to repeat offenders and to those who are a probable flight risk.
A recent report from Luminosity and the Drug Policy Alliance found that almost 75 percent of the nearly 15,000 individuals in New Jersey's jails are awaiting trial rather than serving out a sentence, and almost half of them remain incarcerated simply because they cannot afford bail. The Drug Policy Alliance backs Public Question No. 1.
ALASKA: Voters approved Measure 2, legalizing the possession, use and sale of recreational marijuana. Adults 21 and older may possess up to 1 ounce of marijuana and grow up to six plants (with no more than three being mature) for personal use. The measure also legalizes the manufacture, sale and possession of marijuana paraphernalia, such as devices used for smoking or storing the plant.
Legal retail sales of cannabis could raise $72.5 million in tax revenue for the state in just the first five years -- $7 million in the first year, and $23 million by 2020 -- according to a recent report from the Marijuana Policy Group.
Alaska became the fourth state in the U.S. to legalize recreational marijuana Tuesday. It was the third attempt to legalize recreational cannabis in the state, with voters rejecting measures in 2000 and 2004. Alaska is one of 23 states that have already legalized medical marijuana.
FLORIDA: While Amendment 2, which would have legalized medical marijuana in the state, failed to pass, it did garner a majority of voter support -- 57 percent -- at the ballot. However, due to state law, the measure required 60 percent support to pass.
"A tremendous majority of Floridians voted to legalize marijuana for medical purposes today -- and that's what really matters, notwithstanding the fact that the initiative will not be implemented," said Drug Policy Alliance Executive Director Ethan Nadelmann in a statement Tuesday. "Today's vote is a confirmation of medical marijuana's broad support across the political spectrum and sends a powerful message not just to Florida legislators but also throughout the South and even nationally."
Amendment 2 would have legalized marijuana for medical purposes in Florida. The measure proposed allowing doctors to prescribe cannabis for "debilitating medical conditions," which the bill defined as cancer, multiple sclerosis, glaucoma, hepatitis C, HIV, AIDS, ALS, Crohn's disease, Parkinson's disease or "other conditions for which a physician believes that the medical use of marijuana would likely outweigh the potential health risks for a patient."
The measure faced a well-financed opposition campaign, primarily funded by billionaire casino mogul and GOP mega-donor Sheldon Adelson. Adelson put $5 million toward the opposition to Amendment 2, accounting for roughly 85 percent of the total funding of the campaign to defeat the measure, according to The Washington Post.
Before You Go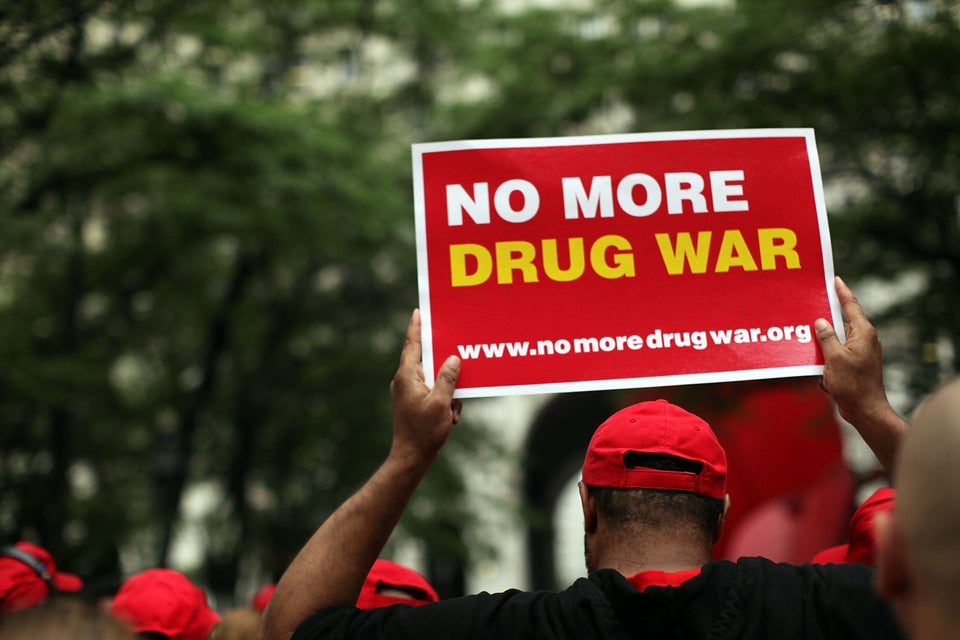 27 Reasons Why The U.S. Shouldn't Lead The War On Drugs
Popular in the Community