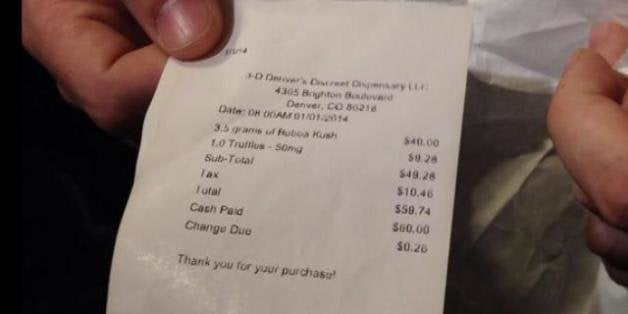 When the first legal marijuana sales in America began January 1 in Colorado, Facebook and Twitter lit up with posts by excited tokers showing their sales receipts for their first legal buy. Those posts were followed by thousands of re-tweets and shares by pot smokers nationwide reacting to the prices shown on the receipts.
"$400 an ounce?" asked one Twitter user about a receipt showing a purchase of an eighth ounce of Girl Scout Cookies for fifty dollars, plus $14.25 in taxes, for a total of $64.25. "You can keep your legalization if weed's gonna cost $65/8th!" Others noted the prices for the same strain of marijuana in their local medical marijuana dispensary, ranging from twenty to forty dollars an eighth.
On the other hand, reactions from tokers in the less-marijuana-tolerant parts of the country ranged from bemusement to disgust at the denigration of legal weed prices. "$60 an eighth is what I pay here in Chicago," one Facebooker wrote, "and that's for a short bag of 'what's available' bought on the street from a gang banger. I'd love to wait in line in the snow to have the selection, security and quality they're getting in Colorado for about the same price!"
Rachel Gillette, executive director of the Colorado chapter of NORML, told NBC News, "It's a new industry, a new market. I think things will work themselves out in a few years. We saw the same thing happen with the medical marijuana industry before prices came down."
Indeed, a confluence of factors has led to the initial high prices in Colorado, including a limited inventory for retailers, thanks to Colorado's separation of the medical and recreational markets. Mason Tvert, communications director for Marijuana Policy Project and the chief petitioner of the Amendment 64 campaign told HIGH TIMES that the current recreational shops were limited to only the number of plants allowed for their medical marijuana patients. Retailers had to decide how much marijuana to keep for patients versus how much to sell for recreational use. Now that these retailers can grow more plants for recreational sales, expect the supply to increase, leading to lower prices come late spring.
That's the point made by Toni Fox, owner of Denver's 3-D Cannabis Center. She told Denver's alt-weekly Westword, "It's all supply and demand. Once I can produce more cannabis, our prices should go down. I don't think there's going to be a lot of wholesale available on the retail side for a few months, and we can't cultivate our retail plants until January 1. So I can transfer my medical grow over, but that's only roughly 1200 plants. After the 1st, I can grow 3600, and then the prices will definitely go down."
But some retailers were also guilty of jacking up the prices, anticipating the rush of tokers eager for the novelty experience of their first legal weed purchase. The Associated Press reported one dispensary selling a high-grade marijuana strain for $70/8th that it was selling for $25/8th on the medical side. Others reported setting the prices high to keep purchases small so they would not run out of inventory on "Green Wednesday," the first day of sales. And with just a few dozen recreational outlets open across the state so far, pot shops don't yet have to slash prices to compete.
Of course, the 15 percent excise tax and 10 percent sales tax on marijuana are also adding to the purchase price of marijuana, as well as the state and local sales taxes. Medical marijuana cardholders aren't subject to all the taxes and the price of a medical marijuana "red card" has dropped to just $15, so analysts expect many of Colorado's local tokers with medical qualifications will choose to get their supply from the medical marijuana market. Others will continue utilizing the black market, which is now enhanced by the legal right of any adult to cultivate six marijuana plants.
That's a concern to Colorado State Rep. Jonathan Singer. He helped write the law on marijuana sales and doesn't want to change the tax structure yet. However, he told NBC News, "If marijuana continues to funnel into the black market, I am happy to look at shocking the black market out of the legitimate industry by slashing taxes, but this is way too early in the game."
For now, it seems expensive legal marijuana is very popular, with lines around the block at most pot shops even on the third day of legal sales Friday. As the novelty wears off, these prices will only be acceptable for tourists accustomed to high black market prices in their states and Colorado retailers will have to lower prices to attract the loyal local customers who will keep the businesses afloat. And if a Coloradoan still thinks the price of weed is too damn high, they can always grow their own.
Popular in the Community