As thousands lined up to buy those bags of legal weed in Denver -- in what could be the beginning of the end of the U.S. prohibition on marijuana -- it seems fitting that just blocks away, the first federal conviction for selling marijuana took place 77 years ago.
In August 1937, Congress effectively criminalized the possession of marijuana with the passage of the Marihuana Tax Act. About a month later, Samuel R. Caldwell, a 58-year-old unemployed farmhand, was caught peddling a few marijuana joints. In his Denver apartment, law enforcement agents found three pounds of cannabis.
The 1937 Denver Post article about Caldwell's conviction sternly warned its readers that "crime never pays." Caldwell was convicted of selling marijuana to 26-year-old Moses Baca and was sentenced to four years of hard labor at Leavenworth Penitentiary in Kansas and fined $1,000. Baca received 18 months, also at Leavenworth.
Previously under state and local laws, most marijuana offenders had been treated relatively leniently, according to a detailed history of marijuana in The Atlantic. But U.S. District Judge J. Foster Symes of Denver appeared to be looking to make an example of Caldwell.
"Marijuana destroys life," Symes said, according to Martin Lee's book Smoke Signals. "I have no sympathy with those who sell this weed."
Harry Anslinger, head of what was then called the Federal Bureau of Narcotics, attended Caldwell's sentencing. He said, "Marijuana has become our greatest problem. It is on the increase. But we will enforce the law to the very letter."
For more than seven decades, the U.S. federal government has done just that, most recently under the Controlled Substances Act, which still bans marijuana federally. But on New Year's Day in Colorado, eager marijuana consumers purchased thousands of bags of weed, generating at least $1 million in sales on the first day, according to Denver's 9News.
"It's fittingly ironic that Colorado, home of the first federal marijuana arrest in 1937, would be the first state to license and regulate legal marijuana sales," said Tom Angell, chairman of the drug policy reform group Marijuana Majority. "But Colorado and Washington state, where legal sales will also soon begin, certainly won't be the last states to launch an exit strategy out of marijuana prohibition. The marijuana reform movement has passed the tipping point into the mainstream, and it's almost certain that one or two more states will legalize this year and several more will do so in 2016."
Colorado voters approved recreational marijuana legalization in 2012, but it was not until Jan. 1, 2014, that dispensaries could open to the public and begin selling the drug legally.
"One year ago Colorado voters launched us on a unique social experiment, the legalization of marijuana," Colorado Gov. John Hickenlooper (D) told HuffPost. "We have taken up the challenge to create a regulatory structure consistent with the guidance we have received from the U.S. Department of Justice."
Nearly 40 dispensaries are now open in Colorado, selling recreational marijuana to adults 21 and older. Washington's dispensaries are expected to open in the coming months, and a slew of other states are considering legalizing marijuana. With popular support for legalization in the U.S. at an all-time high, legal pot appears poised for tremendous growth.
Yet Ethan Nadelmann, executive director of the Drug Policy Alliance, warned that although we've come a long way from 1937, Caldwell-like punishment is still meted out in the U.S.
"Marijuana policy is evolving, like the somewhat similar evolution with respect to civil rights, gay rights and women's rights," Nadelmann said. "There's all sorts of things that happened in 1937 -- under the Jim Crow system and a whole range of other laws -- where people were persecuted, killed or incarcerated for things under laws that we now think of as primitive. In a sense, there has been a kind of moral evolution in American society, and one key element of that right now is marijuana law reform."
"But the fact remains that [while] Colorado and Washington have moved forward, there are still 48 states where marijuana remains illegal," Nadelmann added. "There's still every country in the world except Uruguay. There's still 30 states where medical marijuana is not legal. There were still over 700,000 marijuana arrests in the U.S. last year, overwhelmingly of young men of color. And there are still places, especially in the South, where people will be treated the same way for a marijuana offense as Samuel Caldwell was treated in Colorado in 1937. Even as everyone is excited about Colorado, let's not forget that the war on marijuana lumbers on in a fairly devastating way for lots of people."
According to a 2013 study from the American Civil Liberties Union, black and white Americans use marijuana at about the same rate. However, blacks were nearly four times as likely as whites to be arrested on charges of marijuana possession in 2010. In some places including Iowa, Minnesota, Illinois and the District of Columbia, blacks were 7.5 to 8.5 times more likely than whites to be arrested for possessing pot.
Most of the people being arrested weren't drug kingpins. Fifty-two percent of all drug arrests in 2010 were for marijuana, and according to the ACLU's analysis, most of those arrested had only small amounts of the drug.
Caldwell and Baca served out their entire sentences in Leavenworth. One year after being released from prison, Caldwell died.
"Surely it was frustrating to be the first person arrested under a foolish law," said Mason Tvert, communications director of the Marijuana Policy Project and a key backer of Colorado's Amendment 64 legalizing recreational weed. "It has to be even more upsetting to be the last. Laws that punish adults for using marijuana are outdated, unnecessary and far more harmful than marijuana itself. It's unfortunate that it has taken so long to reach this point."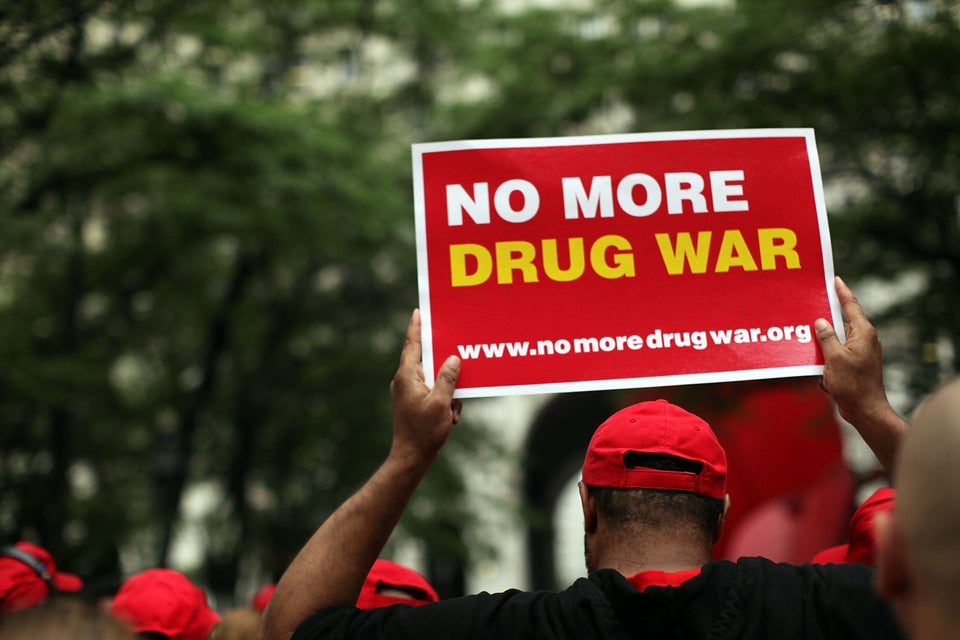 27 Reasons Why The U.S. Shouldn't Lead The War On Drugs
Popular in the Community