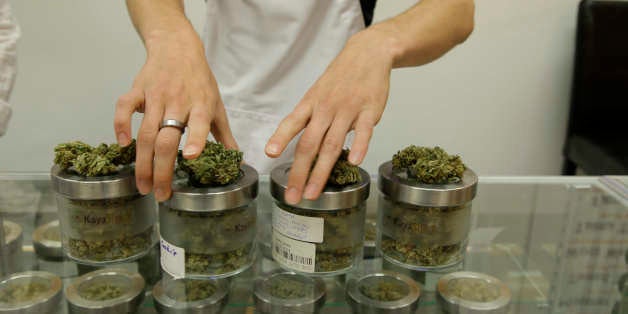 A key Senate committee passed a bill today allowing the nation's capital to establish regulated marijuana stores and let banks provide financial services to state-legalized marijuana dispensaries. These are just two of several marijuana reforms advancing in Congress. Meanwhile sentencing reform is gaining steam, and the U.S. is shifting towards treating drug use as a health issue instead of a criminal justice issue.
23 states have legalized marijuana for medical use -- and an additional 16 states have legalized CBD oils, a non-psychotropic component of marijuana that has proven uniquely effective in managing epileptic seizures that afflict children. Four states have legalized marijuana like alcohol -- Alaska, Colorado, Oregon and Washington. Last November nearly 72 percent of voters in Washington, D.C., the nation's capital, approved a ballot measure making it legal to possess and grow marijuana for personal use.
Congress allowed D.C. to legalize marijuana but prohibited the city from legalizing and regulating marijuana sales. Thus, it is legal to possess, use, and grow marijuana in the nation's capital but the sale of marijuana remains illicit and unregulated. This has prevented the city from establishing age restrictions and other sensible controls. Fortunately, a spending bill advanced by the Senate Appropriations Committee today eliminates the congressional ban, allowing D.C. policymakers to tax and regulate marijuana.
The Senate committee also approved an amendment allowing banks to provide services to marijuana stores in states where marijuana is legal. The Senate committee approved three other marijuana amendments earlier this year -- allowing Veterans Administration doctors to recommend marijuana to their patients, prohibiting the DEA from undermining state medical marijuana laws, and prohibiting the DEA from undermining state hemp research laws.
The U.S. House voted four times this year to let states set their own marijuana policies (twice on medical marijuana, twice on hemp). Another amendment allowing states to legalize marijuana like alcohol without federal interference failed by only nine votes, a stunning outcome considering it was the first time Congress has ever voted on outright repealing marijuana prohibition.
The head of the Drug Enforcement Administration (DEA) was forced to resign in April following a series of embarrassing scandals and statements where she demonstrated how out of touch she was on drug policy reform. The White House has signaled that the new DEA chief willdeemphasize marijuana enforcement.
Dozens of states have reformed their drug sentencing laws in recent years and there's now a bipartisan and strong consensus that Congress should reform federal sentencing laws. There is also growing support for reforming asset forfeiture laws that allow police to seize and keep the property of people suspected of committing drug law offenses without having to convict them or even charge them with a crime. Both the House and Senate are moving forward with spending bills that would partially repeal the federal ban that prohibits states from using their share of HIV/AIDS prevention money on needle exchange programs.
28 states have passed laws (known as "911 Good Samaritan" laws) that provide protection from arrest and prosecution for certain drug law violations for witnesses at the scene of an overdose who call 911 for emergency medical assistance. The White House recently co-hosted a day-long conference on "Law Enforcement Assisted Diversion," or LEAD, a policy that allows police to direct drug offenders to treatment or other supportive services instead of incarcerating them. It is operational in Seattle, Washington and Santa Fe, New Mexico. In June Albany, New York became the third city to adopt LEAD
The next 16 months is the biggest opportunity yet for ending the war on drugs. Voters in a number of states could vote on legalizing marijuana, including Arizona, California, Maine, Massachusetts, Ohio and Nevada. Several cities could move forward with implementing a LEAD-like program, including possibly Atlanta, Baltimore, Chicago, Houston, New Orleans, and San Francisco. Congress could finally overhaul federal drug laws.
Reform isn't inevitable though. Those who profit off the drug war, most notably police unions and prosecutors, are already gearing up to fight reform. Ballot measures and lobbying campaigns are expensive. Keeping Republicans and Democrats together long enough to move legislation is difficult. Drug policy reformers and funders need to stay focused - and step on the gas.
Bill Piper is director of national affairs for the Drug Policy Alliance.
Popular in the Community