 SEATTLE, July 6 (Reuters) - His glass pipes are on display and final regulatory hurdles nearly cleared, but the biggest concern for Cannabis City owner James Lathrop as he opens his Seattle pot shop this week is the possibility of running out of mind-altering bud in a matter of hours.
"What do you do when your shelves are empty? Do I just send everybody home? Do we try and stay open? I can't pay people if we aren't selling anything," said Lathrop, who expects to become one of Washington state's first legal marijuana retailers this week as the state issues licenses.
The state is poised on Monday to become the second after Colorado to allow retail sales of recreational marijuana to adults, under a heavily regulated and taxed system that voters approved in November 2012. Stores could begin operations as early as Tuesday, with up to 20 expected to open statewide.
While Colorado, where regulated retail sales rolled out fairly smoothly in January, is collecting millions of dollars per month in tax revenues, Washington has charted a glacial and more halting path to market.
Pot regulators, business owners and analysts say pot could sell out in Washington within hours or days at the few shops slated to open on Tuesday. That is largely because of limited harvests by licensed growers and processors, or because they failed to clear regulatory hurdles to get their product to market.
Washington is also grappling with a backlog of hundreds of would-be growers who still need to be screened by overwhelmed investigators with the state Liquor Control Board, agency spokesman Brian Smith said.
The board has so far licensed fewer than 80 growers statewide, out of more than 2,600 applicants. And only a fraction of their pot -- roughly 560,000 square feet is in production, or about 10 football fields' worth -- has gone through required lab-testing. Many harvests won't be ready by early July.
"There is a gold rush mentality. Many didn't read what it would require to get a license. ... We didn't expect 7,000 applicants," Smith said of the number of interested growers, processors and retailers.
Cannabis City's Lathrop could find only one grower ready to ship on July 8, opening day, and plans to suggest customers stick to a 2-gram limit to stretch his supply.

Shoppers looking to get high on Tuesday could see a gram selling at $15-$30, said Dominic Corva, executive director of Seattle's Center for the Study of Cannabis and Social Policy.
Novelty-seekers and tourists might pay $25 or $30 per gram - roughly twice the current price at weakly regulated medical dispensaries. At those prices, heavy users will stick with neighborhood dispensaries or drug dealers, Corva said.
Even as legal retail operations roll out, dozens of cities have enacted pot moratoriums or outright bans. Also, no stores will carry popular "edibles," such as pot-infused brownies, because no processor has been cleared to operate a cannabis kitchen.
Investors and regulators remain hopeful the market will ramp up in the coming months as more growers, processors and retailers come on line.
But at least one grower expects it will take much longer.
"It'll be at least three to five years before we meet the demand," said Bob Leeds, co-owner of Seattle-based Sea of Green Farms, which got its license to grow and process pot in March.
On a recent afternoon, Leeds' employees were huddled around a table packing palm-sized baggies with pot strains like Dutch Hawaiian, Space Needle and Double Purple Doja. They were inching toward the 36,000 bags as well as hemp-paper cigarillos they will ship to stores statewide.
Leeds said he charges stores about $3,000 to $4,500 per pound, or $7 to $10 per gram before local, state and excise taxes, and any retail mark-up. He predicts stores will sell out within hours of opening on Tuesday.
"There won't be any more until weeks from now," he said. "We'll have our second crop in July." (Editing by Cynthia Johnston and Leslie Adler)

Related
Before You Go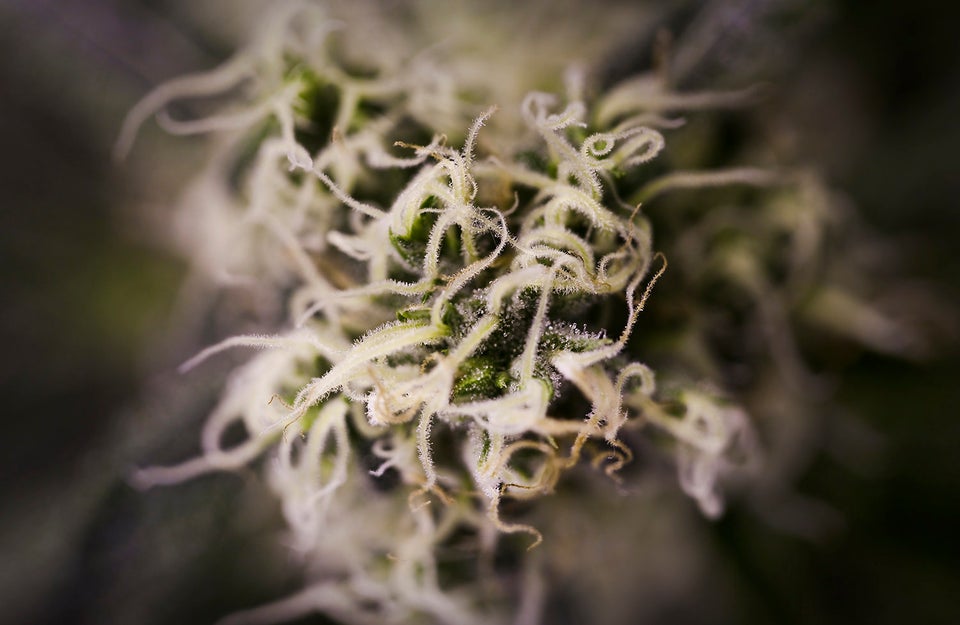 Marijuana Porn
Popular in the Community