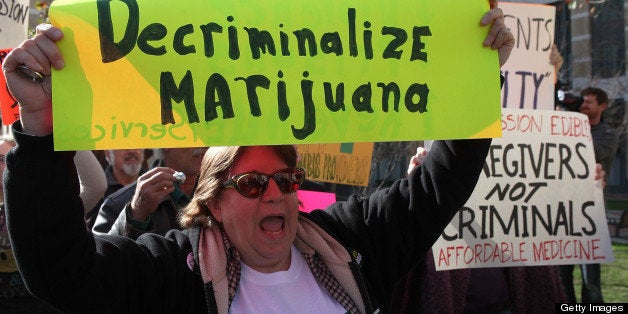 I have been saying for years that the movement to end marijuana prohibition has been following in the footsteps of the movement in support of gay rights, particularly marriage equality. Recent polling and legislative victories have made the connection even clearer to me, as well as many in the mainstream media.
Both movements were plagued for decades by a lack of public approval. In 1996, just 26 percent of Americans supported the rights of gay and lesbian couples to marry, according to an annual survey conducted by the Pew Research Center. Support for making marijuana legal was not far behind at 25 percent.
Both movements have benefited from their natural constituencies "coming out of the closet." Leaders within the gay rights movement have encouraged members of the LGBT community to speak openly about their sexuality, particularly with their families and friends. Many marijuana consumers openly discuss their marijuana use, and organizations such as mine are now making a concerted effort to inspire people to "come out" as supporters of reform.
Both movements have recently seen significant spikes in public opinion polling. The Pew survey conducted in March found that support for marriage equality is now at 58 percent nationally. One conducted in April showed support for making marijuana legal has grown to 52 percent nationally.
And both movements have recently made significant progress via a state-by-state approach. In November, Maine, Maryland, and Washington became the first states to legalize same-sex marriage at the ballot box, bringing the total number of states in which it is legal to nine plus Washington, D.C. (Rhode Island will soon make it 10). Also in November, voters in Colorado and Washington approved ballot measures making them the first two states to make marijuana legal for adults and begin regulating it like alcohol. Medical marijuana is also legal in 18 states plus Washington, D.C. (A couple more states appear to be on the verge of adopting medical marijuana laws.)
The marijuana policy reform movement is now preparing to take another page out of the gay rights playbook. Specifically, my organization has established two political roundtables to fuel the coffers of supportive politicians, just as donors within the gay rights movement have been doing in recent years. For example, they donated $1,000,000 to four Republicans in the New York State Senate after they helped pass legislation to legalize gay marriage in June 2011, and it was reported last week that a group of Republican donors have formed a political action committee to begin supporting pro-gay marriage candidates and lobbying efforts around the country.
The marijuana donor roundtables are not quite as muscular, but they are off to a great start. So far, 15 donors have each committed to donating $10,000 annually to carefully chosen candidates and/or the Marijuana Policy Project Political Action Committee, and there are an additional 50 donors who are each projected to donate $1,000 annually.
In this first year of the project, our community plans to donate a total of $200,000 to the likes of Gov. Pete Shumlin (D-VT), who has been a champion of marijuana policy reform; state legislators in Rhode Island who have co-sponsored or demonstrated support for legislation similar to the new Colorado law that regulates marijuana like alcohol; and supportive legislative and gubernatorial candidates in Maryland (to be determined). It will also provide backing to some congressional candidates who are supporting the bill proposed by Rep. Dana Rohrabacher (R-CA) to respect state marijuana laws and/or the bill proposed by Rep. Jared Polis (D-CO) to regulate marijuana like alcohol at the federal level.
Of course we will also continue to move the ball down the field by passing ballot initiatives that are similar to those adopted in Colorado and Washington. The next ballot initiative to pass will be in Alaska in August 2014, and two years after that we hope to see similar victories in Arizona, California, Maine, Massachusetts, Montana, Nevada, and Oregon. These initiative activities, however, will not necessitate playing the "inside game" with elected officials. After all, we did not need to build a team of political power players in Colorado in order to pass the initiative to regulate marijuana like alcohol with 55 percent of the vote on November 6.
But to pass a Colorado-style law through a state legislature, we will need a robust coalition of supportive state legislators -- and a reasonable governor -- in order to win. This is what we intend to build in Maryland, Rhode Island, and potentially two or three other states by 2017.
The marijuana policy reform movement has never donated real money to candidates in a systematic effort to change federal law and laws in the 50 states. We are starting today, and by 2017, we are confident we will see the results.
Calling all HuffPost superfans!
Sign up for membership to become a founding member and help shape HuffPost's next chapter