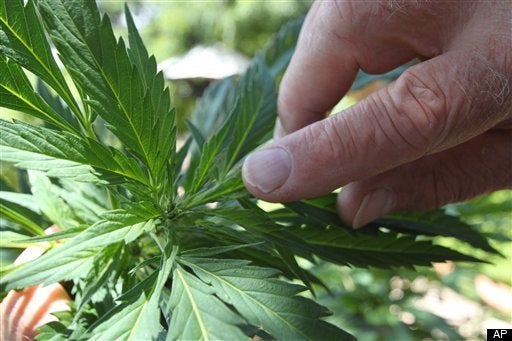 More than 850,000 people were arrested for marijuana violations in 2009 -- the second biggest haul in American history, according to the annual Uniform Crime Report released by the FBI Wednesday. Despite the increased enforcement, however, marijuana use rose in the past year, according to the National Survey On Drug Use and Health released Thursday by the Office of National Drug Control Policy.
"The findings are disappointing, but not surprising," said National Drug Control Policy Director Gil Kerlikowske, the nation's so-called "drug czar." Indeed, there is little surprising in the notion that drug use is remaining roughly steady in spite of the War on Drugs, but Kerlikowske did encounter one unexpected question at Thursday's press conference.
Daniel Pacheco, a Colombian student from Georgetown University and a member of Students for Sensible Drug Policy, asked Kerlikowske to respond to Mexican leaders' assertions that the United States should consider legalizing drugs -- particularly marijuana -- in order to deprive drug cartels of the majority of their revenue. The exchange was caught on camera by SSDP's Aaron Houston and posted on Firedoglake.com. SSDP and Firedoglake are partners in a new coalition, Just Say Now, organizing in favor of marijuana legalization.
Pacheco delivered to Kerlikowske 52,000 signatures, many gathered on college campuses, on behalf of the campaign.
Instead of defending the principle of prohibition, Kerlikowske quibbled with Pacheco's statistic on how much of the cartel's revenue comes from marijuana. "The number that has been often cited in the press -- 58 to 60 percent of cartel revenues comes -- was introduced by ONDCP in 2006. Unfortunately, the history is that it was based on 1997 information," Kerlikowske said. "Everyone that recognizes these cartels clearly understands that their revenues have changed a lot since 1997. There are different drugs, they are involved with different criminal enterprises, so people that continue -- and we really reject trying to continue to use a number that is now 13 to 14 years old, about how much money comes from marijuana. So, we strongly believe we see significantly less than the numbers cited from 14 years ago."
Testimony to the Senate from both the FBI and DEA, however, confirmed the 60-percent figure in 2010.
According to the report, more than 50 percent of all drug arrests were for marijuana, up from below 45 percent a decade ago. Police paid particular attention to individual pot smokers: 88 percent of those arrested were charged for simple possession.
The pot arrest total was the second-highest in American history and an increase over 2008. In November, California voters will decide whether to legalize marijuana for adults. The proposition has strong backing from nurses unions and teachers unions, who hope that the revenue raised with stave off layoffs.
Not all of the 758,593 people arrested for possession were sent to prison, but all were harmed in one way or another. Getting arrested can cost a person his or her job, as in the case of a senior staffer to Sen. Barbara Boxer (D-Calif.) who recently came to his office on the weekend with a bag of pot on him. That staffer will appear as a single digit in next year's crime report.
"The numbers tell the story; the enforcement of criminal marijuana laws and the prosecution of marijuana offenders, in particular minor marijuana possession defendants, is driving the present drug war," NORML Deputy Director Paul Armentano said.
Earlier this week, current and former heads of the DEA gathered at the National Press Club to draw attention to their letter to Attorney General Eric Holder to challenge California's legalization proposition if it passes in November.
"I worked directly with DEA Administrators Bensinger, Mullen and Lawn in the 1980s, and have had debates or conversations with Bonner, Constantine and Hutchinson," said Eric Sterling, a former assistant counsel to the House Judiciary Committee from 1979 to 1989, a period during which the committee produced some of the toughest drug laws. "I cannot recall any previous collaboration of former DEA administrators of this kind. If our national marijuana prohibition policy were not so clearly failing and not so close to being replaced with real controls, they would never have mobilized in this way to defend it. If Prop. 19 were not proposing a system of control that is so logical and straight forward that it is widely politically attractive, they would not be mobilizing this kind of collaboration."
Popular in the Community