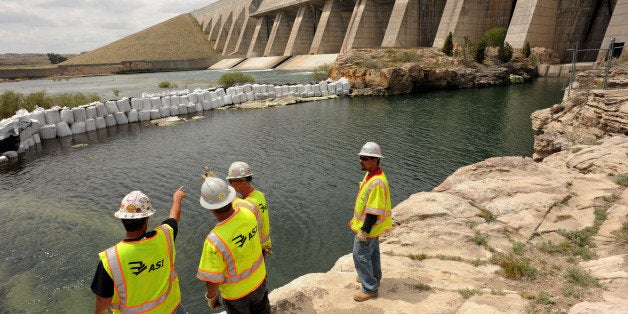 An agency within the U.S. Department of the Interior announced Tuesday that state-legal marijuana grows are banned from using federal water on their crops.
"As a federal agency, Reclamation is obligated to adhere to federal law in the conduct of its responsibilities to the American people," said Dan DuBray, public affairs chief for the U.S. Bureau of Reclamation, which oversees management of federal water resources.
"Reclamation will operate its facilities and administer its water-related contracts in a manner that is consistent with the Controlled Substances Act of 1970, as amended," DuBray went on. "This includes locations where state law has decriminalized or authorized the cultivation of marijuana. Reclamation will refer any inconsistent uses of federal resources of which it becomes aware to the Department of Justice and coordinate with the proper enforcement authorities. Reclamation will continue to work with partner water districts and providers to ensure their important obligations can continue to be met."
Now that federal water is banned for marijuana growing, should a Reclamation employee become aware that bureau resources are being used to facilitate the cultivation of cannabis, that employee will be expected to bring it to the attention of his or her regional director, "who will report such use to the Department of Justice and document the reporting action(s)," according to the temporary policy posted on the USBR website.
Currently, 21 states and the District of Columbia have legalized marijuana for medical purposes. Recreational marijuana is now legal in Colorado and Washington state, and about a dozen other states are considering legalization in the coming years. Still, the federal government continues to ban the plant, classifying it as a Schedule I substance alongside heroin and LSD.
Peter Soeth, a spokesman for USBR, told HuffPost last week that the bureau was "evaluating how the Controlled Substances Act applies in the context of Reclamation project water being used to facilitate marijuana-related activities," and that the evaluation was begun "at the request of various water districts in the West."
For many local officials in Washington and Colorado's water districts, the government's announcement comes as no surprise.
"Certainly every indication we are hearing is that their policy will be that federal water supplies cannot be used to grow marijuana," said Brian Werner at the Northern Colorado Water Conservancy District, which handles approximately one-third of all water for northeastern Colorado and is the Bureau of Reclamation's second-largest user in terms of irrigated acres.
Washington's Roza Irrigation District, which supplies federal water to approximately 72,000 acres in Yakima and Benton counties, had already issued a "precautionary message" in early April to water customers who may be involved in state-legal cannabis growing back.
Local water districts in Washington and Colorado, as well as other states where marijuana cultivation has been decriminalized, contract with federal water projects for supplies.
While Washington and Colorado both legalized medical marijuana over a decade ago, and while several of the other 17 states served by Reclamation have also legalized the drug for medical use, USBR's Soeth said that the issue of cutting off water supplies for marijuana had never come up before.
Marijuana advocates condemned the federal water ban for state-legal crops.
"This decision just further underscores the absurdity behind federal marijuana laws, and the need for Congress to fix them," Dan Riffle, director of federal policies for the Marijuana Policy Project, told HuffPost.
"Put another way, this decision says that because of the Controlled Substance Act, federally-controlled water can't be used to produce marijuana, but can be used to distill liquor or grow tobacco," Riffle went on. "I'm fine with the Bureau of Reclamation restricting water usage, but it should do so on the basis of sound science, not by deferring to outdated marijuana laws the public wants repealed."
It's not clear exactly how many people use federal water for marijuana grows in the various states Reclamation serves, but the impact on Washington's legal growers may be significant. The state's marijuana laws allow for outdoor growing and, according to McClatchy, the Bureau of Reclamation controls the water supply of about two-thirds of the state's irrigated land.
Growers in Denver, home to the majority of Colorado marijuana dispensaries, likely won't notice a shortage. Travis Thompson, spokesman for Denver Water, the main water authority for the state's capital and surrounding suburbs, told HuffPost that because they, like many local water districts, are not federal contractors, their water customers will not be affected by a cutoff.
But many other regions of the state rely on federal water. In Pueblo, two hours south of Denver, about 20 percent of regional water is Reclamation-controlled. Although the remaining 80 percent of the region's water is locally controlled, it passes through the Pueblo Dam, which operates under Bureau of Reclamation authority.
"Yes, they come through a federal facility, but the federal facility is required to let those water right to pass," Pueblo Board of Water Works executive director Terry Book said to southern Colorado's NBC affiliate KOAA.
The St. Charles Mesa Water District, another Pueblo-area water facility, had already imposed a moratorium on supplying water to marijuana businesses until the Bureau of Reclamation could settle the issue. That ban will now remain in place.
The Bureau of Reclamation said its facilities deliver water to 1.25 million acres of land in Colorado and 1.2 million acres in Washington. About 1.6 million acre-feet of water are delivered to Colorado's agricultural sector from Reclamation each year, and about 5 million acre-feet are delivered to agriculture in Washington. (An acre-foot is a unit of volume equal to about 326,000 gallons.)
As McClatchy reported last month, there are several alternatives to using federal water. Small-scale marijuana-growing operations may be able to use city-controlled water sources, or drill a well. Greenhouse growers are allowed to use up to 5,000 gallons of well water per day under Washington law, although any use beyond that requires a permit from the state. Many marijuana plants require an average of six gallons of water per day, but growing operations in the state are likely to fall well within that limit.
However, in areas of the state where much of the water is controlled by Bureau of Reclamation contracts, these alternatives aren't as viable.
The possibility of a federal water ban had already set off local opposition prior to Tuesday's announcement. Earlier this month, the editorial board of The Seattle Times urged the Bureau of Reclamation to allow marijuana farmers to use federal water contracts.
"The bureau has never had -- nor should it have -- a stake in what crop is planted. That's a basic tenet of the 1902 National Reclamation Act, which created the bureau and transformed the arid American west," read the May 4 editorial. "Yet the federal government is now threatening to forget that history, because some regulators are queasy about Washington and Colorado's experimentation with marijuana legalization."
Rep. Jared Polis (D-Colo.) denounced the USBR's move in a statement to HuffPost Tuesday.
"Today's backward-looking decision by the Bureau of Reclamation will hinder the growth and success of Colorado and Washington's legal marijuana industry," said Polis. "This policy places the Bureau of Reclamation at odds with the administration's current guidance to not interfere with the marijuana and hemp industries made lawful by voters in those states. The Bureau of Reclamation is challenging the commonly-held understanding in the arid west that water rights are state-based, an extremely delicate proposition for citizens dependent on water for their livelihood."
"I call on the Bureau of Reclamation to abstain from permitting short-sighted water policies that are an affront to voters who have chosen to responsibly regulate marijuana," Polis went on. "The Bureau should join the other federal government agencies in respecting state voters' decisions and simply acknowledge that Bureau of Reclamation does not have a responsibility or designated role in actively seeking enforcement of the CSA."
Rep. Suzan DelBene (D-Wash.) expressed similar sentiments.
"Washington state's voters overwhelmingly approved [legalizing recreational marijuana] in 2012, and our state, along with other states that have decided to legalize marijuana, should be allowed to implement these state laws without interference from the federal government," said DelBene in a statement to HuffPost. "Today's disappointing decision by the Bureau of Reclamation highlights the current conflict and confusion between state and federal marijuana laws and again calls attention to the need for the federal government to make clear that it will not penalize farmers, businesses, and individuals whose actions are fully legal and consistent with state law."
"The Department of Justice will continue to enforce the Controlled Substances Act and will focus federal resources on the most significant threats to our communities," a Justice Department spokeswoman said to HuffPost Tuesday. "Our efforts will be guided by the eight factors set forth in the August 29, 2013 guidance memorandum."
Before You Go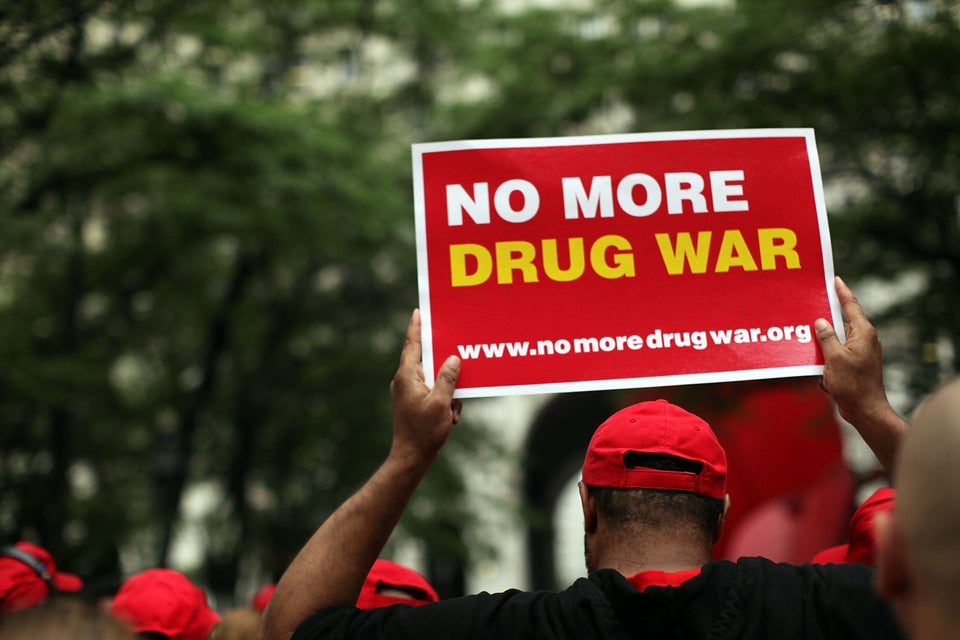 27 Reasons Why The U.S. Shouldn't Lead The War On Drugs
Popular in the Community