 Stand before the brilliantly colored abstract paintings of Marylyn Dintenfass and you'll get the creeping sensation that something is awry. The inspiration for Ms. Dintenfass' show "Drop Dead Gorgeous" at Driscoll Babcock Galleries is her fascination with the Brugmansia plant, whose fragrant and edible flowers, known as Angel's Trumpets, bring on hallucinations that can make LSD trips look quaint in comparison. Visions of hell, flesh-eating demons and snakes are commonly reported; so is hospitalization. Even in the case of the most mild Brugmansia trip, anyone who has undergone the experience urges caution and respect in the face of this powerful ethnobotanical. At the Driscoll Babcock Galleries, while you may not immediately understand that you're looking at paintings of flowers -- the Angel's Trumpet is an odd, luscious bloom that hangs upside down -- the canvasses burn with a sultry warning.
Wandering through the rooms of the gallery, the partly abstract, partly figurative works summon a range of mood and inner experience. The paintings in the brightly lit back room are calm and quietly transfixing: single large blooms layered in oranges, reds and purples. In the gallery's entrance, smaller, riotous paintings like Venom of Suggestion, with its psychedelic swirls of color and its precise silhouettes, speak to the flower's potential for hallucinogenic mayhem. But the perils of the Angel's Trumpet are most apparent in the main room of the gallery, where four enormous paintings, the largest of which is 20 feet wide, dominate in a cool enveloping expanse. A series of long acidic-green vines with vaguely sexual finger-like blossoms set against a blood red background begin to oscillate in Seeds of Abduction, conjuring thoughts of venom-filled veins, nooses or female genitalia. The canvases on the adjacent walls have similarly sinister vine-like motifs. And while the shapes are richly suggestive, their real strength lies in the interplay of color, whether painted in strong flat swaths juxtaposed for effect -- Dintenfass' spiritual alignment with the color field painters is evident -- or applied in sheer overlapping layers that make the surfaces shine like stretched latex.
This presentation, which has been extended to January 26, is a fitting thematic follow-up to the artist's previous series, which explored other beautiful and dangerous objects like the car ("Parallel Park," 2010) and candy ("Good & Plenty Juicy," 2009), and offers a good introduction to the abstract language and lush surfaces of Marylyn Dintenfass' work.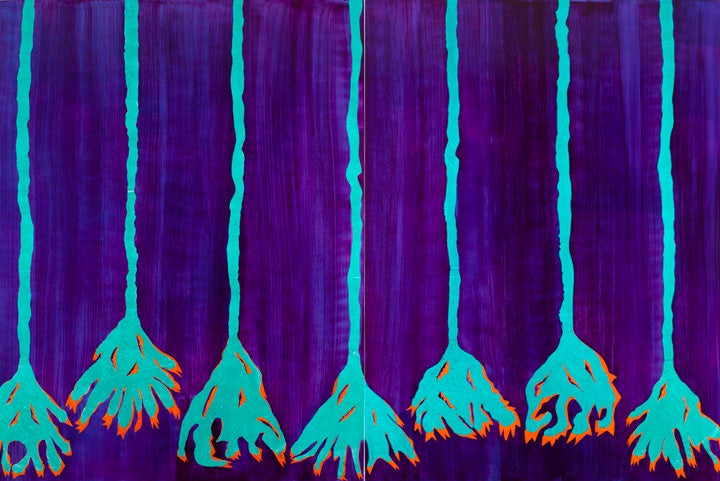 Marylyn Dintenfass' Deadly Blooms
Popular in the Community