Miley Cyrus gazes out from behind a wall of glass, drops of dew festooning her features: her platinum bangs, her sculpted brows, her glossy, made-up lips. The foggy vision makes her look like a dream, inaccessible to mere fans.
The portrait was taken by Marilyn Minter, an artist whose photorealistic paintings center on glamour, fashion and femininity. Since the 1980s, Minter's work has depicted both the allure of magazine-touted beauty and the grimy realities that lie beneath it. She captures polished toenails and muddy feet, glittery lips and slurping mouths.
Decades' worth of her work is on display at The Brooklyn Museum starting Nov. 4 in an exhibition called "Pretty/Dirty." There you'll find portraits she took of her mother ― a glamorous addict who embodied the paradoxes that Minter has come to represent. You'll find videos of tongues brushing against some kind of goopy green product, commentary on consumption in all its forms.
But you won't find her most recent work ― the portrait she took of Cyrus looking misty and contemplative, taken for a project to help raise funds for Planned Parenthood.
"[Miley] is one of the few celebrities to back Planned Parenthood. Most of them won't touch it, because they don't want this very small but vocal minority to troll them," Minter said. "I don't care. You know, what are they going to do? Not buy my art? Artists are pretty fearless when it comes to that. But people can boycott a celebrity. They can make life uncomfortable."
Minter's admiration for Cyrus is clear. "She's an activist. She's an animal rights person. And these are all things I am, too," she said, adding that millennial feminists are "totally aware" of the importance of reproductive rights and sex-positivity.
The latter point is an important one for Minter, whose work wasn't embraced by feminists in the '80s. She was rejected by the art world as unserious, rejected by the fashion world as too grotesque, and rejected by feminists for her portrayal of pleasures that might be considered oppressive or unsavory.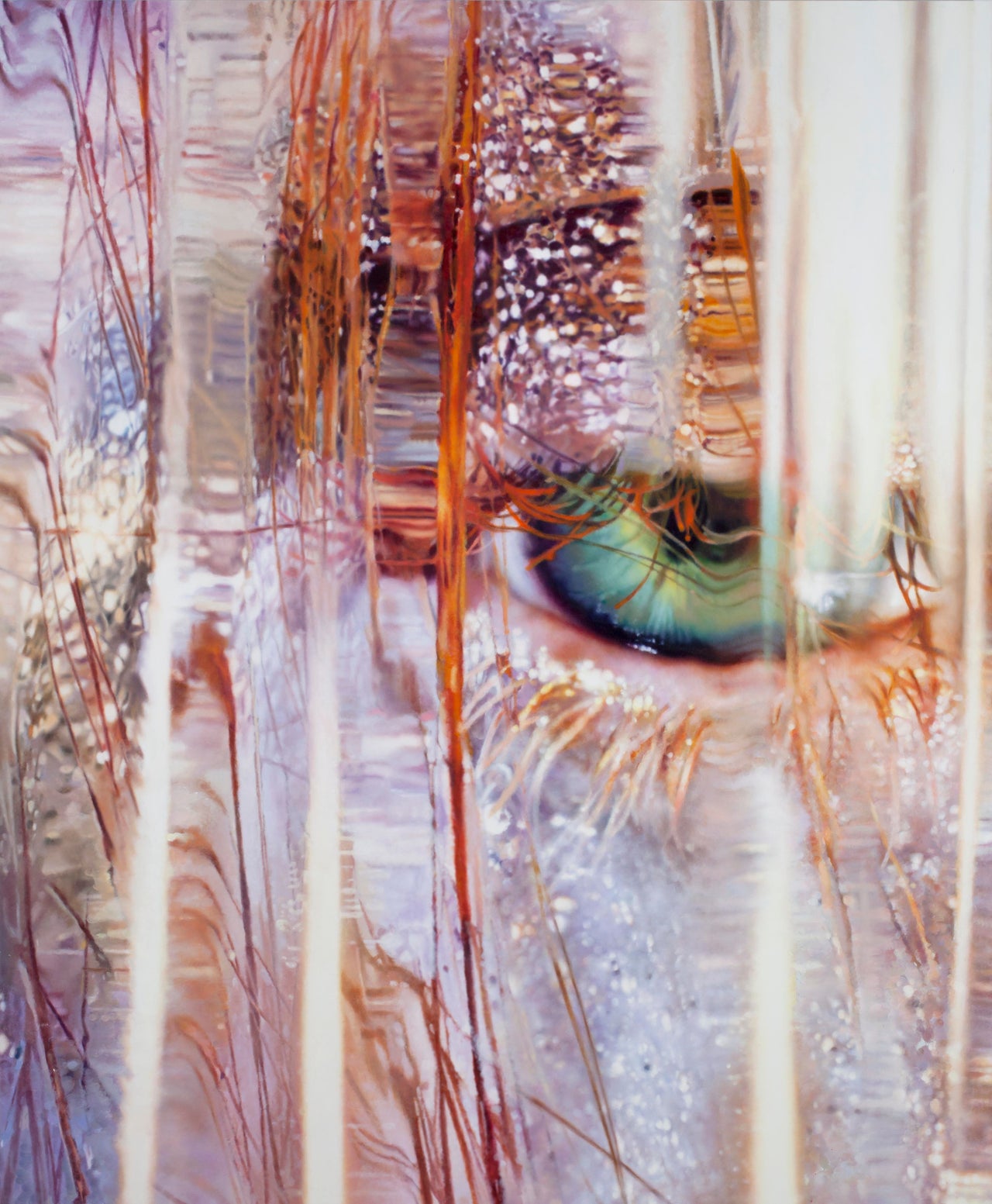 In 1989, Minter began her "100 Food Porn" series, consisting of over 100 paintings of hands working to prepare drippy, buttery meals. She wanted an artistic endeavor that had some financial promise. "I needed something to bargain with, because I didn't have any money," she said. Eventually, she purchased 30-second ad spots during commercial breaks for "Late Night with David Letterman," "The Arsenio Hall Show," and Ted Koppel's "Nightline" to promote the paintings.
But what began as a bid for commercial work resulted in a project that subtly worked to promote equality.
"I went through cookbooks and most of them were male hands, and I turned half of them into female hands by putting long, red fingernails on them," Minter said. "No one's ever noticed that. It's all female hands tearing food apart."
This idea of inserting feminine pleasure into popular imagery is common throughout Minter's work, including a 1992 painting of a woman touching herself through lace underwear, and another from the same year of a woman taking a disembodied penis into her mouth. They're undoubtedly scenes drawn or directly culled from porn, a medium of sexual expression dismissed wholesale by feminists at the time.
Minter says her aim with these paintings was to ask whether it was possible for women to "recapture images from an abusive history, and claim them and make images for their own amusement and pleasure," adding that, "nobody had politically correct fantasies."
Minter says her work better reaches contemporary viewers, because the internet has de-stigmatized pornography, revealing it to be a complicated medium that can both oppress and empower.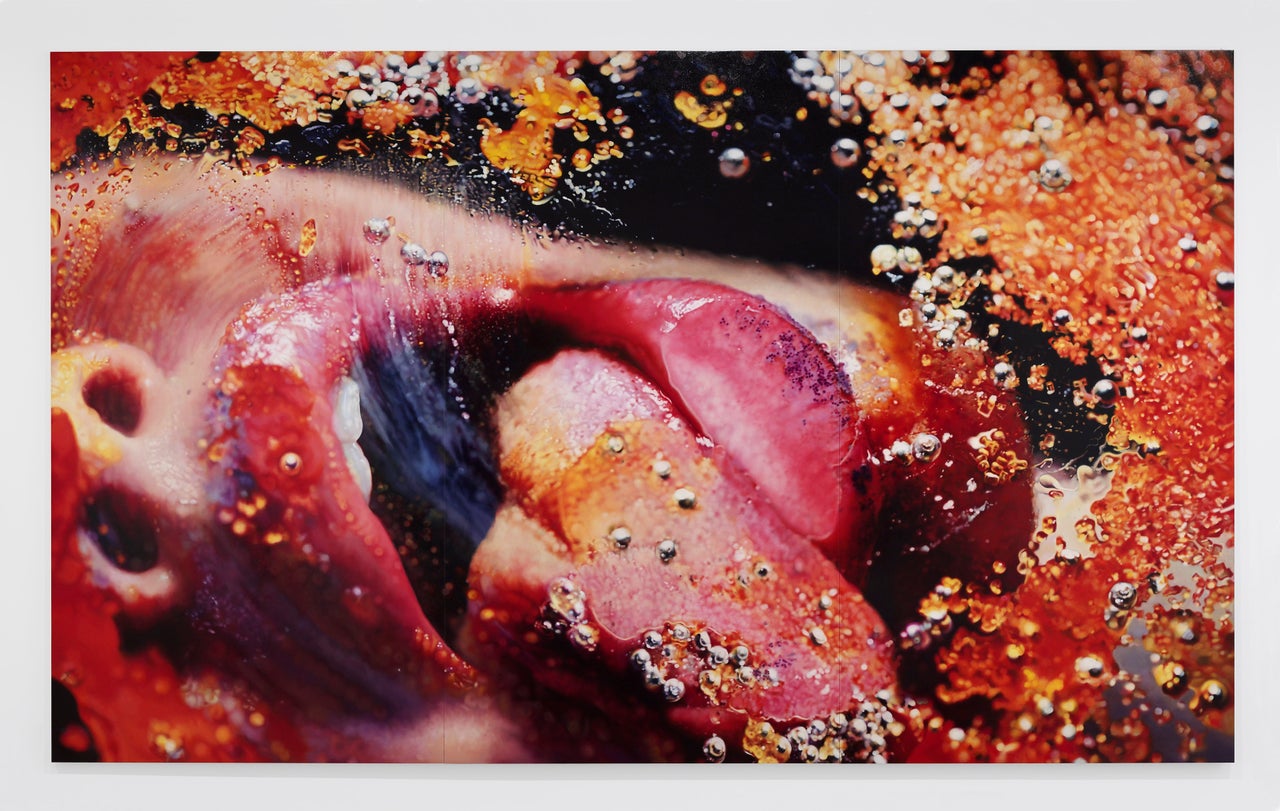 "Feminists were pretty isolated when it came to sexuality. And there was such an abusive history, they had such an adamant anti-sex point of view. And I wasn't that kind of feminist," Minter said. "Of course, my side won, so it doesn't really matter. But I was ostracized at the time. It was really painful. Everyone wants to think that they're communicating, and here I was making people run out of a room."
Now that explicit portrayals of feminine sexuality aren't automatically considered derogatory, Minter's work confronts another stigmatized medium of expression: the worlds of fashion and glamour. A series of paintings from the aughts picture close-ups of women's eyes and lips, doused in paint, glitter, and imperfections.
A woman with a dusting of red freckles and imperfectly plucked eyebrows wears aqueous-looking eye shadow, a blue-green sea twinkling across her lids. The juxtaposition of excessive beauty and human flaws paints a rich portrait of femininity.
"Fashion and glamour is this billion-jillion dollar industry. It's one of the only places where women have been able to create power structures in the world," Minter said. "These are giant engines for the culture. And we have such contempt for them. It just never made sense to me."
So, Minter's paintings and photographs, while highlighting bodily realities like pores and pimples, aren't critiques of our product-fueled attempts to cover up blemishes, either. Ropes of pearls are shoved uncomfortably into mouths full of bleach-white teeth. Metallic paint drips from parted lips. In a photo of Tom Ford for New York Magazine, she captures the back of the designer's neck, wet with unidentified moisture. Is it dew, or something more repellent, like sweat? The ambiguity, Minter explains, is part of the point.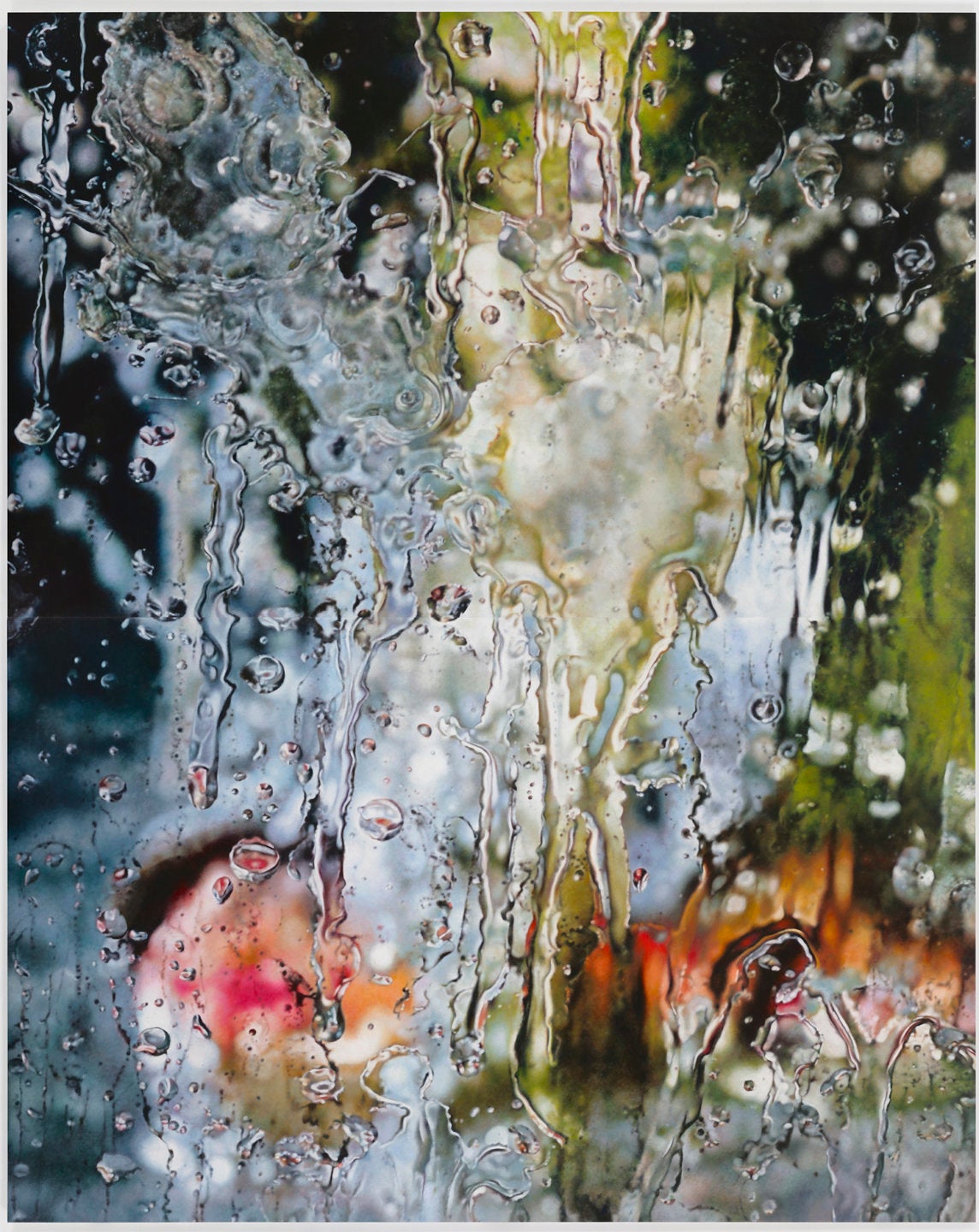 "Everything I do, I'm hoping that there are multiple reads. I'm never trying to tell you what to think as much as making a picture of that paradox," she said. "I think what I do is just take what's already there and push it to the extreme. Like with Tom Ford, he had $16,000 alligator shoes, and I just had him splashing in mud, because that's real life. Even with very expensive shoes, you're going to get them dirty on a rainy night. Everyone gets rained on."
Minter says the dueling imagery of glamour and gunk is captured by contemporary artists she admires, too. She cites K8 Hardy and Petra Collins as women whose aesthetic works with the same paradox.
"It's a backlash to this robotic, Photoshop bullshit. I love Alicia Keys not wearing any makeup on 'The Voice.' I love that there's a backlash. I don't think there's anything wrong with trying to make yourself look as good as you can, but this constant grooming is just so time-consuming," Minter said. "The models now, it's so sad. They're all anorexic. Or 15. Just these gawky, adolescent little babies. That kind of imposition, it's so unhealthy. No pores. You can't have any pores. Everyone has pores!"
"Marilyn Minter: Pretty/Dirty" will be on view in the Brooklyn Museum's Morris A. and Meyer Schapiro Wing from Nov. 4, 2016, through April 2, 2017.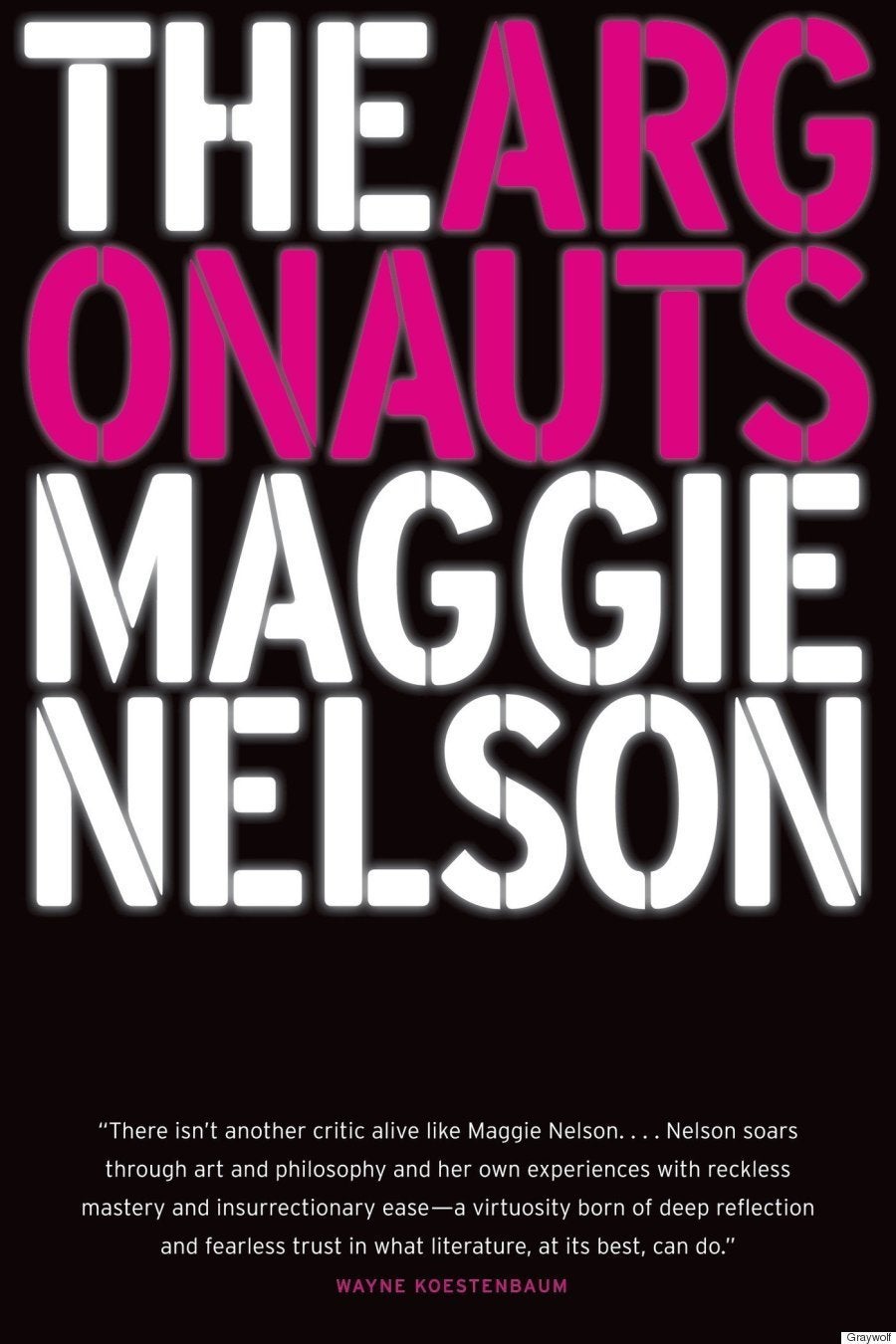 Books By Women For A Feminist Bookshelf
Popular in the Community