You are probably quite familiar with Marilyn Monroe the muse, the blond bombshell, the so-called "sexy looking angel." We've heard tales of Ms. Norma Jeane singing sultry renditions of "Happy Birthday," getting caught in the breeze in a stunning white dress, casually remarking she wore only Chanel No. 5 to bed.
It's easy to remember the beauty that was Marilyn Monroe as she appeared in pictures or movies. But of course, she was so much more. An exhibition titled "Marilyn: Character Not Image" (curated, oddly enough, by Whoopi Goldberg), aims to create a more complex portrait of one of Hollywood's most spellbinding celebrities, featuring not just her photographs but her clothing, her poetry, and, yes, even her artwork.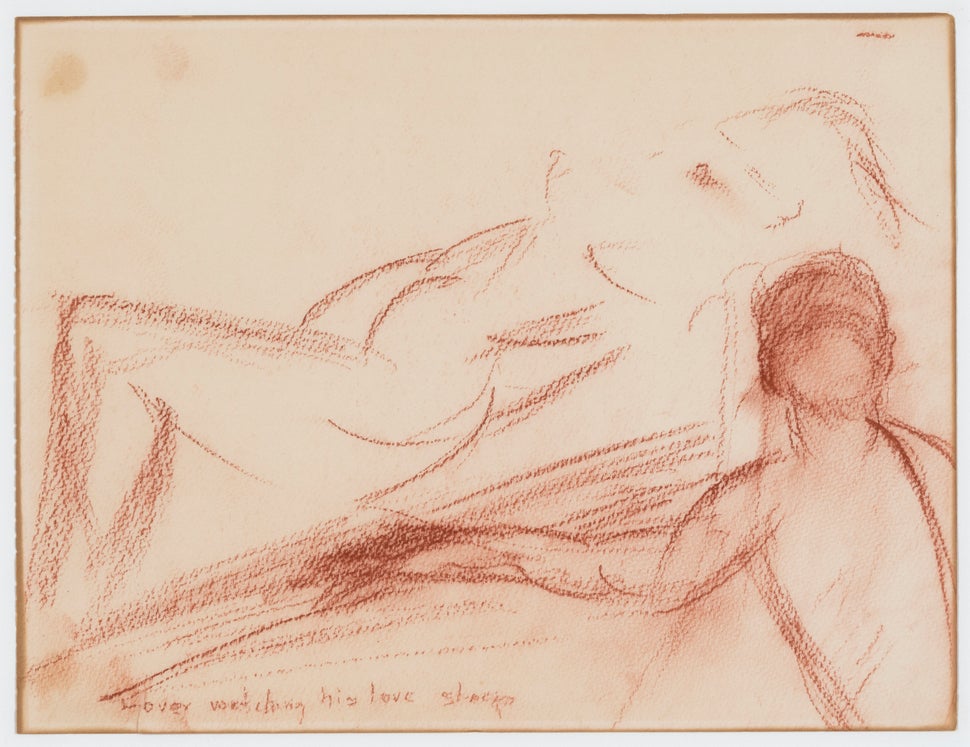 The drawing above, titled "Lover watching his love sleep," was made by Monroe herself in the late 1950s, with Conté crayon on paper. The sepia-toned image depicts a woman who may or may not be Monroe herself, unclothed and reclining leisurely while her lover watches on, entranced. 
It's a simple drawing, but powerful nonetheless, not only in its aesthetic qualities but in what it reveals about its maker. The artwork hints at a different Marilyn than the bold vixen we see on screen. Rather, a Marilyn who is thoughtful, introspective, and creative ― an avid reader and obsessive writer.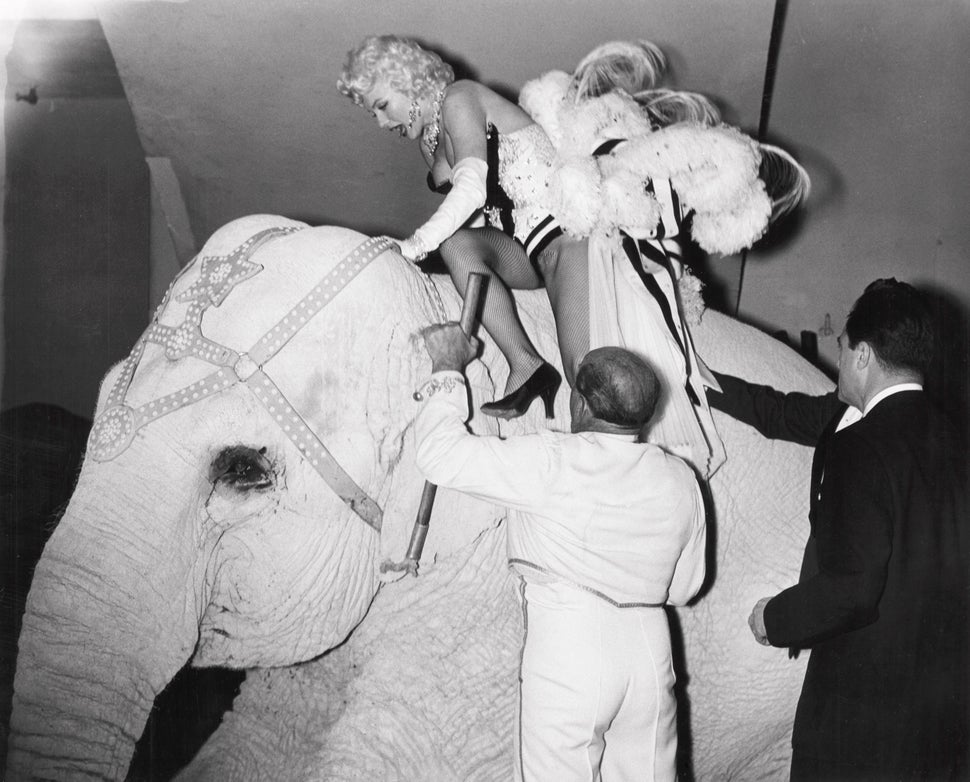 Along with Monroe's drawing, the exhibition will feature other iconic objects, photos and video footage that speak to Monroe's multiple, often unseen dimensions. This includes images snapped by personal friend Milton Greene, depicting the star's quieter moments, playing with animals and taking direction behind the scenes. Also on view are eerie street photographer Weegee's photos of Monroe, which use dark-room distortions to visualize the bizarre and grotesque effects of Hollywood, fame and superstardom. 
"This show presents a different side to the legendary actress," a statement from gallery Mana Contemporary explains. "Behind the glamour was a vulnerable, sensitive, and ambitious young woman who spent time writing poems and diary entries to self-analyze, understand, and reassure herself. In these writings, she craves love and friendship, and battles with ongoing pain, heartbreak, and disappointment. She attempts to understand the world on her terms, tries to accept her insecurities and fears, and to become a better artist."
"Marilyn: Character Not Image," curated by Whoopi Goldberg, will be on view from Sept. 25–Oct. 22, 2016, at Mana Contemporary in Jersey City, New Jersey. 
Calling all HuffPost superfans!
Sign up for membership to become a founding member and help shape HuffPost's next chapter
BEFORE YOU GO
PHOTO GALLERY
Marilyn Monroe Was More Than Her Movie Roles?