 Almost 50 years to the day after her untimely death, the image of Marilyn Monroe is still one of the most broadly recognized in the Western world. Be it in her white dress, above the subway grating in the 1955 comedy, "The Seven Year Itch," or perhaps, most famously, in 1962, in a figure-hugging gown, seductively singing "Happy Birthday" to then-President John F. Kennedy, Marilyn's widely interpreted semblance can be seen everywhere on everything from novelty cups, postage stamps and T-shirts to posters, calendars and book sleeves. Worshipped today by many who were not even a glint in their father's eye when the actress was at her peak, her eminence grows with each passing year.
With her sexy clothes; loveable, whimsical blonde character; sensuous, glamorous good looks; and her classic Hollywood movie star appeal, Marilyn enticed the masses and set herself apart from other Tinsel Town actresses of the time and in doing so, created a signature look all on her very own.
Many modern, highly prominent women in the entertainment world have tried emulating this: Lady Gaga, Christina Aguilera, Lindsay Lohan, Scarlett Johansson, Pamela Anderson and Paris Hilton, to name but a few. But why? Why such devotion? Why the desire to follow or mimic a fellow actress from a bygone age? Because, put simply, Marilyn is, and will always be, an icon, an embodiment of beauty, pop culture, the 1950s and 1960s, the 20th Century and of Hollywood's Golden Age. She remains to this day America's premier female superstar -- she thrilled millions, both then and now. Women wanted to be her, men wanted to be with her; women related to her, men desired her. Marilyn appealed to everyone on many different levels: emotionally, psychologically, sexually, physically and intellectually.
A complex and fascinating woman who managed to achieve a great deal in spite of so many childhood obstacles, she became a preeminent international sex-symbol and a quintessential American, one who at a time of immense sexual oppression became knowledgeable and self-educated despite a lack of formal education. She was the first woman to challenge a major studio (20th Century-Fox) on the grounds of artistic freedom as well as the first to single-handedly establish a movie production company (Marilyn Monroe Productions) of her own, despite being dismissed as nothing more than a cheap sex object by some of those in charge of running the industry. And let's not forget that in October 1952 Marilyn was the very first star to endorse a female keep-fit workout-cum-beauty book, some three decades before actress Jane Fonda became famous for doing so.
Dying so young is of course very, very sad, regardless of who you are, or what profession you're in, but in Marilyn's case it certainly helped preserve her legacy. Unlike so many of her female contemporaries who carried on perhaps a little longer they should have and were seen aging, becoming progressively less glamorous before our very eyes, try finding a flawed, unflattering image of Marilyn. You can't. You will not chance upon a picture of her anywhere looking old or gaunt. Ever. Her image is forever locked into that of a fresh, vibrant, beautiful young woman and never as a has-been, an actress deemed past her prime. Her tragic early death propelled her into that special category of eternal beauty, and that is something I'm most relieved about.
Known worldwide by the single signature, "Marilyn," or quite simply by her initials "MM," practically no one in the world today needs reminding of who she is. Now regarded by many as an enigma and a gay icon, we have to ask, will she endure for the next 50 years? Will commentators and authors such as I still be rejoicing in her in half a century's time? I have no doubts they will. Marilyn isn't going anywhere. She will always be around, outliving and outshining us all. It's an overused line, but in her case it's true: They really don't make stars like that anymore.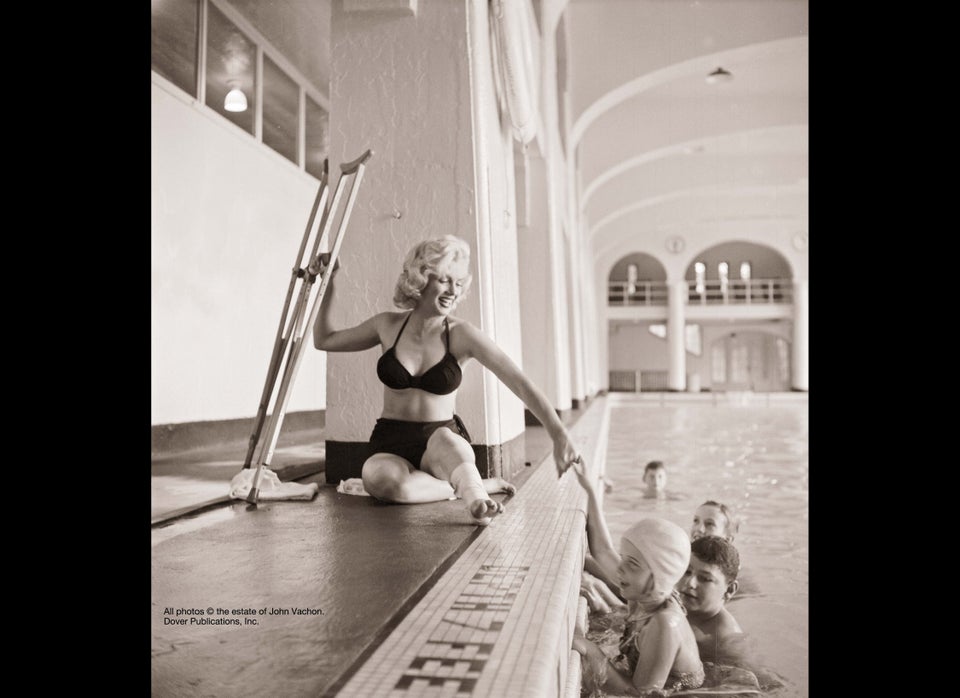 Marilyn Monroe: The Lost Nudes
Popular in the Community