Before Harry Houdini's 1926 death, the master magician promised his wife Bess that he would return to her from beyond the grave. Every year at the anniversary of Harry's death, Bess held séances at the top of Hollywood's Knickerbocker Hotel. Finally after a decade, her hopeful conjuring stopped. Mrs. Houdini said that "ten years was long enough to wait for any man."
Last week, Elsie Poncher, the widow of Richard Poncher, brought real earning power to death by auctioning off her husband's crypt above Marilyn Monroe. The text of the eBay listing confirmed the 23-year-old rumor that Mr. Poncher was flipped over -- per his last wish -- to be interred in an eternal kiss with Hollywood's immortal sex goddess. Reality, recession, or just common horse sense sent Elsie to eBay with hopes of garnering enough capital to pay off the widow's million-dollar-plus Beverly Hills mortgage. By the time the auction ended, it looked like Elsie had paid off the house plus three million in cash. Some people have all the luck.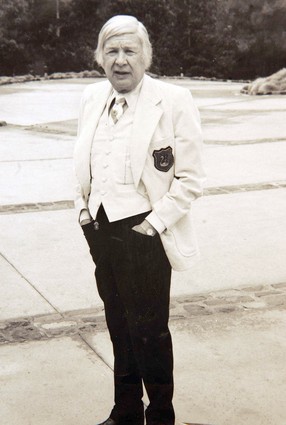 Richard Poncher in life
Forget Forest Lawn. Per square foot, Westwood Memorial Cemetery is the most expensive long-term lease in America. A stone's throw from LA's most fashionable addresses and busiest intersection, the cemetery's a who's who of who was in Hollywood. Now due to some capital gains, out goes Richard Poncher. Sliding in feet first goes a new occupant whose eventual demise is a product of 21st century commerce at its most blatant.
In these days, of "Michael, Michael, where's Michael Jackson," more than one luminary is playing high-stakes-eternal-rest-real estate roulette. Maybe Monroe's heirs will decide to move her. Imagine buying several plots, plopping the goddess right in the middle, then announcing to the world a 4x6 foot plot-land-grab to the highest bidder. Next-of-kin to the infamous could make a fortune.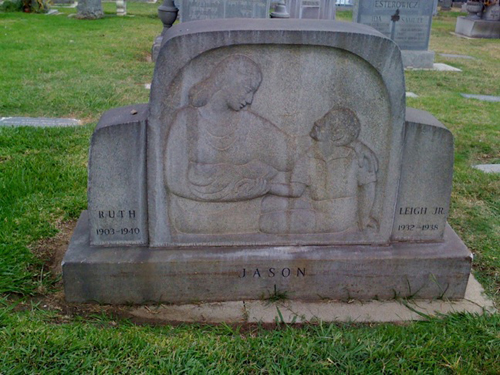 Diego Rivera's homage to eternal motherhood
When MGM's immortal photographer Ruth Harriet Louise died from complications during childbirth, the commission for her eternal headstone went to artist Diego Rivera. Now, because of its value, Ruth has found new sparkle after death. An investment well made, but perhaps a bit too late.
I guess it's no big deal - working your entire life for a spot to call your own then and having it literally sold out from under you. Maybe life really belongs to the living -- and so do the dead, at least that what the Jacksons, the Ponchers, and even the guys who raided all the ancient tombs must think.
No matter who wins the bidding fun in the Richard Poncher purchase, like Kleenex, Jell-O, and Q-tips, the crypt over Monroe's will always be the Poncher postmortem estate. I'm glad people recognize Marilyn's light all these years later and ante up so high. Then again, in this age of "nothing but a sure thing," maybe all Monroe's fans are just dying for a chance at some concrete immortality of their own.
Calling all HuffPost superfans!
Sign up for membership to become a founding member and help shape HuffPost's next chapter