WASHINGTON -- Marilyn Mosby walked up to a podium surrounded by TV cameras on Friday morning and dropped a bomb: At her direction, the city of Baltimore is charging six police officers with crimes including second-degree murder, manslaughter and assault in the death of Freddie Gray.
Gray, a 25-year-old black man, died last month after suffering a spine injury while in police custody. There was no clear reason for his arrest, and until Friday, there were no clear answers about what happened to him. In the weeks since his death, questions have only grown, protests have broken out around the country and the Baltimore police accused Gray of intentionally trying to hurt himself.
Mosby, the state's attorney for the region, shut it all down on Friday.
"The findings of our comprehensive, thorough and independent investigation, coupled with the medical examiner's determination that Mr. Gray's death was a homicide, which we received today, has led us to believe that we have probable cause to file criminal charges," she said.
Mosby's news marks a huge turning point for people around the country demanding justice for yet another black man killed by police, for a city torn apart by the drug war and economic disparity, and for Mosby herself.
She was just four months into her job when she was tasked last month with investigating Gray's death. She had never held elected office before November. And at 35, Mosby is the youngest chief prosecutor of any district.
Those details gave city residents reason to doubt her abilities, something even her biggest supporters have conceded. Before her current job, Mosby had been counsel for Liberty Mutual Insurance for three years and an assistant state's attorney for five years.
On Friday, though, Mosby emerged as the voice that so many in Baltimore needed to hear. She gave a detailed description of what happened to Gray the day he was arrested and said officers ignored his requests for medical attention. She let the findings speak for themselves.
"No crime had been committed by Mr. Gray," she said. The officers "illegally arrested Mr. Gray."
Mosby was in her element at the press event. She repeatedly batted away questions about her personal feelings on the matter, saying it wasn't relevant. She also dismissed the idea that there is a conflict of interest in her conducting the investigation since her husband, Nick Mosby, is a Baltimore city councilman who has spoken out about the riots spurred by Gray's death.
"I uphold the law," she said flatly. "He makes the law."
Despite the damning conclusions of her probe, which led to warrants being issued Friday for six officers involved in Gray's arrest, Mosby is not out to smear cops. To the contrary, she's been close to them for her entire life.
"To the rank-and-file officers of the Baltimore Police Department, please know that these accusations of these six officers are not an indictment of the entire force," Mosby said. "I come from five generations of law enforcement. My father was an officer. My mother was an officer … My recently departed and beloved grandfather was one of the founding members of the first black police organization in Massachusetts."
Besides her family connections, Mosby's draw to criminal justice may stem from a tragedy she experienced in Boston, where she grew up. Her 17-year-old cousin was mistaken for a drug dealer and killed outside her home by another teenager. She went on after that to become the first person in her family to graduate from college.
As Mosby wrapped up her remarks Friday, she emphasized that the legal process still needs to play out. Indeed, the Baltimore police union maintains none of the officers are responsible for Gray's death.
She also said that she's fighting for her community, and that if residents want justice, they need to keep their protests peaceful.
"I've heard your call for 'no justice, no peace,'" Mosby said to the cameras. "However, your peace is sincerely needed as I work to deliver justice for Freddie Gray."
UPDATE: 9:40 p.m. -- Mosby joined MSNBC's Chris Hayes on Friday night.
Asked by Hayes whether she felt prosecutors had rushed the investigation, or if public concern had influenced the process, Mosby said firmly that justice was the first concern.
"At the end of the day I'm here to do my job," Mosby said. "It's about applying justice fairly and equally to those with and without a badge. Did I treat this case any different in the pursuit of justice? No, I didn't.
"Law enforcement is instilled within my being. I understand and respect that the majority of police officers are risking their lives day in and day out," Mosby said. "Recognizing that, I also know that some officials usurp their authority. ... When they do that, you have to hold those individuals accountable."
"Am I worried about any sort of backlash? Absolutely not. Did I rush to judgement? Absolutely not," Mosby said.
She told Hayes that she would hold officers accountable if they fail to testify in the cases of the cops who have been charged.
"You have to change the culture of what's happening in the police department, and you do that by holding them accountable," she said.

Support HuffPost
The Stakes Have Never Been Higher
Before You Go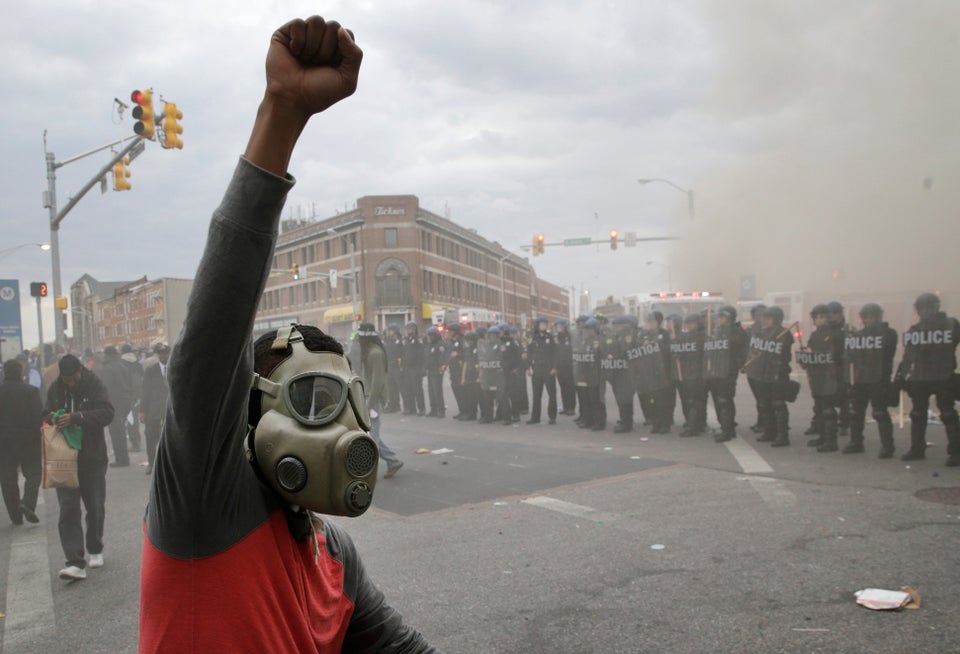 Baltimore Protests
Popular in the Community