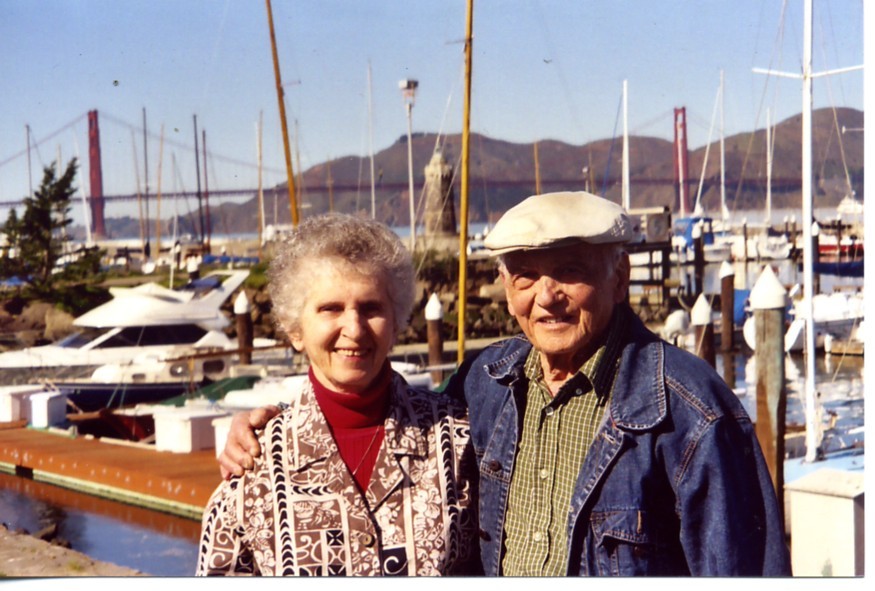 "No!" I said when my husband proposed that we move to San Francisco.
Both of my children had been born in Brooklyn. I loved New York, and like most New Yorkers thought that no other city could match my own.
It took a lot of persuasion on his part, some fierce resistance on mine, but finally, in 1961, we packed up and moved.
We had friends and family in San Francisco. For two weeks -- she said two months -- we stayed with friends in Richmond. When I saw the fuchsia outside her dining room window, I was entranced.
Our beginnings were not easy. My husband had trouble finding a job. At one point he whispered to me that maybe we should return to New York, but the fuchsias and the general beauty of the area decided me to tell him to wait.
We rented a flat in the city, and the landlord lived upstairs. He was a nasty man who didn't like children, and was particularly critical of our comings and goings. I remember shouting at him, which seemed to be the right way to shut him up.
My son, Paul, at 13 months, ran a very high fever. In those days, doctors made house calls, and I remember our pediatrician shaking his head when he examined the baby. "I'm sorry, Mrs. Sachs," he said, but I suspect... well, I'm taking him to the hospital, and I'll call you later."
My husband joined him, and the doctor drove them all to the Children's Hospital. Later, when he called, he said solemnly, "I'm sorry to tell you, Mrs. Sachs, that Paul has Spinal Meningitis. It's a bad case, and all we can do is pray."
So I prayed. I consider myself an agnostic but if prayer would save my son's life, I'd pray. Paul recovered. Most likely the doctor's care was as effective as my prayers.
Our early years were hard. Immediately after Paul recovered, my husband insisted that we had to move. Fortunately we did. We found a rear cottage nearby, and shortly after we moved in, a fire broke out in our old flat, killing our old landlord.
The rear cottage was charming with a garden all around it. Our new landlord tended the garden, and enjoyed our children. The kids prospered. At first, both went to a cooperative nursery school, and later, attended Madison Elementary School.
I took a part-time job in the San Francisco Public Library, and one day to my great surprise, a letter came telling me that a children's book I had written ten years earlier would be published. It was called Amy Moves In. I had written it in the 1950s when children's books were pretty much about white, middle-class people who lived in the suburbs and had happy lives. Nobody died, nobody's parents divorced, and there were no loose ends.
Now it was the 1960s. Freedom had arrived along with money. There were no computers in libraries, only books. Amy Moves In is a pretty mild book by today's standards since it is about a poor Jewish family with two sisters whose mother had been in an accident and did not return at the end of the story. When my husband returned from his teaching job, I told him that I had received a letter from New York.
When he heard the good news, we both took a walk along Clay Street and looked at all the beautiful houses we could buy with the money my book would make.
We never did buy a house, but my books -- more than 40 of them -- allowed me to leave the library and become a full-time writer. My kids attended public schools, grew up, and graduated from UC Berkeley.
We rode the cable cars, played at Fisherman's Wharf, ate sundaes at Ghirardelli Square, and hiked up to Coit Tower to admire the lovely murals painted by WPA artists.
Now that we're older, our favorite place is Golden Gate Park. Aside from the museum, my husband and I love walking around Stow and Spreckels Lakes. We cherish memories of past picnics, protests against segregation, and marches to protest the war in Vietnam.
Would I ever return to New York? Recently we attended my oldest granddaughter's graduation from Princeton. Afterward, we stayed with friends in New York, where the temperatures were in the 90s, and millions of people scurried around here and there.
Maybe San Francisco lacks the splendid museums and inspiring cultural life of New York, but after 50 years we have become confirmed San Franciscans and would never live anywhere else.
Marilyn Sachs worked as a children's librarian for the Brooklyn Public Library and the San Francisco Public Library. She has written more than forty books, many of them award winning. To read Marilyn's blog and to buy her books, visit her on Red Room.
Calling all HuffPost superfans!
Sign up for membership to become a founding member and help shape HuffPost's next chapter