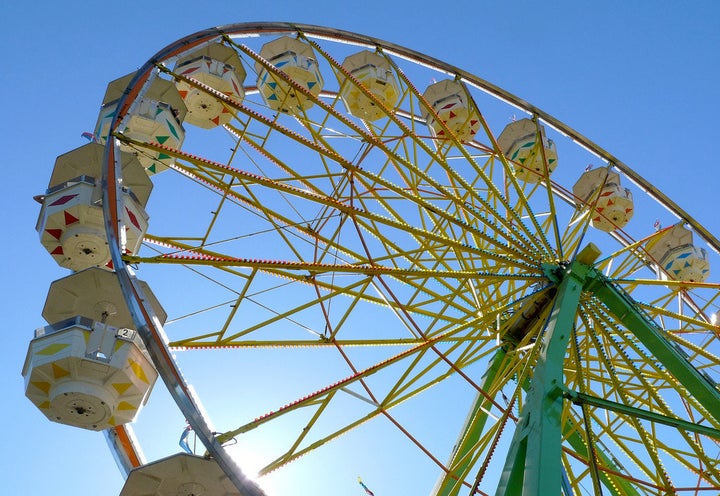 Local Pride
Located across the Golden Gate Bridge from San Francisco, scenic Marin County boasts a vibrant, affluent community, redwood forests, beaches, mountains and -- as if the natural vistas aren't enough -- George Lucas' Skywalker Ranch. Though its county fair features traditional agricultural exhibits, its biggest focuses are on the arts, culture and community pride.
Bridge, Anyone?
The iconic Golden Gate Bridge is an enduring motif at the Marin County Fair. It is not uncommon to encounter art and history exhibits devoted to the famous bridge. In 2011, visitors marveled at
, a 9-foot replica of the bridge made entirely out of toothpicks. It took the artist, Scott Weaver, 36 years to make. Other Golden Gate Bridge replicas were made of origami, chairs, pipe cleaners, soda cans and cake.
Fine Crafts
The
show features hundreds of pieces in a multitude of media, from painting and digital art to jewelry, glass work and furniture. Visitors can spend an entire day just enjoying the art, but there is so much more to do. The all-in-one ticket price of $15 includes entertainment, exhibits, concerts, fireworks and 28 carnival rides.
Diverse Musical Guests
Musical performances include rock, jazz, R&B, pop, Latin and dancehall music, and the fair features special guests such as the U.S. Air Force Band. Past headlining acts include Toots & the Maytals, the Pointer Sisters, the Wailers, Three Dog Night and Wilson Phillips. Cultural entertainment in 2011 included the Shangri-La Chinese Acrobats. Fairgoers can also catch rising local stars at Marin Star Search and the Singing Stars Competition as well as at fiddle, piano and break-dancing contests.
Film Festival
Another major draw is the
. Films are screened daily in the Showcase Theatre. Enjoy award-winning short films from all over the world. In addition to shorts by regional filmmakers, visitors can also take advantage of the rare opportunity to screen cutting-edge films from places like Slovakia, the Netherlands and Spain, all free with fair admission. Awards are given out by jury selection.
"May The Force Be With You"
Star Wars
also has a presence at the Marin County Fair, in homage to the nearby Skywalker Ranch. The Golden Gate Garrison 501st Legion costuming club brings hundreds of Storm Troopers. Have your photo taken with one, or with one of your other favorite
Star Wars
characters, at the
.
Vegan Food Options And More
Food includes county fair staples such as corn dogs and ice cream as well as less typical fair fare such as vegan food from
. The vendor offers an alternative for those with vegan diets and those just looking for something a bit healthier. Top-notch food competitions include fusion cuisine, chili and Grandma and Grandpa's cookies (judged by kids).
Quirky Attractions
Check out the Baby Derby, where adorable crawlers race each other for fun and prizes. There's also the Pocket Pet Show, where pet mice, turtles, guinea pigs and hamsters compete for titles. There's even a competition that judges compost-grown produce.
Fireworks
The Marin County Fair holds a five-night
spectacular that culminates on Independence Day.
Time-lapse photography and other camera tricks make this two-and-a-half-minute highlight reel of kids' attractions at the Marin County Fair a visual treat.
Storm Troopers, art or acrobats: What's your favorite attraction at the Marin County Fair?