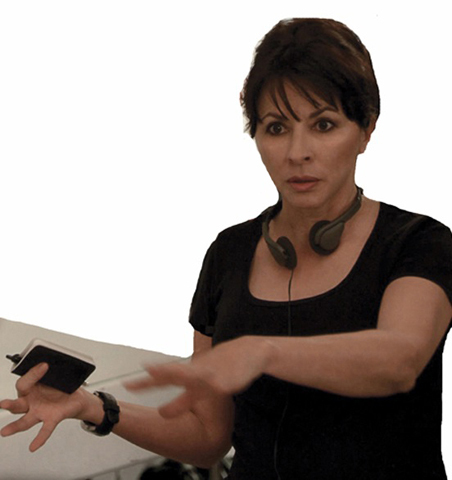 This week I talked with writer/director Marina Rice Bader about her new film Anatomy of a Love Seen, premiering July 18 at Outfest in Los Angeles. Marina, who served as executive producer of the iconic lesbian films Elena Undone and A Perfect Ending, makes her directorial debut in Anatomy of a Love Seen. The film stars Hollywood newcomers Sharon Hinnendael, Jill Evyn and Constance Brenneman. This very intriguing film explores love in all its painful and messy glory. Six months ago Zoe and Mal fell for each other while filming a love scene, which led to an intense, whirlwind affair, followed by a devastating breakup. Things get complicated when the two have to meet once again on set to re-shoot that fateful sequence. Marina also appears in the film portraying the director.
I talked with Marina about Anatomy of a Love Seen and her spin on LGBT issues. When asked about her personal commitment to LGBT civil rights, she stated:
I have unwavering commitment to the LGBT community to keep telling their stories, which are our stories, and the stories of women, which show the rest of the world that we're all walking the same walk: We love, we have kids, we struggle with relationships, money, our place in the world, and every human being goes through the same thing. I think that the more that our stories are out there, people can watch them and go, "Hey, you know, there's a little less fear." I mean, we've had pastors [and] straight men send us messages that say, "You know, it wasn't until I watched your film" -- we had a lot of that with Elena Undone -- "that I really understood, and it took a little of the confusion away. My eyes are open." And what more can you ask for?
As the driving force behind Soul Kiss Films, her independent film company, Marina's artistic direction is focused on one goal: creating evocative, entertaining, and compelling movies by women, for women and about women. Later this year she's releasing Raven's Touch, starring Dreya Weber and Traci Dinwiddie, with a new film set to shoot in December. After the July 18 premiere of Anatomy of a Love Seen at Outfest, it will immediately be released worldwide as a streaming rental, breaking outside and bypassing the traditional Hollywood distribution channels. The trailer has already gone viral, with over 715,000 views. The film will be available for $5 on Vimeo via the film's website, anatomyofaloveseen.com. In addition, subtitled versions for a number of foreign languages, including Spanish, Portuguese, French and German, will be made available.
Listen to more interviews with LGBTQ leaders, allies, and celebrities at OUTTAKE VOICES™.
Calling all HuffPost superfans!
Sign up for membership to become a founding member and help shape HuffPost's next chapter