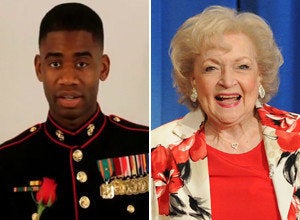 Forget the Oscars or dinner at Spago, the Marine Corps Ball is quickly becoming the hottest event in Hollywood.
Betty White, will you go to the ball with Sgt. Ray Lewis?
The Marine, who has served in both Afghanistan and Iraq, posted a video to YouTube on Friday appealing to the 90-year old Emmy nominee to be his date, noting that he'll be performing as a rapper and promising her a good time. He also let tried wooing White with some sweet talk.
"She's funny, she's sweet, she's mature, she's the all around perfect woman," Lewis gushes in the video.
WATCH
:
Popular in the Community